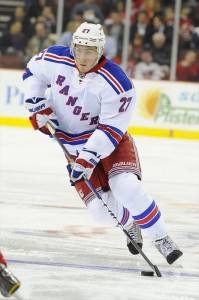 In order to have a sixteen-point improvement in one season without a huge roster turnover, many players need to improve. Many Rangers have done that in the 2011-12 season. Henrik Lundqvist's all-star play reached new heights, Dan Girardi was selected to his first NHL All-Star team and Carl Hagelin became one of the team's top-six forwards after being called up early in the season. However, the player who has been the Rangers' biggest surprise this season is a 22-year-old in his first full NHL season, although the average fan wouldn't guess that after watching him play.
As a mid-season call up in 2010-11, Ryan McDonagh emerged as a solid defenseman on the Rangers' blue line. Paired with another rookie, Michael Sauer, the duo became the team's second pair and, by the end of the season, McDonagh was averaging between 18-22 minutes of ice time per game. At the start of this season, McDonagh was immediately put to the test.
With all-star defenseman Marc Staal out for the first half of the season with concussion-like symptoms, McDonagh was put on the Rangers' top defensive pair along with Dan Girardi. With increased ice time and facing the game's best forwards every night, McDonagh avoided any signs of a sophomore slump and elevated his game.
The pair of McDonagh and Girardi was so effective that when Staal, who was an all-star in 2010-11 and formed one of the league's best shutdown pairs with Girardi, came back in early January, he was moved to the team's second pair while McDonagh and Girardi remained together.
With many Rangers defensemen suffering injuries throughout the course of the season, McDonagh was a constant, playing in all 82 games of his first full NHL season. Because of a revolving door of defenseman playing on the Rangers blue line, McDonagh was entrusted to do more by head coach John Tortorella. McDonagh finished 15th in the NHL in ice time, averaging 24:44 per game.
Not only did he eat minutes, but McDonagh's play on the ice also improved, as he finished with 7 goals and 25 assists. He also had a plus-25 rating despite having the task of shutting down the league's best players every night.
So far in the playoffs, McDonagh has continued the great regular season that he has had. He's played at least 25 minutes in every game thus far, culminating with taking 60 shifts and playing 53:17 in the Rangers' triple overtime classic with the Capitals in game three.
Although many players have raised their games to help the Rangers get to the position that they are in right now, none have been as pleasantly surprising as McDonagh.
Michael Rappaport is a junior at New York University majoring in Sports Management. He is one of the Featured Writers for the New York Rangers for The Hockey Writers, and joined THW in January of 2012. In addition to his work for THW, Michael has been featured in numerous publications such as New York Hockey Journal, Yahoo's Puck Daddy Blog, The Huffington Post, Spector's Hockey, and Kukla's Korner to name a few. You can talk hockey with Michael by sending an e-mail to michael.rappaport@nyu.edu, or if you want to shoot a quick message, following @Mike_Rappaport on twitter.