The 2019-20 season was one to forget for Ottawa Senators fans as the team fell to the second-worst team in the NHL — an upgrade from the season prior. Some bright spots included players like Brady Tkachuk, Thomas Chabot, and Anthony Duclair taking another step in their development with the team. Connor Brown came onto the scene and showed why he was the best part of the Nikita Zaitsev deal. Of course, the brightest spot was reaping the rewards of their terrible season with two top-five picks.
Some to forget included Colin White having a very forgettable season and Drake Batherson and Erik Brannstrom struggling to stay with the NHL club. Then, of course, COVID-19 derailed the rest of the regular season, providing agony for Senators fans. This next season is the year the Senators are expected to at least move out of the bottom five of the league, so let's take a look at a possible roster that could do that.  
Goaltending
The Senators' goaltending situation improved drastically at the draft with the Senators acquiring two-time Stanley Cup champion, Matt Murray and signing him to a four year contract on October 9th. Murray brings much-needed stability since Craig Anderson's age started to catch up with him. Murray's career .914 save percentage will hopefully show fans that the Sens have a good goalie in net and someone who can potentially steal some games again.
As the backup, Marcus Hogberg will be ready for his second full season with the NHL club. He showed flashes of brilliance last season by holding down the fort when Anders Nilsson and Craig Anderson were unavailable. Speaking of Nilsson, it seems it may be some time before we see the big Swede back in net as he's still suffering from post-concussion symptoms.  
Defense 
The Senators made some interesting offseason acquisitions of two big defensemen in Josh Brown and Erik Gudbranson. They both are right shots, which does fill a need for the team, but it comes at a time that the Sens just signed highly touted right-shot defenseman Artem Zub. Not to mention, Brannstrom plays on the right side and looked significantly better in his second call-up, but that may signal that Pierre Dorion would prefer him on the left.
Christian Jaros has all the tools to challenge for a spot if every spot is performance based, but it would be more beneficial to him playing top pair minutes in Belleville than a scratch in Ottawa. The bottom pairing will most likely be a revolving door that includes Josh Brown, Mike Reilly, Brannstrom and possibly Jaros.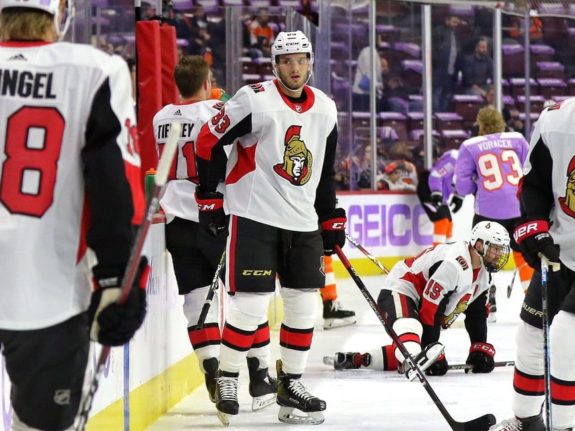 Christian Wolanin will be starting the season healthy for the first time for the Sens. He has a lot of upside as a top-four d-man — he's offensively gifted while not forgetting about his defensive game, too. Gudbranson will slot in on the other side providing that gritty and hard hitting game he is known for. Finally, the top D pairing will be comprised of Nikita Zaitsev, who struggled last season against top lines but showed upside at times, and young star Thomas Chabot. Chabot took another step in his development last season, scoring only 39 points but was a more put together defenseman and a legitimate top-pairing player.  
Forwards 
With the Senators leaving winger Anthony Duclair and center Jayce Hawryluk unqualified, there is space for younger players to make the full-time jump. On the fourth line, the newly acquired Austin Watson could play in a grinder role with winger Nick Paul and center Filip Chlapik. This line could provide a lot of interesting upside as it's young, skates well, and hits hard. Chlapik looked like an NHL player last season with his consistency in the defensive zone and the ability to chip in offensively. The perseverance of Nick Paul finally paid off, who signed a two year, one-way contract and guaranteeing spot with the Senators. Watson has something to prove as his previous season was unimpressive.
The third line is very fun, with veteran Chris Tierney centering and Rudolfs Balcers and Colin White on the wings. This line has versatility, with White able to draw in at center when necessary. Balcers has proven he is ready to make the full-time jump to the NHL as he is close to a point per game in the AHL. White can prove that he is worthy of his contract and after a forgettable sophomore season, he should be rearing to go. This is a line that DJ Smith can feel comfortable putting out there if the first line is gassed and they need to be put up against a top line. 
The second line consists of top draft pick Tim Stuetzle, Connor Brown and Batherson. This line can be a very interesting mix, with a proven finisher in Batherson at the AHL level. Brown and Stuetzle can feed him the puck to finish. Stuetzle and Batherson have a welcomed veteran presence with Brown, who will be ready after signing a new contract this offseason. Stuetzle is going to be a top-line player for the Senators for a long time and his offensive ability will be able to grow on this line.
Simply put, Stuetzle is a special player; his hockey IQ, speed, and puck handling are things to behold. Batherson is in a similar role here — he dominated the AHL and now it's time to show he can play and contribute in the NHL. If he is allowed some time to get used to a top-six role, he should be able to find his game at the NHL level. 
Finally, the top line of Brady Tkachuk, Evgenii Dadonov and center Logan Brown. At center, Logan Brown needs more than a couple games to show that he can contribute, give him time to blossom in the top-line role. His offensive IQ is as good as anyone's on the team, but his overall game needs to adapt to the NHL. Tkachuk is exactly what Senators fans needed when drafted. He's a player who goes in and creates havoc, putting up a lot of points — on this line he can put up over 50 points.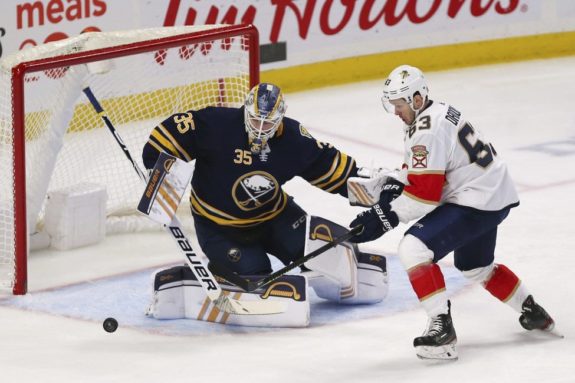 Dadonov surprised the league by signing with the Senators, but clearly he has faith in the direction and the young forward core. He is two seasons removed from scoring 70 points and the Sens desperately need more offensive output. He'll be able to score a lot of goals with Logan Brown's playmaking and Tkachuk's bulldozing ability helping him out. This line has the potential for a lot of excitement for Senators fans. 
Forwards Alex Formenton, Josh Norris, and Vitaly Abramov will be first call ups. There just isn't a space on the roster for the roles they play and their development won't do well playing four minutes on the fourth line. The Senators have a plethora of NHL prospects and this season will need to see management separate wheat from the chaff. 
What's to Come?
The above roster is a projection that provides a lot of fans a possible mock-up for what is to come. The forward core is very young, but has the potential to be a fast and fun group to watch. The defense has a lot of ability to shift and change, moving players like Josh Brown and Mike Reilly out of the lineup for younger, higher-upside players. The goaltending is set potentially for years to come and will have the chance to steal some games if they're in the hunt for a wild card, which is not likely. It may be a young, green team but this would really show fans that they are going with a youth movement for the future. 
---
---