The San Jose Sharks shut out the Vegas Golden Knights in their final preseason game prior to the 2021-22 season. Both teams fielded rosters that are nearly what they will go with in their season opener. It was a good measuring stick for the Sharks as experts expect the Golden Knights to win the division fairly easily. Here are my takeaways from the final tune-up.
1. The Power Play Might Be Unbroken
During the 2020-21 season, the Sharks had one of the worst power plays in the league converting just 14.1% of the time. Their miserable man advantage was only better than the Detroit Red Wings and Anaheim Ducks. There were many reasons for their lack of success in 2020-21 and having such an impotent power play was emblematic of their lack of offense overall.
In this preseason, the power play has looked more dynamic. The Sharks are varying their attack, not satisfied to bomb shots from the points like they were in 2020-21. Part of the improvement might be personnel, but part of it seems to be a change in philosophy. The Sharks are getting more seam passes through the defense, opening up better shooting lanes. Very difficult to say if this will keep up in the regular season, but it seems promising.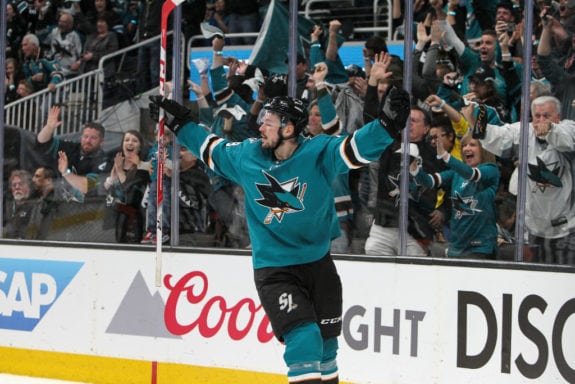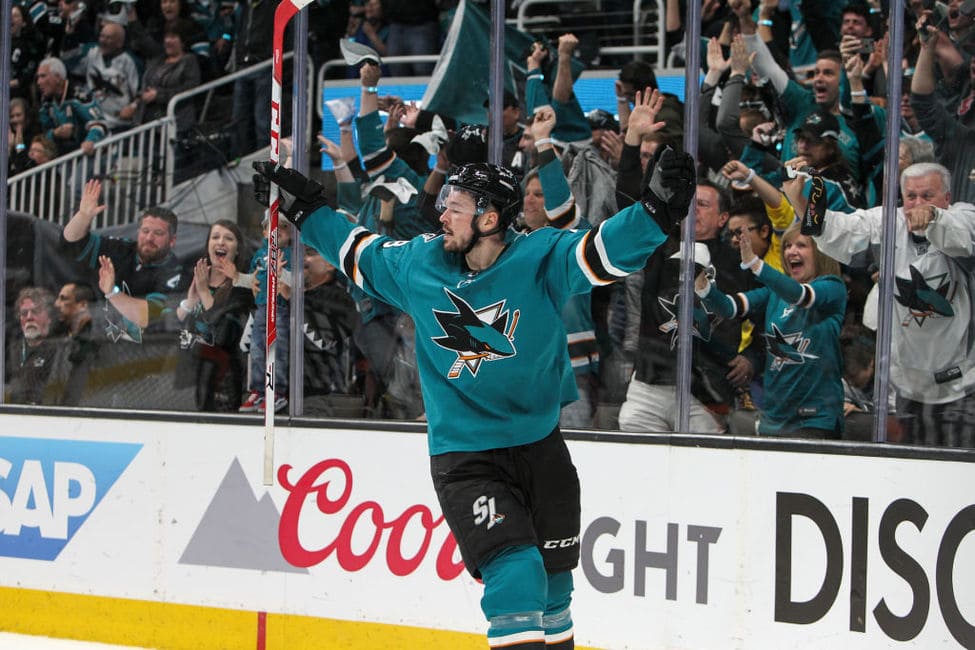 The offseason additions have reshaped the power play units. The Sharks were running Brent Burns with Jonathan Dahlen, Nick Bonino, Logan Couture, and Timo Meier on one unit, and Erik Karlsson with William Eklund, Tomas Hertl, Kevin LaBanc, and Lane Pederson. With two units that are fairly evenly split, I would expect them to get roughly similar time on ice. The Sharks have tried Burns and Karlsson on the same unit for a long time now, and it just has not worked. If the Sharks can get their power play to the middle of the pack, they will have a fighting chance at a playoff spot in the Pacific Division. More on how the personnel seems to be helping below.
2. Climbing Up Hill in Net
Adin Hill played the entire game and looked very good. He was crisp in his movement, and seemed to see the puck very well. His reactions to pucks were very quick, including a few deflections that he had little trouble saving. His rebound control was excellent, and he even stopped a point-blank one-timer.
Related: Sharks Fans Have 3 Reasons For Optimism This Season
According to Natural Stat Trick, the Golden Knights should have scored 1.25 goals against the Sharks, but Hill was able to keep his net free of goals. It's only one game, but since this was the Sharks' most complete roster minus Marc-Edouard Vlasic and Alexander Barabanov, it's a pretty good sign that he was able to perform well. The Sharks would obviously love for Hill to be great, but they would settle for league average. They have been so far below average the last two seasons that average would be a vast improvement.
3. Rookies in Prominent Places
With the money the Sharks have tied up in Karlsson, Burns, Vlasic, and Couture, they need players on entry level contracts to make big contributions. The same was true last season, but during training camp and the preseason, none of the young players seemed ready to grab a prominent role. That has definitely changed this season, as there are at least four Calder Trophy eligible players on the Sharks who should see prominent roles — Eklund, Dahlen, Weatherby, and Santeri Hatakka.
Hatakka was a sixth-round pick in 2019, taken 184th overall. This was the same draft that Artemi Kniazev was drafted in the second round. Hatakka earned his roster spot ahead of Kniazev and the highly touted Ryan Merkley, who was drafted in the first round in 2018. Hatakka has decent size at 6-foot-1, and is an excellent skater. After playing most of the 2019-20 season, and all of 2020-21 in the Liiga in Finland, he is ready for the NHL. Though his spot is likely only available due to the injury to Nikolai Knyzhov, Hatakka may end up in the lineup more regularly than you might think. He looks comfortable next to Karlsson and has more upside that Radim Simek and Jacob Middleton.
Weatherby has been impressive since development camp. The coaching staff has put him in more and more challenging positions, and he seems to excel in just about all of them. Weatherby outplayed Dylan Gambrell, and is the reason the latter was waived. The battle for the 4th line center role pretty much turned into the Weatherby showcase. Seeing him on the power play was a bit surprising, but considering he is 6-foot-4, it makes sense to see what he can do there. Early returns are very promising.
Dahlen came into this season with a lot of hype. After spending the last two seasons in the 2nd division in Sweden, he is looking to make the jump to a full-time NHLer. Dahlen didn't look that impressive early in camp, but he saved the best for last. Dahlen had one goal, but beyond that he had several quality chances. According to Natural Stat Trick, he had by far the highest individual expected goal (ixG) rate of anyone on the Sharks. His ixG for the game was more than double the next closest skater Pederson. Dahlen should get regular top six deployment and if he plays like he did in this game, he could be in line for a breakout season.
Eklund just continues to impress. I don't think it's a coincidence that the power play looks so much improved and Eklund has four power play assists. In this game, he got his first goal and while you might say the Golden Knights defenders colliding made it an easy two on zero, but I would submit that Eklund's speed caused the aggressive crossover by Nick Hague that led to him falling. Eklund used his speed to create the space then slowed the play down to execute a perfect passing play with Balcers that left Robin Lehner with no chance. The Swedish wunderkind is going to continue to make highlight reel all year and is a dark horse candidate to get Calder Trophy votes.
Looking Ahead
The Sharks open the 2021-22 season on Saturday, Oct. 16th, at home against the Winnipeg Jets. There are a lot of questions about the team that remain to be answered. Time will tell, but there are reasons to be optimistic that the upcoming season will have a better outcome than the last. At the very least, it should be very entertaining to see how all these young players progress.
---
---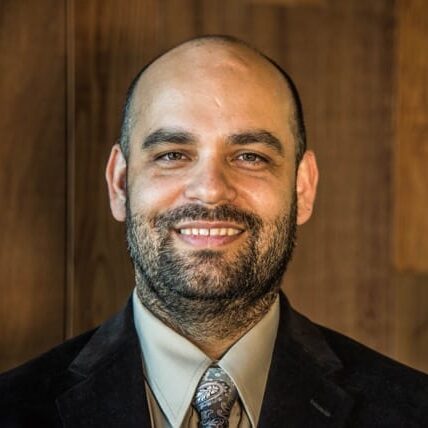 Victor Nuño is a physician in private practice in Santa Cruz and an associate professor of osteopathic manipulative medicine at Touro University in California. He is an avid hockey fan ever since the San Jose Sharks joined the NHL in 1991. He plays, watches, and consumes everything related to hockey, but especially the Sharks and AHL affiliate Barracuda. In addition, he is a father to two beautiful young girls and husband to a wonderful wife. Follow me @VictorNuno12