You'd be hard-pressed to find many positives from the Devils' 2014-15 regular season. A woefully poor season that saw the team sport a 32-36-14 record with just 78 points and miss the postseason for the third-straight season.
One of the few high notes was the play of Scott Gomez. After accepting a tryout and waiting nearly two months to sign with the club, Gomez embarked on what would be a rebound season for a forward who had looked to be nearing the end of the line in pro hockey.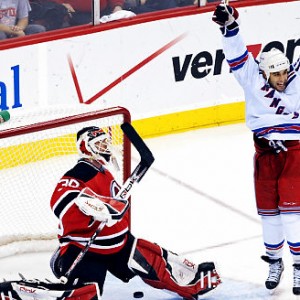 Gomez never lived up to the expectations of a seven-year deal with the Rangers. Much to the chagrin of Devils' fans, Gomez struggled in New York and was traded to Montreal after two seasons. There he did little to relinquish the unenviable title of 'worst contract in the NHL.'
That contract was among the first to be optioned as a compliance buyout when the NHL resumed for the lockout-shortened 2013 season. He'd go on to bounce around in San Jose and Florida until the summer of 2014, when he joined the Devils on a camp invite. An impressive pre-season coupled with some patience and opportunity via injury afforded him a chance to play. Once he was in the lineup, he made it difficult to keep out.
In 58 games, Gomez scored 34 points (7G, 27A) and was among one of the few consistent forwards on the team. Even his harshest critics felt Gomez did enough to earn a contract for the 2015-16 season, but when new management led by Ray Shero came in, they opted for most of the organization's free agents to head to the open market, citing the need to give opportunity to the younger bodies.
On Tuesday, the Blues placed Gomez on waivers. The forward, who currently has eight points (1G, 7A) in 21 games became expendable with Patrik Berglund ready to come off of injured reserve. Though the Devils were adamant about giving opportunity to its young pool of talent, there could be a spot for Gomez yet again.
What Gomez Brings
Gomez's scoring touch was never top-notch. He's topped 20 goals once–a wild 2005-06 season where he netted a career-high 33 goals. What he does bring though is good straight ahead speed with the playmaking ability that made him a top NHL center in his prime.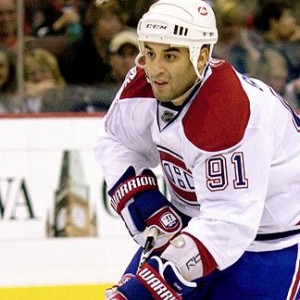 No, he's not a top center in the NHL anymore. But, on a Devils team that has a mix of centers slotted above where they belong, he would add to the depth that teams covet. Especially a New Jersey squad that is among the bottom of the league in the dot.
Last season, he boasted a 46.6 efficiency in the circle–that number took a slight dip in 21 games this season at 44 percent. Still, the overall package that comes with that could be a bit greater than what the team has seen as of late out of some of its bottom line centers. And, as John Hynes looks to mix up his lines, Gomez could bring some options to a thin center ice.
Finish What He Started
There's no question that Gomez's stats over a full 82-game season would have been impressive. Impressive enough that he probably would have earned an outright contract over another pro tryout. And while his what appears to be, short stint with St. Louis wasn't noticeably productive, he's an effective enough NHL body that the American Hockey League just seems like a major downgrade.
This could be a second act for him with the Devils–a chance to show last season wasn't a fluke. And a chance to finish on a high note.
Last season he penned a piece in The Player's Tribune. Titled 'Not Done', he wrote about his appreciation for the Devils and highs and lows from his career. Like any player, he had plenty of both. His time in the Devils certainly wasn't all roses–but he was one of those players that worked in Jersey–the type that never looked quite right in any other sweater. Maybe it's the Hollywood in me, but now, as Gomez's career does seem to be on it's last stand–the Devils would be an enchanting finish.
The Reality
But, hockey has no time for enchanting tales–no favors to be had. Especially with such organizational turnover.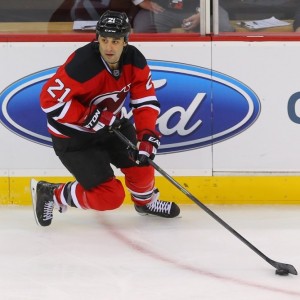 There's still some faces within the organization that would greet the forward with open arms–and then again, one of the most popular guys in the room–you'd struggle to find someone who wouldn't for Gomez. But the reality is, none of that appears to matter now.
What does though are the things that matter for the other twenty-eight teams that could potentially put in a claim (including Lou Lamoriello and Toronto): a fit and a need.
If Gomez is to return to New Jersey it won't be for some reunion. It won't be because he's friends with Mike Cammalleri and Adam Henrique–or anyone else. It'll be for the fit. And maybe, for him, that's exactly what he wants.