There are eight NHL teams vying for one of four spots in their respective Conference finals. Of these eight clubs, only one has played the entire postseason without both its top goal scorer and number two defenseman based on regular season minutes per game. The Tampa Bay Lightning playing the New York Islanders in the second round of the playoffs have taken the ice in these playoffs without the services of Steven Stamkos and Anton Stralman.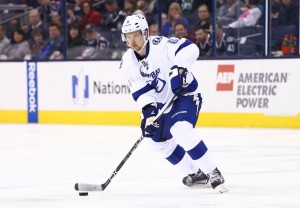 To put this into perspective, it would be the Islanders without John Tavares and Nick Leddy. Or the Washington Capitals without Alex Ovechkin and John Carlson. It is a definite eye opener. How about the Pittsburgh Penguins without Sidney Crosby and Trevor Daley? We're not talking missing a game or two, we are talking missing every game for the first two rounds of the playoffs and quite possibly more.
Even looking at the Western Conference teams: The San Jose Sharks without Joe Pavelski and Marc-Edouard Vlasic. The Nashville Predators without Filip Forsberg and Shea Weber. The St. Louis Blues without Vlad Tarasenko and Alex Pietrangelo and the Dallas Stars without Jamie Benn and John Klingberg.
The question is would any of those teams be as deep as they currently are in the playoffs without those two players? Without those two for every single playoff game that those teams have played? Maybe, maybe not. If they were to be on the verge of their Conference final, would they be able to press on still not knowing when their injured duo would return? Not knowing IF they were going to return?
Roster Rehab
But that is where the Tampa Bay Lightning find themselves and what they have done thus far in the playoffs is damn impressive. Kudos to Steve Yzerman, Lightning GM, and his Director of Scouting, Al Murray. When Yzerman was hired by owner, Jeffrey Vinik in 2010, the franchise cupboards were bare.
Yzerman has filled those barren spots in the organization through brilliant trades, wise free agent signings, and smart draft picks. Every player but Stamkos, Victor Hedman, Alex Killorn, and Luke Witkowski were drafted, signed or found and signed since Yzerman arrived six short years ago.
Throughout the regular season, the Lightning have had the depth to withstand the injuries that plague every NHL team. Next man up became this team's theme. So, it is of little surprise to those of us who have watched this team all year.
Next Man Up
When Tampa Bay saw the painful break of Stralman's leg and heard the news of Stamkos' emergency surgery, some playoff hopes were dashed. But to hear the players talk, it was "next man up". Hey guys, you just lost your number two blue liner. Next man up. Oh no, now,you just lost your top goal scorer. Next man up.
Perhaps the team as a whole gained the perspective necessary to endure after last season's playoff run. The Lightning played 26 out of a possible 28 games last year only to fall two games shy of lifting the Cup. Yes, that has to hurt but the knowledge and experience this Tampa team gained in that deep run has proven invaluable this postseason.
The way the team has stepped up is confirmation that the road to redemption of last year's miss in the Stanley Cup Final is bigger than any one injury. This is the ultimate team sport during its extreme time of year. Win four games before you lose four games through four series over eight weeks.
Leading three games to one in the second round series against the Islanders after putting away the Detroit Red Wings in five games in round one, the Lightning are looking to punch their ticket to a second consecutive appearance in the Eastern Conference finals.
To accomplish that without their captain, Stamkos and without Stralman, one of the anchors among the defensive corps is remarkable. To point to one or two individuals as the men who stepped up would be misleading.  It has truly been a team effort, though some players need to be spotlighted.
Fearless Bunch
Jonathan Drouin (#3 Draft pick 2013) has produced a point a game in the playoffs. The Drouin story has been told ad nauseum. Suffice it to say that a month ago, no one, including Drouin himself, figured he would be playing important top 6 minutes in the playoffs.
.@TBLightning's Jonathan Drouin talks about big hit he took in 2nd and his return in the 3rd. #NHL #GoBoltshttps://t.co/3WluRky4wI

— FOX Sports Florida (@FOXSportsFL) May 4, 2016
There's Valtteri Filppula (Free Agent – 2013) winning important faceoffs for a team that relies heavily on puck possession. Filppula has also added four points in the first nine games while playing more shifts than any other Lightning. Good production from a third line center.
On defense, Braydon Coburn (Trade – 2015) has stepped up his minutes in the playoffs and is helping workhorse, Hedman hold down John Tavares. Jason Garrison (Trade – 2015) put in the game winning overtime goal in Game 4 against New York.
looks like Braydon Coburn got himself… a pair of Wings. pic.twitter.com/lgei7rssq2

— Hotline Blinn (@NHLBlinn) April 14, 2016
One cannot discuss the Lightning without mentioning their Vezina finalist, goalie Ben Bishop. That nod for the Vezina is Bishop's second in three years. He is continuing to step up to help offset the injured players. Bishop is another Yzerman acquisition through trade. The Lightning gave up Cory Conacher for Bishop in April of 2013. Bishop is now an elite NHL goalie.
The boys of 2011 are all stepping up. Draft picks, Vlad Namestnikov, Nikita Kucherov, Nikita Nesterov, and Ondrej Palat have all registered points in the playoffs but Kucherov with eight goals in nine games is the leading goal scorer in the playoffs. Tyler Johnson, the undrafted signee of 2011 with four goals and eight assists is tied for third in total points in the playoffs.
Yzerman, Murray and their staffs have performed a herculean makeover for the Lightning organization. The proof is on the ice. Last year's magical playoff run was unexpected by many but the team was healthy for the most part. But what this team is doing this postseason is flat out frightening for the other playoff teams.
We haven't even brought up the fact that in the second game of the first round against Detroit, they lost J.T. Brown to an undisclosed injury. Brown hasn't returned and it is unclear when he may be cleared to go. Undrafted, Brown was signed in 2012 and is one of the most dangerous penalty killers on the team. Despite his loss, the PK unit is fourth as a team in effectiveness. Next man up.
A team effort. A total team effort is catapulting the Lightning to a repeat of last year's playoff run. The players are seeking a slightly different outcome in this playoff run. Yzerman and the coaches have built and prepared this team for success. Next man up is working for the Lightning.
Imagine for a second as Stralman's leg heals and he is closer to returning just how stingier the Tampa defense will be. Try to visualize Stamkos coming back to help lead Kucherov, Johnson and the others in scoring. Figure that when they get Brown back that their penalty killing will get even better. The depth of the Lightning roster will be primed to go deep in these playoffs. Perhaps, even Cup hoisting depth.
Born in Chicago, Illinois. Grew up playing and loving sports. Spent most of my formative years playing, debating, arguing and talking sports. for the last couple of years I have written about hockey. I am currently a Tampa Bay Lightning contributor for The Hockey Writers. I know that I may not always be right, but I am passionate about hockey and it is damn hard to hide that passion in my writing.