He's a three-time Stanley Cup winner, a Conn Smythe winner, an Olympic silver medalist and a Calder Trophy winner along with many other accomplishments. When his game his on, he's one of the purist goal scorers in the NHL.
Now, his day with the Cup right around the corner and due for a big raise in 2015-16, the news surrounding Patrick Kane has nothing to do with his on ice accomplishments. In fact, it has nothing to do with hockey at all.
https://twitter.com/ByTimGraham/status/629311801130373120
The Buffalo News is reporting that the Chicago Blackhawks star forward is allegedly involved in an on-going sexual assault investigation by police in Hamburg, NY. While  no details have yet been released, speculation is already filling social media timelines.
[ALSO SEE: Patrick Kane Part of Police Investigation]
But that's where these stories get tricky. Fans and other individuals repost and retweet images, posts and misplaced facts they see on their social media platforms and that's what gets the figurative ball rolling on the rumour mill.
Fan or Foe: Time to Stay Neutral
Still in the early stages in terms of what's available to the public, this investigation is one of the tricky sides of sports. While it's a hard place to be in when judging a situation like this at any point, the fandom aligned with professional athletes often steers these stories in directions they aren't meant to go.
It's called hero worship. It's defined as the veneration of a hero – the foolish or excessive adulation for an individual. And often, it can blind people when these types of investigations arise around their favourite players, coaches or any one else they overly admire.
In the same sense, people who are looking to defame a player they dislike can have an effect of similar severity. Adding their own thoughts, made-up facts, or other suggestive remarks on social media is not uncommon. All it takes is a few people to share these thoughts – or rather wrongful opinions – and the story can spiral out of control.
https://twitter.com/JulieDiCaro/status/629648103365345280
When the facts aren't there, it's our responsibility to maintain order in the evolution and unfolding of the investigation. Instead of calling out the accuser or commenting on the state of professional athletes and their entitlement, it's time to stay quiet. It's time to remain neutral until the actual facts are released.
In The Case of Patrick Kane
The Blackhawks sniper and his lawyer have remained quiet on the situation thus far. The police have also remained silent. Of course, Kane's history is already a topic of discussion. Though it did get him into some trouble, his 2009 incident involving the Buffalo cab driver certainly doesn't relate in anyway to the incident he is currently involved in.
And yet, Twitter reacted.
https://twitter.com/YaBoyRampage/status/629347225957715968
Now I'm kinda glad I didn't get his jersey… #PatrickKane

— Kelsey Gough (@klgough14) August 7, 2015
Why is Patrick Kane not indefinitely suspended like Slava Voynov was when he was under investigation??

— daniel (@hawks1523) August 7, 2015
Not that anyone cares what I think, but I highly doubt Kane needs to sexually assault a girl too get in her knickers #PatrickKane

— James Friedel (@jamesfriedel8) August 6, 2015
While not all of these tweets form the same opinion, all of them do have one thing in common. They jump to conclusions on who's innocent and who's guilty. They demonstrate just how quickly people react and how much some are willing to forgive because of who the accused is.
But as Tim Baffoe of CBS Chicago writes, Kane is not a friend to fans. While we might idolize what he does on the ice we have to take a step back when it comes to the situation at hand and recognize that, regardless of the outcome, this incident will not have a positive outcome for anyone involved.
This includes the on-going coverage of the story. Look for a validated source when seeking the real facts. Don't just stick to the one story or the one article.
Dan Bernstein sums up the difficult position journalists are in, writing, "We wade through the filthy river of texts, emails, and phone calls that reinforce the rape culture endemic to sports; trying to balance reasonable discussion of any potential outcomes with the awareness that this is not about hockey right now, not about Stanley Cups, or a salary cap. Not yet."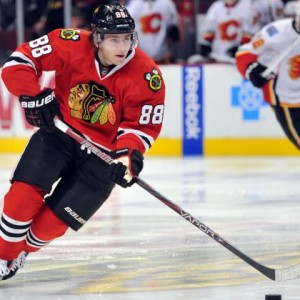 "Most importantly," he continues, "we have to be mindful that as we wait, there is an alleged victim waiting, too."
So folks, while you remain glued to your phones and computer screens for the latest update on the investigation surrounding this NHL superstar, take a second and bring him off that pedestal. Wait for the real facts before you justify what he did or publicly vilify him.
While we don't know the outcome of this particular situation, it's proven once again the dangers of social media in its relation to rape culture in sports and the hero worshiping that exists amongst fans and professional athletes. Though it's not likely it'll change anytime soon, let's simply remind ourselves to respect the system and take the real facts into account when sharing information about these types of incidents.
For more, follow Andrew on Twitter at @AndrewGForbes or his THW column at @Tape2TapeTHW.