Congratulations fellow sports fans, we've made it through another summer slumber. Don't get me wrong, I appreciate the subtle nuances of baseball and Alex Rodriguez' fall from grace as much as the next guy, but the real sports busy season is upon us. College football has returned, the first NFL Sunday is up next, followed by the debut of the World Cup of Hockey and the ensuing NHL season we've been waiting for. It's happening fast.
In the spirit of sporting bliss, I've decided to dish out some comparisons across athletic lines.
College football is known for a lot of things, some of them good, some of them bad, and some of them legal by NCAA standards. At the helm of each program sits a leader to guide the ship, with a similar knowledge base, yet entirely different coaching style from his counterparts. The same can be said about the NHL fraternity of coaches, where uniqueness reigns supreme and curse words flow freely. There's nothing politically correct about a college football sideline or a hockey bench, nor should there be.
Without further ado, I give you the NHL/college football coach matching game. Some fit like a glove, while others are a bit of a stretch. Just bear with me, and remember that analytics had nothing to do with anything you're about to read.
Joel Quenneville – Nick Saban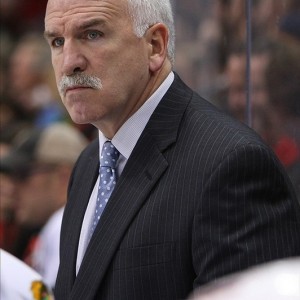 Simply put, these men are the gold standards of their respective fields. Quenneville is the current master of the ice rink, while Saban stands atop the gridiron. But it is more than simply being elite that links these two coaches. The similarities in their approaches, command of a locker room, and individual makeup make this comparison a tic-tac-goal, or a pick six, depending on your fancy.
Defense is the key for each. Quenneville played the game as a defenseman, and despite all the offensive firepower his front office has accumulated, he's never abandoned his defensive principles. It's constantly overlooked and something that has been the backbone during three Stanley Cup runs for the Blackhawks. Similarly, Saban knows where his bread is buttered at Alabama, and that's on the punishing side of the ball. The Crimson Tide win by smothering opposing offenses, neutralizing threats and dictating the terms of the game with their vaunted defense. The rosters may turnover in Chicago and Tuscaloosa, but the coaches still figure out how to play consistently good defense.
While both men are intense and at times appear a little nutty, they have each shown the ability to remain calm in pressure situations. The Blackhawks are 45-16 in playoff Games 4 through 7 during his Chicago tenure, an ultra-impressive stat given the magnitude of each of those games. And Saban, having won an absurd five national titles himself, always manages to navigate through the high-stakes chaos with ease.
I don't remember which rap CD taught me to never judge a book by its cover, but it's clear that Saban and Quenneville are living examples of that classic bar. They delegate power (shout out to Lane Kiffin and his reserved VIP table), get through to their players and have bounced around at several high-profile coaching gigs before becoming the best at what they do. Don't expect that to change anytime soon either.
Mike Babcock – Urban Meyer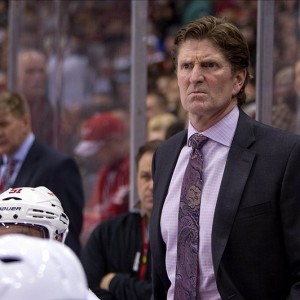 One could argue that Mike Babcock is hockey's most recognizable coach, a title that can be equally valid for Urban Meyer in the college football ranks. When you talk about control, confidence, and swagger, you are basically describing Babcock & Meyer. They are quite possibly the best at preparation before battle and no stranger to gutsy decision-making.
Before Drake rapped about starting from the bottom, these men lived it. Babcock was a player/coach in the United Kingdom before moving up the ranks in Canadian college and junior hockey. Meyer started out as a high school defensive back coach in Cincinnati before latching on to the Ohio State program that he now rules over. There were multiple coaching stops for both (Babcock in Anaheim, Detroit, and now Toronto; Meyer at Bowling Green, Utah, and Florida) but one constant remained — Winning. These coaches not only won championships but they did so at a remarkable pace. Can you believe that neither is over 53-years old? It feels like they've been here since Knute Rockne and Eddie Shore.
While it remains to be seen what Babcock can do in Toronto, I still marvel at how he has revamped Canadian international hockey. Sure the depth will always be there, but since their last failed Olympic run in 2006, Team Canada has become a well-oiled machine. The best players in the world have bought into a system because they respect their coach. I can't think of anyone else I'd rather have coaching a team USA collegiate football squad than Urban Meyer, for those same sentiments. Even though the scores would be more lopsided than the Batman vs. Superman reviews.
Ken Hitchcock – Bob Stoops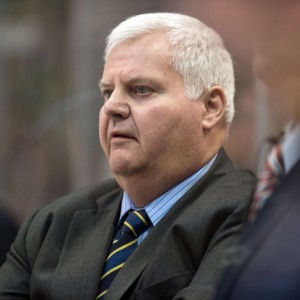 The resemblance is uncanny. Each coach has the same track record for overall success, yet underwhelming results in the biggest moments. Like Stoops, Hitchcock has exactly one championship — a far cry from his domination of the regular season. If you want a coach to turn your program around, build a winning culture, and consistently perform above average, these are your guys.
Now on the other hand, if you want to win the big one, please, for the love of God, look elsewhere. Stoops has lost so many premier contests, that even his nickname of "Big Game Bob" has grown tiresome. Heck, this past Saturday against Houston he had the decency to remind us just who he was with another vintage coaching performance.
For Hitchcock, the lack of postseason success comes down to two schools of thought. Either he completely burns his players out in the regular season (likely), or he just can't seem to make the necessary adjustments needed to beat the same good team four times in seven tries (also likely). One apparent final season awaits "Big Game Ken" in St. Louis before he either retires or takes another basement dweller to the doorstep of a playoff triumph. And not a step further.
Darryl Sutter – Les Miles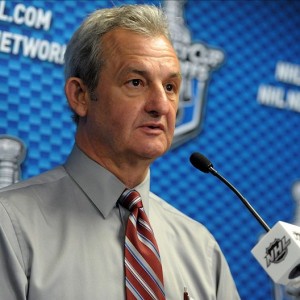 Good coaching comes in many forms, and some leaders are more set in their ways than others. Take Darryl Sutter and Les Miles, two men who have found success in their fields despite a personality that doesn't always win everybody over. Sutter has won two Stanley Cups in Los Angeles and revitalized several NHL franchises in his coaching career. But almost everywhere he's gone (Calgary, San Jose, Chicago) he's exited in a less than favorable fashion.
Miles is no stranger to internal criticism. He's won a national title with LSU and has had them at or near the top of their conference in most of his time at the helm. But with some of the best recruiting classes in the country and questionable in-game decision-making, the Baton Rouge faithful are not satisfied. Miles, for better or for worse, will not change. He is who he is, and would rather be physically removed from the LSU sidelines than coach as someone he is not.
Sound familiar Los Angeles?
Sutter is set in his ways, has a distinct system that revolves around defense (much like Miles here too) and does not like to be told when to adjust. When it works, it's great, and people dance. But when the results are poor, more heat comes back to the head coach. Make no mistake, though, these two titanic figures can coach. The real question is how long you can tolerate them.
Jon Cooper – Mark Dantonio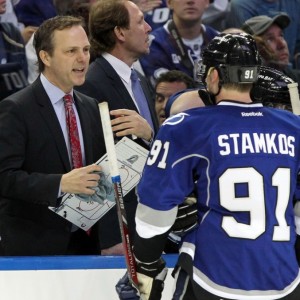 Both are perennially underrated and each has done a marvelous job winning games in the midst of stiff competition. In the hockey world, Jon Cooper's rise to prominence has been nothing short of remarkable. An attorney by trade, Cooper jumped into hockey at the junior level and swiftly moved up the ladder by winning everywhere he went. Dantonio is your typical football coaching lifer, but to accomplish what he has done in the Big Ten is borderline unfathomable. At least 11 wins in each of the last three seasons and completely owning Michigan? Doesn't get much better than that.
The biggest comparison I see between these two upstanding coaching citizens is in their demeanor. Both exude confidence but are laidback individuals. The spotlight is never about them and the players are allowed to shine without advanced theatrics and compulsive behavior. If a player gets injured in Tampa Bay or East Lansing there is no need to panic. It's simply next man up and the winning continues.
John Tortorella – Jim Harbaugh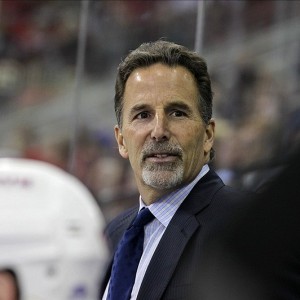 Crazy is crazy, regardless of occupation or sport. John Tortorella and Jim Harbaugh are the epitomai of coaching mad scientists, with equal parts genius and psychopath. Tortorella has had his share of coaching ups and down, alienated more than his fair share of star players, but has found the light at the end of the hockey tunnel through impressive accomplishments. Harbaugh, more than any other coach in football, gets the job done through unconventional methods. It's not pretty, it's impossible to explain and it makes you wish pleated khakis never existed — but somehow it works for the current head coach of Michigan.
The glaring bond both of these men have is their short shelf life. Tortorella won a Stanley Cup with Tampa Bay but even Floridians couldn't take his authoritative style very long. Harbaugh has had stops in San Diego, Stanford, and most notably San Francisco, where he resurrected a dormant powerhouse before feuding with his ownership regime in broad daylight. These are demanding coaches who want things done their way but even success has an expiration date with that type of style.
I am a firm supporter of both of these coaches being recognized in their respective sports, if for nothing more than their love for a challenge. Tortorella is currently trying to redesign a Columbus Blue Jackets team with no track record of success, and Harbaugh is trying to wake up the Wolverines from the worst era of coaching comedy and football sadness in the school's history. Crazy or not, these men care enough to try.
That's it for this edition of the college football-hockey match game. Coaches, good and bad, make the sports world go round.