Last month, I examined Central Scouting's (CSS) rankings for North American skaters with a focus on the OHL's London Knights and Windsor Spitfires. The analysis revealed that according to CSS, one out of seven London Knights players ranked made improvement between the midterm and final term rankings. In a slightly earlier analysis of all Canadian Hockey League (CHL) teams ranked by CSS, four out of four players with the Windsor Spitfires ranked by CSS did make improvements during this same time frame. The conclusion of these two publications suggested that the Windsor Spitfires are the best player development team in the CHL and the London Knights are the worst.
However, this remains true when examining Central Scouting's rankings only. After publishing both articles, a good point was brought to my attention:
"Player rankings do not tell the entire story on a player's development and you won't find any rankings that are virtually identical, i.e. NHL, ISS, Redline Report, etc. Over and above that, individual team lists vary significantly based on hockey opinion/projections, so the rankings alone shouldn't be seen as the be all and end all. It's simply another piece of discretionary data in the bigger picture.

Trusted experts and self-proclaimed ones as well "miss" the grade on elite talent all the time, i.e. Datsyuk, Zetterberg, Pavelski, to name a few – all bonafide NHL stars who obviously were mis-ranked."
This is true. Player rankings don't tell the entire story and I have looked at many different rankings and of course, none are identical. Besides this point, there's also not enough players ranked from each team to draw any concrete conclusions, even if identical rankings did exist.
Bringing ISS & Sportsnet into the Equation
That being said, if multiple player ranking organizations agree on an individual player's development, or lack of development, it would support the idea that specific teams are better or worse at developing players. In order to find this out, we need to look at more organizations ranking players over the course of the regular season – not just one annual ranking. International Scouting Services (ISS) does this and so does Sportsnet.
ISS Top 30 NHL Prospects rankings provide analysis for 46 players in both North America and Europe every month, between the months of October 2015 and April 2016 (seven months). Unlike the CSS rankings who ranked 240 players, fewer commonalities are found amongst teams, leagues and player positions as a result of fewer players being ranked.
Forty-six players appear throughout these seven lists. For the purposes of measuring the improvements made by players ranked by ISS, I'm assigning players ranked below #30 a ranking of ≤#31. For example, Dmitry Sokolov of the OHL's Sudbury Wolves appeared in ISS' top 30 once; in the month of October 2015. He was ranked #14. He didn't show up in any other month. Since we don't know the exact number of spots he moved down since October, I've made the assumption that he moved down 17 spots (at least): -17. This same methodology applies to all 16 players who didn't appear in all months ranked.
Similar to ISS, Sportsnet also ranked 30 players each month, but only for six months: October, November and December 2015, as well as January, February and March 2016. There was a total of 43 players ranked by Sportsnet during this time. The same measuring method applies to Sportsnet's rankings.
As expected, no lists are identical. Equally as expected, some lists agree on individual player development:
FORWARDS

http://gty.im/506182404



DEFENCE
http://gty.im/497375630


Based on these three player ranking systems, everyone agrees that Pierre-Luc Dubois, Logan Brown and Mikhail Sergachev did improve over the course of the 2015-16 regular season. Everyone also agrees that Matthew Tkachuk moved down in their rankings. They also agree that Olli Juolevi, Logan Stanley, and Alexander Nylander did not get any worse during this same time period. They also agree that Michael McLeod did not improve over the regular season.
Also as expected, some ranked individual players as improved, while others ranked those same players as significantly moving down in the rankings:
FORWARDS
http://gty.im/498967610



DEFENCE

Finally, ISS and CSS both agree that Max Jones of the London Knights moved down in the rankings, while Sportsnet disagrees with that. CSS and ISS also agree that Cliff Pu of the London Knights did improve over the regular season, while Sportsnet did not rank him at all. I will also point out that ISS, CSS, and Sportsnet do not have any differing opinions regarding any Windsor Spitfires players.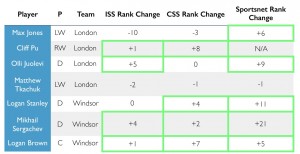 Windsor Spitfires Are A First Class Development Team
By comparing London and Windsor alone, my conclusion is that seven players are too small a pool to draw any concrete conclusions from. However, by comparing all players ranked by ISS, CSS, and Sportsnet, we can see that the number of teams producing more than four players to the CSS rankings are low:
It's low because the total CHL players to CHL players who were ranked ratio reveals that only the top two per cent are ranked. And if you look at the number of teams producing three or more players who made the CSS rankings AND ranked between #1 and #50 is even lower: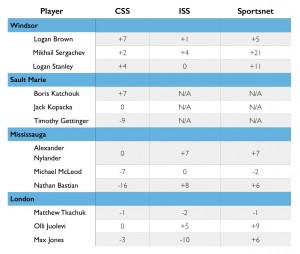 ISS and Sportsnet didn't rank the Sault Ste Marie team at all. There're only three CHL teams with at least three players that ISS, CSS, and Sportsnet ranked amongst the CHL's top talent: Windsor, Mississauga, and London. Of these three teams, the Windsor Spitfires is the only team that all three can agree on. By comparing all CHL teams, my conclusion is that the Windsor Spitfires is the superior development team in the CHL because they've produced the most players with improvement over the 2015-16 regular season, that the most player ranking systems can agree on. I've also concluded that there isn't enough evidence supporting any single team as being the worst player development team. Even though ISS, CSS, and Sportsnet all agree that London's Tkachuk moved down in the rankings and Cape Breton's Pierre-Luc Dubois moved up, it doesn't mean that London and Cape Breton is more likely to see this happen with the rest of their roster. Additionally, the ISS, CSS, and Sportsnet all agree that London's Juolevi did not move down in the rankings. Meaning, London produced players who both moved down in the rankings and who didn't move down in the rankings. If Sportsnet would have included Cliff Pu in their Top 30 rankings, perhaps we'd also discover that London produced players who moved up in the rankings as well (that everyone can agree on).