The Toronto Maple Leafs have a tough season ahead of them this season. They finished below all but one team in their division, the Buffalo Sabres, and each team in front of them either got better or at least will be good as they were. With the Leafs rebuilding, that shouldn't really be a problem. After all, the lower you finish, the chances in the lottery go up.
So let's take a look at how I believe the Atlantic Division will turn out this year.
1. Tampa Bay Lightning
While the Lightning didn't do much in the off-season, that wasn't necessarily a surprise. After all, they did represent the Eastern Conference in the Stanley Cup Final last season. The Triplet Line will be another year older and of course, we can never forget about Steven Stamkos and Victor Hedman.
The interesting thing to watch will be whether Andrei Vasilevsky can wrestle away a good number of starts from Ben Bishop. The one thing they have to make sure is that Stamkos' contract situation doesn't become a distraction.
2. Detroit Red Wings
Even with Mike Babcock gone, the Red Wings are still very much in a position to succeed. The team might be younger, but their new coach Jeff Blashill coached most of the Red Wings young players with Grand Rapids of the AHL.
Mike Green should play pretty well with less of a spotlight on him as it was in Washington. The goalies will also be an intriguing situation with Petr Mrazek poised to unseat Jimmy Howard as the starter.
3. Montreal Canadiens
The Canadiens are set in goal for the next decade or so. The same can almost be made for the defense as well. However, the Habs' weakness recently has been their offense. Carey Price can be one of the best goalies currently, but he's not going to be scoring goals for them.
So what did Montreal go and do? They traded for Zack Kassian and signed Alexander Semin. Both of those players are 'maybes' when it comes to their offensive production. Both players are looking for a fresh start. Kassian never really fit in with Vancouver and Semin, well he just needs to prove that he actually wants to play in the NHL still.
That being said, Price should at least keep the Habs in the Atlantic's top-three.
4. Florida Panthers
The Panthers are a slowly improving team and they should finally make a push for the playoffs this season. They've got a good goalie in Roberto Luongo. They've just been patiently waiting for their young stars to develop their pro game.
Whether or not they make the playoffs has more to do with the teams around them. The Eastern Conference, not just the Atlantic Division will be very tight this year. The Panthers, more than everyone else, will certainly need to have a good record against their divisional opponents.
5. Boston Bruins
Who are the Bruins? No one really knows at this point. Dougie Hamilton is gone. Milan Lucic is gone. Other than Matt Beleskey, most of the acquisitions the Bruins made this off-season were to set things up for the future. They still have Tuukka Rask, so they'll still stay close to the pack.
This will be another year with no playoffs for Boston. They'll get close, but it won't be enough.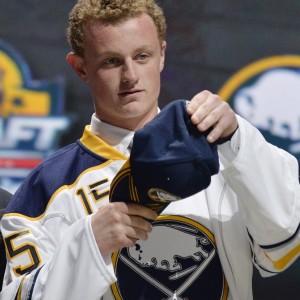 6. Buffalo Sabres
The Sabres will improve in the standings if Jack Eichel, Sam Reinhart and Ryan O'Reilly have anything to say about it. Their offense will be one of the best in the NHL in a few years. For now, they will be a team much like Florida, hoping their young players will develop at a faster rate.
Although, if Robin Lehner proves that he can handle the pressure of being a No. 1 goalie full-time in the NHL, they could get closer. Still don't think they'll make the playoffs, but stranger things have happened.
7. Ottawa Senators
The Senators have the talent. They have found a way to scrape their way into the playoffs in past seasons. However, that was on the strength of Craig Anderson's goaltending. He's not the same goalie as he was and has had some bad luck with injuries as of late. Behind him is Andrew Hammond and it's doubtful he'll be able to repeat the incredible success he had last year. Then they have Matt O'Connor, who definitely needs some time playing for Binghamton.
Erik Karlsson and the Sens' young forwards will continue to get better. However, their hard work won't be enough in an improved Atlantic Division.
8. Toronto Maple Leafs
Well, we all knew this is where the Leafs would be on this list. The slogan for this season might as well be, "There will be pain." This is where the Leafs should finish and this is where they will finish. Even with the new-and-improved lottery system, the Leafs should give themselves the best chance at picking one of the top three prospects, whether it's Auston Matthews or not.
No Leaf (player, coach, or management) will say the Leafs will tank. Players and coaches have their pride will never want to lose willingly. Management will not say they are tanking because it will get them fined and they could lose another pick as punishment. All you have to do is look at how they're set up for this season and know what will happen.
The Leafs will ship out as many players with one-year remaining on their contract around the trade deadline to get more draft picks. They then bring up the top-performing Marlies to finish off the season. It won't be fun to watch, but hopefully it will get better in the long-term.