Slovakian hockey in North America is chiefly defined by speed and points. Peter Stastny's 1.268 points per game is good for ninth all-time in the NHL. Marian Hossa needs 14 goals to reach 500, and 18 goals to pass countryman and noted speedster Peter Bondra for tops all-time among Slovaks.
That nation's top skating prospects in the upcoming NHL Entry Draft don't threaten to overturn those statistics. They do however have the potential to maintain the Slovakian legacy of excellence in the NHL.
Radovan Bondra
Playing hockey in Slovakia under the name Bondra is like playing hockey in Canada under the name Gretzky; the surname is synonymous with hockey greatness. Unattainable expectations shadow and taunt you like a tireless Esa Tikkanen, reminding you of your shortcomings and failings and the general hopelessness of your career choice. And for Slovakian winger Radovan Bondra, the last name is just a coincidence; he's not directly related to NHL legend Peter Bondra. And the fact that he plays for the same franchise as Peter did (HS Kosice) is just another unfortunate coincidence.
'Rado' is also an enormous human being, taking up 6'5″ and 220 lbs' worth of space. He has seen his productivity drop of late, which has affected his draft ranking, although ISS did fit him into their top 100 (97). Along with the other two prospects featured here, Bondra was part of Team Slovakia's surprise bronze-medal performance at the U20 World Junior Championships in January. He didn't see much ice time and registered no points, but he was also one of two 17 year-olds on the squad.
Erik Cernak
This 6'3 203 lbs defenseman is no stranger to the scouting radar; it has been tracking him since he was an overly large 15 year old, and for good reason: Cernak is a big-bodied defenseman with puck-moving abilities and plenty of offensive upside. He's an excellent skater with exceptional balance and mobility, his reach is invaluable, and oh, he has one other attribute: a mean streak. Just ask Mikko Rantanen:
While acknowledging that Cernak is no finished product, Corey Pronman called him a potential two-way defenseman with size, adding that "Those don't grow on trees."
Christian Jaros
I wrote about Christian Jaros recently when I included him among five stay-at-home defensemen available in the draft. He's got good size and he knows how to use it. He does many of the little things coaches love to see, and he does them with poise and confidence. He doesn't contribute much in the way of offense, but when you take care of your own zone with the same attention to detail and the same body removal process as Jaros, how many points you collect is of no interest to anyone.
The Slovakian Legacy Today
Historically, the Slovakian influence on the NHL has been up front, where the likes of Bondra, Peter Stastny, Pavol Demitra and Marian Hossa have left their mark. Add Marion Gaborik, Miro Satan and Ziggy Palffy too.
Less often celebrated is their contributions on the blue line, a legacy being made before our eyes by Zdeno Chara and Lubomir Višnovský.  Far and away Jaros is the most polished of these three Slovakian prospects, making him the best candidate to carry on that tradition.
—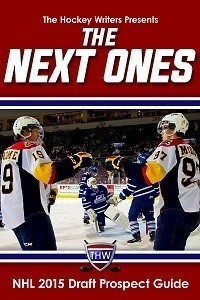 For coverage of over 150 prospects in the upcoming draft, check out THW's The Next Ones: NHL 2015 Draft Prospect Guide, available for the Kindle and all other e-reader formats.