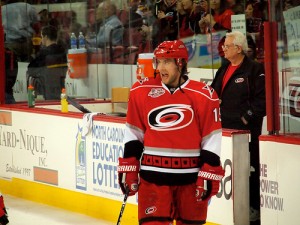 With the Carolina Hurricanes making key acquisitions over the summer—most notably Alexander Semin and Jordan Staal—many believed the Canes were going to be a competitive squad this upcoming season.
But, Tuomo Ruutu will not be there to help.
According to Carolina Hurricanes general manager Jim Rutherford, Ruutu, the center who scored 18 goals and registered 16 assists last season, recently underwent hip surgery.
"We're not sure how long he will be out," Rutherford said. "Certainly through the regular season, if we play it. Maybe longer."
Probably the question entering most fans' minds would be why Ruutu would choose to have surgery so close—well, hopefully—to the beginning of the season.
"In August he started complaining about it," Rutherford explained. "He tried a number of things to rehab it but it got to the point the doctors recommended surgery.
"There was really nothing that signaled surgery might be necessary. It just flared up. Like most athletes, hockey players have a lot of wear and tear on their hips."
One thing for certain is that Ruutu's physical play and ability to score key goals will be missed by the Raleigh-based team looking to become a top competitor in the East.