The Vancouver Canucks were supposed to have many weaknesses this season, and goaltending was near the top of that list.
After Ryan Miller departed for Disneyland in the offseason, Jacob Markstrom was presumably going to take over the starting job. It was the logical decision, even though his previous career-high in starts was only 33 games, back in 2015-16.
Although Markstrom got shafted by Willie Desjardins last season, he performed reasonably well in a support role behind Miller. Markstrom's three-year, $11 million deal suggests that he's a fringe starter, with the 28th highest cap-hit among all goaltenders.
With quasi-starter money, many were skeptical that Markstrom could handle the starting role. To provide support in the net, the Canucks also went out and signed another 6'6′, 27-year-old Swedish goalie in Anders Nilsson.
Through ten games, it's hard to complain about the Canucks goaltending. Nilsson has two shutouts in his first two starts, and both goalies have three wins apiece.
Even with their strong early performances, there are some surprising numbers coming from the duo.
Canucks Getting Clutch Saves
Both goalies came into the season as a bit of a wild card, but Nilsson was the greater unknown entity on the west coast. Nilsson has put up some strong numbers in the past. He briefly took over from Cam Talbot as the starting goalie in Edmonton during the 2015-16 season. Last year in Buffalo, he posted a .923 save percentage, which was a career best. It was a strong performance playing behind a leaky defence in Buffalo.
That clutch performance has carried on into this season. Through four games, Nilsson's .943 save percentage trails only Jonathan Quick of the Los Angeles Kings.
Nilsson 2nd in g..a.a and save % in NHL….Demko 2nd in AHL in g.a.a and save %….DiPietro is 1st in g.a.a and save % in OHL. #Canucks

— Rick Dhaliwal (@DhaliwalSports) October 27, 2017
Nilsson's numbers would surely be tops in the league if it wasn't for a two-minute stretch versus the Boston Bruins where he allowed three power play goals. It's been a near flawless performance for Nilsson thus far.
Don't count Markstrom out either, as the Canucks presumed starter is making clutch saves of his own. He turned in two great performances to start the season, and he also won his last two starts on the Canucks five-game road trip.
One stat that really shows how clutch goalies can be is high-danger save percentage. According to Natural Stat Trick, the Canucks goaltending duo is second overall in the NHL with a .926 high-danger save percentage. It's an incredible and likely unsustainable stat. Only six teams in the league have a high-danger save percentage over .900.
The Softies
If the Canucks want to remain competitive, they at least needed competent goaltending heading into the season. They've gotten that so far, and the fact that both goalies are making saves off of tough scoring chances bodes well for the state of the net this season.
Despite their strong performances, both goalies have shown a penchant to let in softer goals. Nilsson only let in one, against the Washington Capitals when the Canucks already had an insurmountable lead. Markstrom, however, has let in a few this season.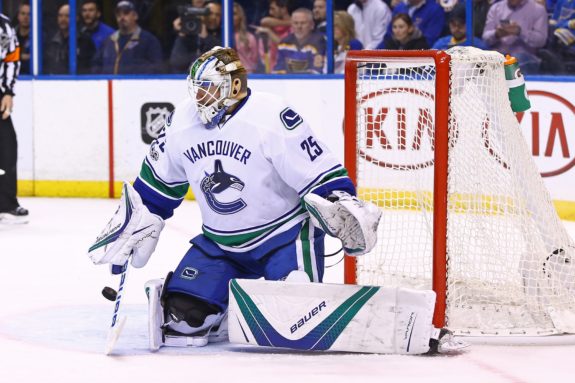 In the Canucks first two games of the season, Markstrom played well but let in a soft goal early in each of those games. It was a similar situation against the Sabres, where the Canucks dominated the first period outshooting Buffalo 17-4. Yet, they trailed 2-1 due to one soft goal let in by Markstrom.
Before their six-goal outburst against the Washington Capitals, the Canucks were still in the bottom half of the league in terms of goals scored. In the last few games they've gotten better support from their offense, but it waits to be seen if they can keep scoring goals at this pace.
You have to think that, as the season moves along, the margin for either goalie in the crease is going to be slim. It may be early in the season, but the Canucks have to be happy with what they've seen from both netminders thus far.
KPU Journalism Graduate. Trevor has been writing for The Hockey Writers since October 2014. He has contributed articles related to the Ottawa Senators, Vancouver Canucks, and other issues/stories regarding the game of hockey. Trevor currently lives in White Rock, B.C.