Wacey Rabbit enjoyed a distinguished five-year Western Hockey League career with the Saskatoon Blades and Vancouver Giants before embarking on a professional career that has taken him around the world and is now entering its fourteenth season.
Along the way, the former captain of the Saskatoon Blades and 2007 Memorial Cup Champion with the Vancouver Giants has kept it a priority to contribute to the community and give back to Indigenous youth through hockey.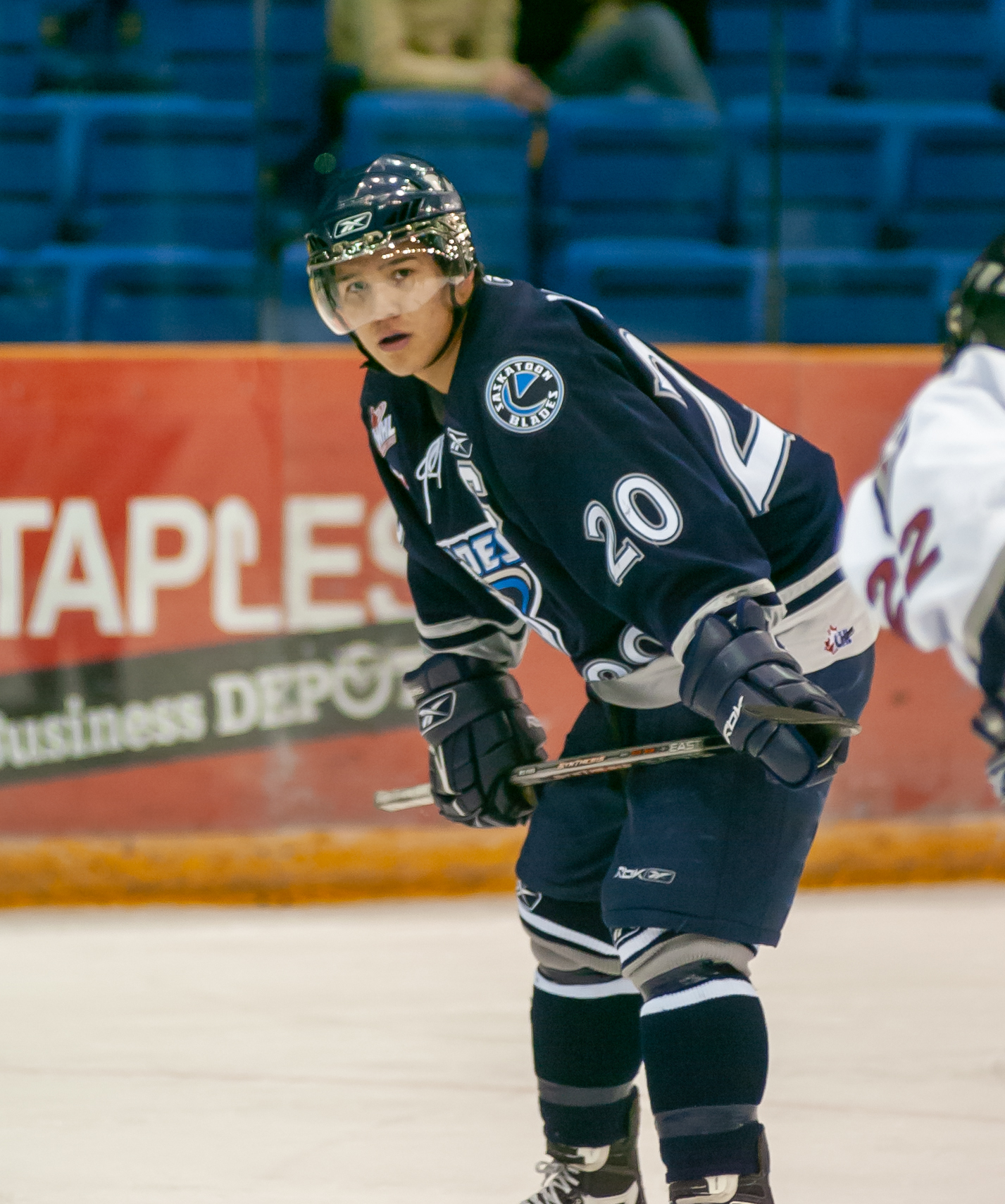 The 5'10'' center is signed to return for his fourth season with the ECHL's Jacksonville Icemen in 2020-21, but like most everyone else in the hockey world, has been in a holding pattern as he awaits the start of his fourteenth professional season. Current plans have the league slated to begin on December 11 with a unique split-season format.
In an interview with THW, Rabbit reflected on memories and shared about his new venture in player development and role as hockey ambassador with the Indigenous Sport Council of Alberta.
Sharpening with the Blades
Rabbit is from the Kainai First Nation in southern Alberta, and was a 2001 third-round bantam draft pick of the Blades. He played three games during the 2001-02 season before becoming a regular as a 16-year old the following campaign.
He shared his first vivid memory from his rookie season in 2002-03.
"I was nervous about the exhibition games," Rabbit said. "I ran (Regina Pats and future Minnesota Wild) goaltender Josh Harding twice by accident, and their tough guy (Chris Schlenker) was waiting outside the penalty box, so that was my 'welcome to the WHL' moment. I had no choice but to fight him, and he's much taller so I didn't win by any means, but I stayed in there and proved to the team that I could handle myself."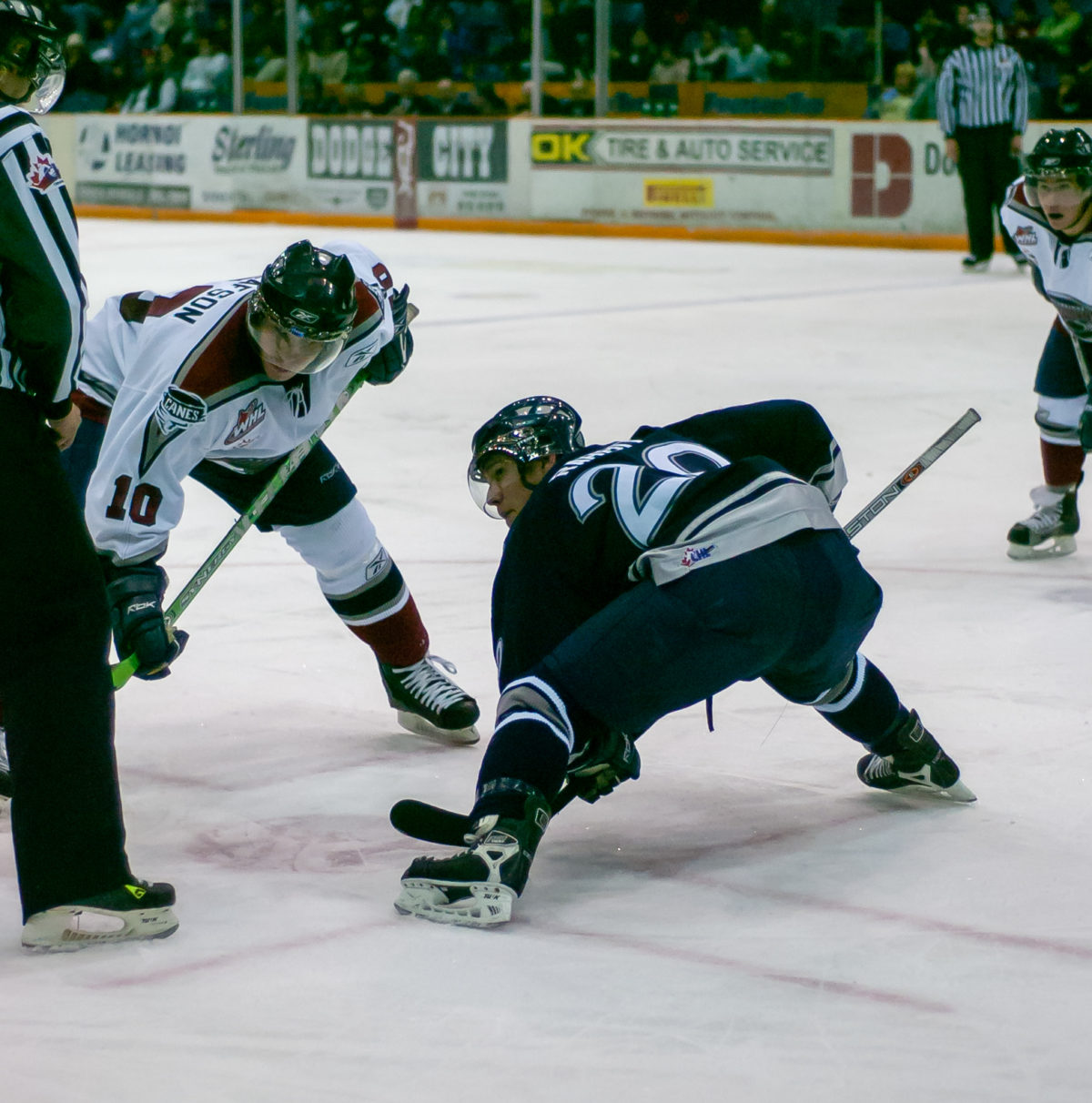 Like many 16-year old players, Rabbit didn't see much ice time early in the season, but head coach Kevin Dickie began to trust him more as the season progressed.
"By October or November, Kevin started to give me a little bit more leash to do things and figure out what I could do in the league," Rabbit remembered. "I started on the second power play unit and got moved up to the first unit, and then I was on the first line from December on, and caught fire."
Playing on a line with Ryan Keller and Warren Peters, Rabbit scored 21 goals and 45 points in 2002-03, and the Blades made the playoffs with 40 wins and 85 points. Keller played four seasons for the Blades (2001-05) and has been an assistant coach for the last four (2016-20).
For his performance that season, Rabbit was named Blades' MVP and earned a spot on Team Alberta for the 2003 Canada Winter Games. He was subsequently picked to play for Canada 2003 U18 Junior World Cup in a forward group that included Sidney Crosby.
His first WHL season was a resounding success, but it is often said that success is rarely a linear progression, and that was true for Rabbit. He struggled offensively in his second season, registering just nine goals and 17 points in 60 games as the 2003-04 Blades limped to just seven wins and 27 points, both franchise lows by a wide margin.
"It's still kind of touchy, but any time you win seven games out of 72, that's not a good year personally or team wise, and it's embarrassing to the franchise," Rabbit admitted. "You find out a lot about yourself when you're losing because your ego gets checked and you realize that you're not as good as you think you are. You really need to look in the mirror and be a good teammate and ask yourself, 'am I bringing everything I possibly can to help our team win?"
Rabbit recalls that season feeling like a snowball rolling downhill that "turned into an avalanche and swallowed the whole city."
That squad featured defenseman Mike Green, who would later be drafted 29th overall in the 2004 NHL Draft by the Washington Capitals that June. Rabbit said that if the Blades' had a good season leading up to Green's draft, he likely would have been a top-ten pick.
THW's Ben Little wrote about why Green was always under the radar and underappreciated.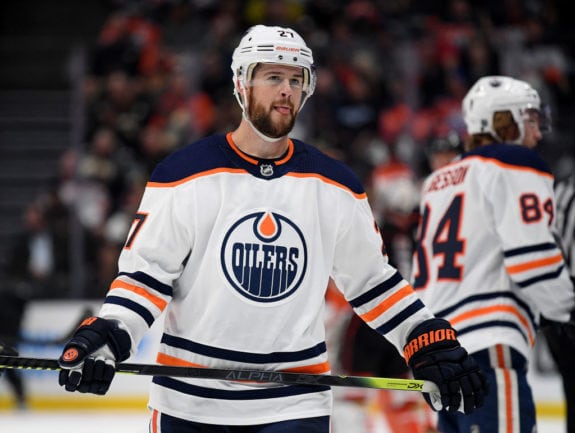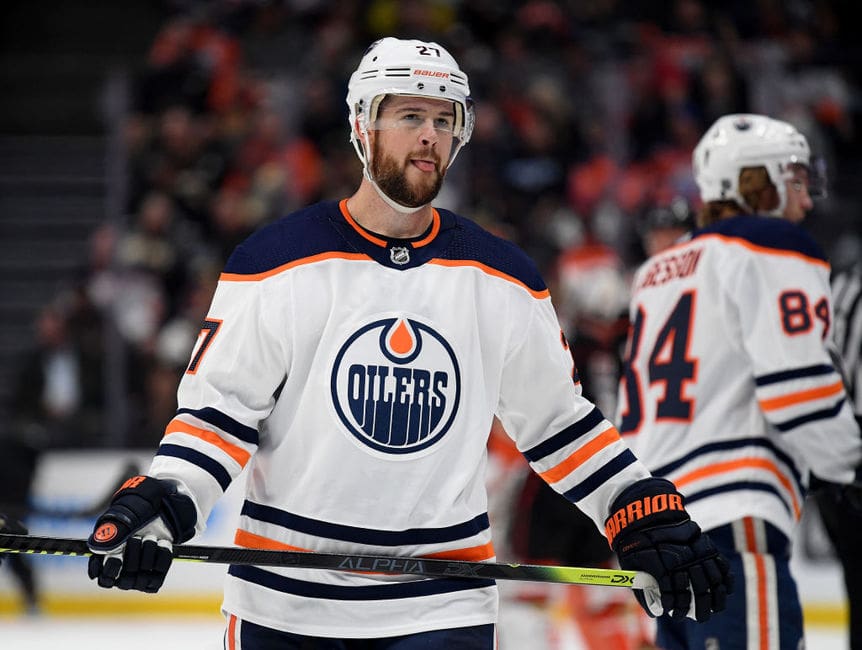 That Blades' squad experienced the depths of the junior hockey dog days with no hope of playoffs early on, but Rabbit is glad for the learning experience, saying it showed him what kind of teammate he didn't want to be, and how to prepare properly.
To their credit, the Blades' responded well, qualifying for the playoffs in each of the next two seasons. Rabbit rebounded as well, scoring 50 goals over the next two campaigns.
"The returning players (from the 2003-04 squad) were now taking over leadership roles," Rabbit said, including Green who served as captain in his final season of junior in 2004-05. "The guys who came back were the core guys who took a lot on the chin through that seven-win season."
Lorne Molleken, who recently appeared on episode nine of the Blades Uncut Podcast, took over as head coach of the Blades' in 2004-05, which Rabbit pointed to as key for both the team's success and his personal development. He played in the 2005 CHL Top Prospects Game before being drafted in the fifth round by the Boston Bruins that summer.
Rabbit was then named captain of the Blades in 2005-06 as a 19-year old, and scored a career-high 28 goals, which was second on the team, trailing only future NHLer Devin Setoguchi.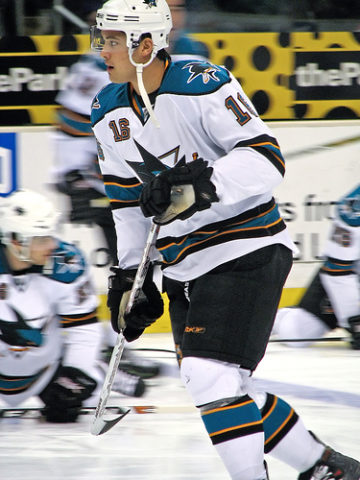 The Blades reached the second round of the playoffs that season where Rabbit notched five more goals and eight points in ten games.
Humanitarian
All the while, Rabbit still made it a priority to be active in the Saskatoon community. He pointed to one of his boyhood heroes, former Lethbridge Hurricanes captain Shane Peacock, a fellow First Nations hockey player, as inspiration.
"I've always felt like I needed to contribute to my community," Rabbit said. "With Saskatoon having a large population of Indigenous kids, I wanted to make sure that they saw me and knew that they had someone to look up to."
In recognition of his community service, Rabbit was named the WHL's Humanitarian of the Year for 2005-06.
"I wasn't in it to win awards," Rabbit said of winning the Doug Wickenheiser Memorial Trophy. "Even to this day, I'll have people talk to me about how I visited their school or did a community event with them. At the end of the day, we're trying to grow the game and make sure we have a positive impact in the short time we are there."
Rabbit was a mainstay at Blades' appearances at schools, visiting hockey teams and any other community events. He acknowledged the leading of then-Blades owner Jack Brodsky, who made sure that everybody in the organization knew that they were citizens of Saskatoon.   
Giant Finish In Junior
Rabbit's 20-year old season saw him start 2006-07 with the Bruins' American Hockey League affiliate in Providence, RI, but with a lineup stacked up the middle, opportunity was hard to come by.
"They usually rolled three centermen, and I was behind David Krejci and Nate Thompson (among others), so I was in and out of the lineup," Rabbit recalled.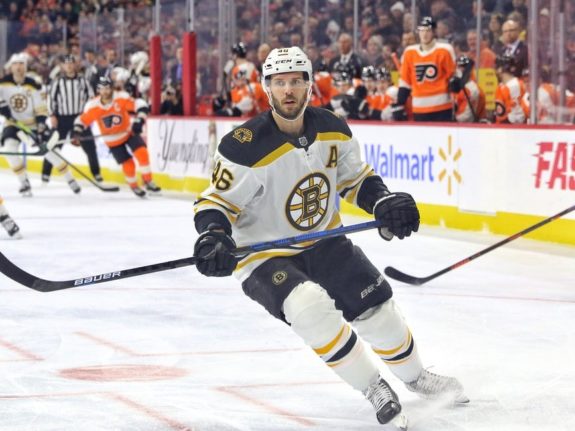 With the Blades struggling, Rabbit's agent and the Bruins thought that it would be beneficial to his development to send him back to the WHL for the remainder of the season, if he could be traded to a contender.
The Bruins initially assigned Rabbit to their ECHL affiliate in Long Beach, CA. Multiple phone messages from his agent were waiting for him when he landed in Los Angeles, informing him that he had a plane ticket to Vancouver the next morning as the Blades had traded him to the Vancouver Giants.
The Giants were the powerhouse of the BC Division, featuring future NHLers like hulking winger Milan Lucic, and blueliner Cody Franson, both of whom crack THW's own Matthew Zator's ranking of the top-five Giants to make the NHL. They were also hosting the upcoming 2007 Memorial Cup.
Rabbit stepped in and instantly became an impact player for the Giants, producing at a career-best clip putting up 11 goals and 36 points in 30 games. That pace of better than a point per game projected over a full season would have easily made him the Giants' leading scorer.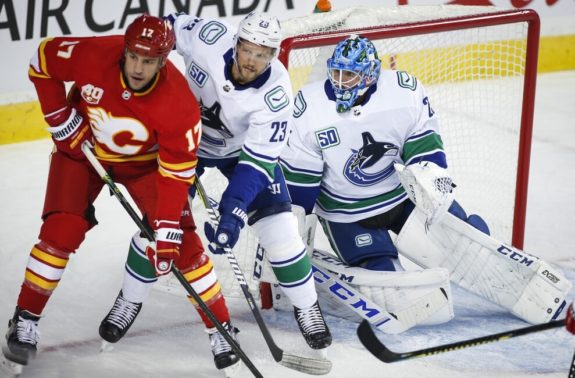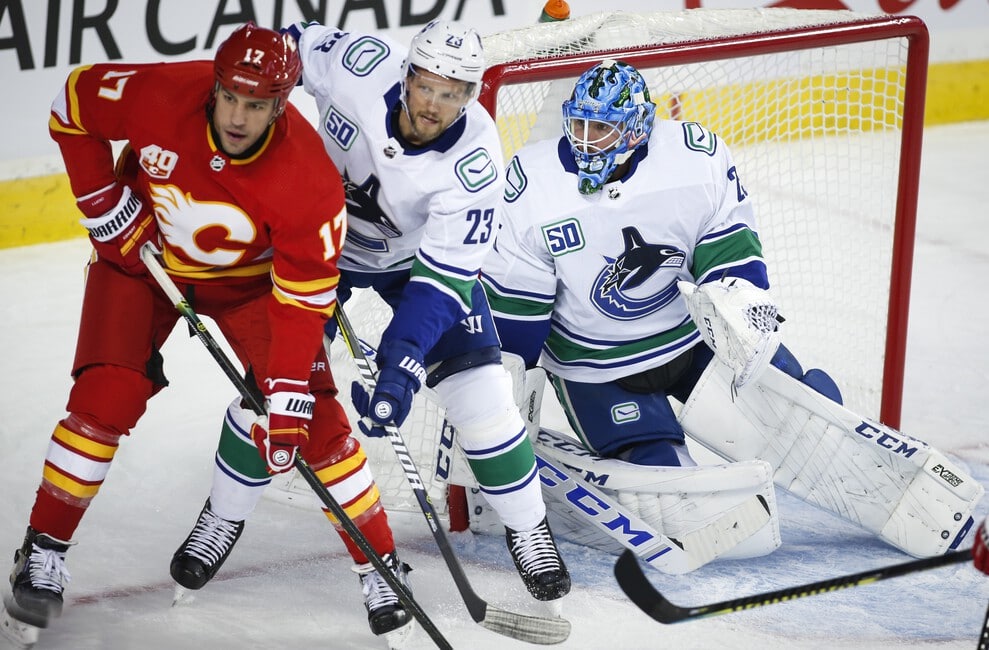 Vancouver ran away with the division, finishing with 100 points, 14 ahead of the second-place Kamloops Blazers.
That club was led by head coach Don Hay, who in 2018, became the winningest coach in WHL history.
"My first meeting with (head coach) Don Hay, he asked me, 'why are you here?" Rabbit remembered. "I said, 'to win,' and from then on it was pretty easy sailing. We had great players from our goaltending, a strong defense core, and with our forwards, our first line could have been our fourth line (and vice versa) because that's how they played."
Rabbit also commented on how hard the team played, saying, "they practiced so hard that when they were in games, it was easy. That work ethic that Don instilled in us was magnetic and you stuck out like a sore thumb if you weren't part of that."
Come playoff time, the Giants lost just three times on their march to the Ed Chynoweth Cup Final against the Medicine Hat Tigers, who won the WHL's Scotty Munro Memorial Trophy as regular season champions, holding off a strong Kootenay Ice squad that finished with 104 points.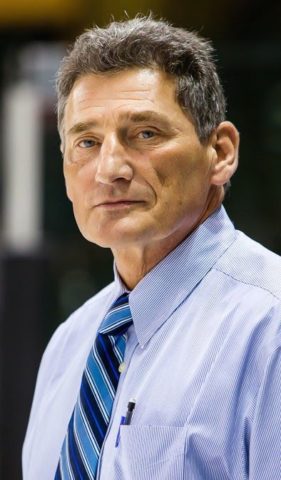 The Tigers were led by dynamic defenseman Kris Russell -who led the team in scoring during his final season of junior- along with forwards like Darren Helm and Tyler Ennis, all backed by the goaltending of Matt Keetley.
The series lived up to its billing, being decided in a classic seventh game at an electric Medicine Hat Arena that included an overtime fog delay.
"I remember warming up and seeing cars coming down the street at 4:30 PM and the game wasn't until 7:00 PM," Rabbit said. "That was probably the most intense game I've ever played, including the AHL and international games I've played."
"I wish I could play that game for the rest of my life," Rabbit said.
Unfortunately for Rabbit and the Giants, following a fog delay in overtime, the Tigers claimed a 3-2 double-overtime victory for the title.
Rabbit scored in Game 7 and finished the WHL playoffs tied for the team lead with 11 goals in 22 games and was tied for second with 20 points.
Memorial Cup Glory
The loss in the WHL Final wasn't fatal for the Giants, who had an automatic bid to the Memorial Cup as hosts, meaning the two teams would have a chance to square off again in the fight for the Canadian Hockey League's ultimate prize.
"Once (the WHL Final) was over, we were already chomping at the bit because we had our second chance," Rabbit said. "We didn't go through the front door, but we would call it 'going through the screen door' because obviously we were the host, but we earned it."
After a grueling WHL regular season and playoffs, Rabbit said his team was excited to play some brand-new opponents.
"It was cool to see the teams (from the other leagues) that you never played and their top players," Rabbit said, highlighting Jonathan Bernier in goal for the Lewiston MAINEiacs from the QMJHL and James Neal up front with the Ontario Hockey League's Plymouth Whalers.
On the final day of the round robin, the Tigers blanked Vancouver 1-0 to advance straight through to the final. The Giants then had to play in the semi final, where they dispatched Plymouth by an 8-1 score to set up another rematch with Medicine Hat in the Memorial Cup Final.
More than 16,000 fans piled into the Pacific Coliseum in Vancouver to watch the showdown between the two rivals, who had played nine times in the month of May between the WHL postseason and the Memorial Cup. The hometown Giants exacted their revenge on Medicine Hat, claiming the franchise's first Memorial Cup title.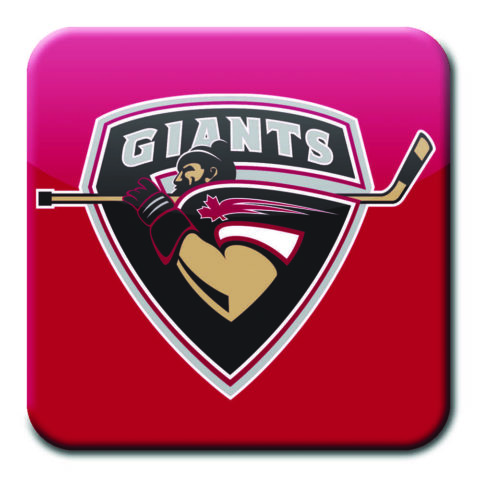 Rabbit said he will still occasionally watch archived footage of the final game.
"I love watching the final ten seconds because you know you're going to win," he said. "I remember the fans, and throwing my stick so high, and then the music comes on. It sends chills down my spine even today, and I'll have that memory for the rest of my career."
All tolled for his WHL career, Rabbit accumulated 91 goals and 222 points in 289 games and added 18 goals and 35 points in 41 playoff games, to go along with his Memorial Cup title.
Professional Career
Rabbit's professional career began in earnest the following season at age 21 when he would spend his first of two full campaigns back with the Bruins' AHL affiliate in Providence, totalling 25 goals and 60 points. He noted that his 22-games in the AHL as a 20-year old helped him know what to expect from the coaches and gave him familiarity with many of his teammates.
After spending his third season in the AHL in 2009-10 with the Milwaukee Admirals, Rabbit made the move overseas to play the following season in Austria.  He was able to weather some culture shock of living abroad for the first time, aided by several North American teammates. On the ice, he assumed more of an offensive role than he had played in the AHL, putting up 12 goals and 39 points in 53 games.
Overseas
After "giving it one more chance" back in North America in 2011-12, playing primarily in the AHL, Rabbit received an offer to play in Norway, where he ended up playing three seasons beginning in 2012-13.
"We all lived in downtown Oslo," Rabbit recalled. "I loved it.  The league and the fans were great."
After Norway, Rabbit played a season each in Japan and Italy before returning once again to North America to play with the ECHL's Jacksonville Icemen at the tail end of the 2017-18 campaign, where something immediately clicked.
Finding A Home
Rabbit led the Icemen in goals (29) and points (60) in 2018-19 and pointed to Icemen head coach and former Blade Jason Christie, the winningest coach in ECHL history as a major influence in his career.
"(Jason and I) talked and he's been mentoring me on how to run a bench, asking my input on the power play and penalty kill, and some of the behind the scenes parts of coaching," Rabbit said, continuing to explain why he wants to coach after his playing career comes to an end. "One of my heroes growing up was (Indigenous former NHL head coach) Ted Nolan. That's what I'm trying to be. He had a great coaching career and I hope to one day coach in the NHL as well."
Rabbit said that Jacksonville feels like home and could see himself finishing his playing career with the Icemen.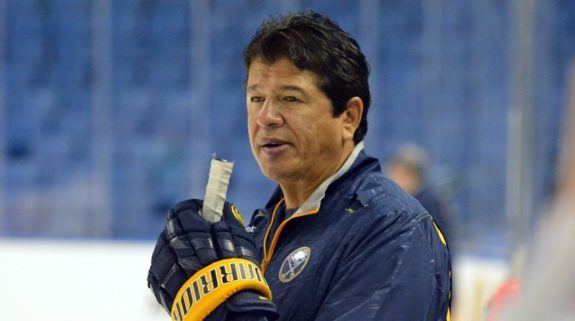 Rabbit did play 25 games in Romania at the beginning of 2019-20, but returned to the Icemen in December of 2019, and contributed eight goals and 23 points in 33 games.
Skills Training
Starting on the path towards coaching, Rabbit founded WR20 Power Skills On Ice Development this summer to provide training camps for a range of age groups. He has held workouts with with some WHL and professional players as well.
Instruction at WR20 -the name is derived from his initials and the jersey number he has worn throughout his career- puts an emphasis on skating instruction and analysis over stickhandling. All camps are fully compliant with COVID health and safety measures.
"My passion has always been in player development, and now that I'm later in my career, I love working with the younger guys on (the Icemen) and I've been coached by some of the best skills coaches in the world." Rabbit said of his inspiration for WR20.
Rabbit, now 33, said he decided to formally establish WR20 after moving to Edmonton, AB, and speaking with young players of all ages about working on skills and doing drills to work on their game.
"I'm getting ready for my season as well, so it adds that layer of, 'I'm not just telling you what to do, I'm showing you as well," Rabbit said. "I might mess up, but I'm getting out of my comfort zone, and that's where you learn and get better."
As he eluded to, Rabbit leaves to join the Icemen on November 23rd.
Indigenous Hockey Ambassador
The Kainai First Nation where Rabbit grew up is part of the Blackfoot Confederacy in southern Alberta. At age 12, his family moved from the reserve to Airdrie, AB where he began to pursue his hockey career.
Players that Rabbit considered role models when he was growing up included Indigenous players like Peacock, Sandy McCarthy and Gino Odjick. Later on it was names like Jordin Tootoo and 2005-06 Rocket Richard Trophy winner Jonathan Cheechoo.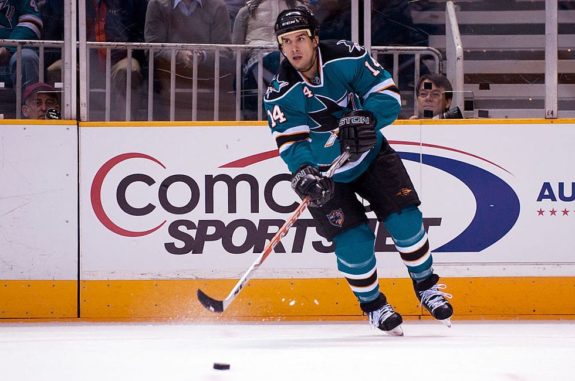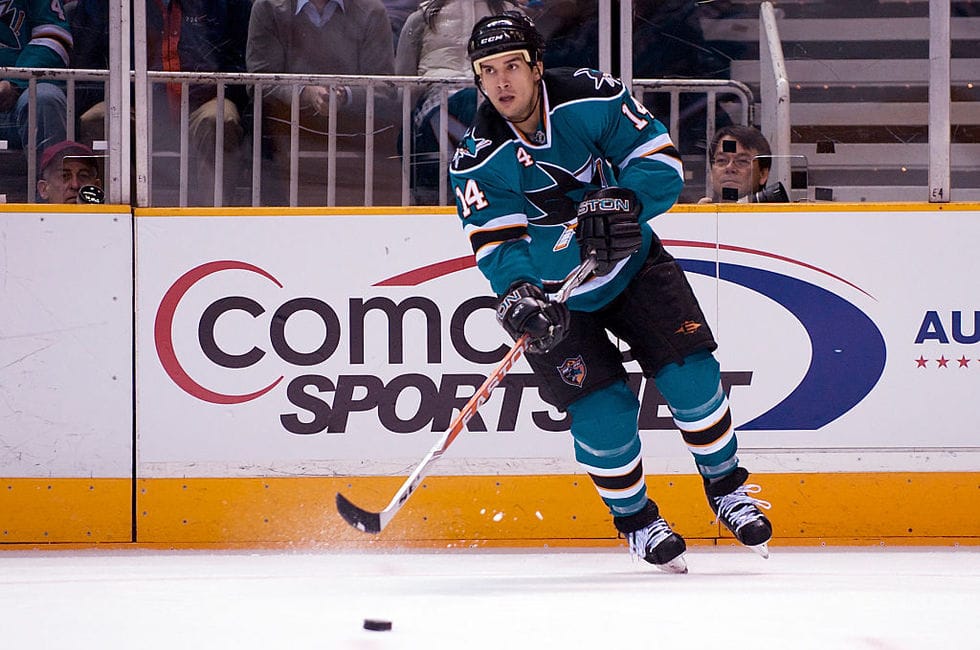 Coming from a similar place as his community involvement with his teams dating back to his days in Saskatoon with the Blades, Rabbit has always wanted to serve First Nations youth. This July, he found a new way to do that, when he was named the hockey ambassador for the Indigenous Sport Council of Alberta (ISCA).
As hockey ambassador, Rabbit visits and puts on hockey camps at various reserves throughout Alberta. As with WR20, every camp follows strict COVID health and safety measures.
"(ISCA Executive Director) Jake Hendy contacted me looking for a hockey ambassador, so it fit perfectly," Rabbit explained. "I try to bring something different to each reserve."
The first reserve that Rabbit visited was his home reserve near Lethbridge. That camp featured guests from Canada's Women's National Team, who spoke to the girls to make sure they know that hockey is for them.  Other camps have seen visits from people like Anson McMaster of the Winnipeg Ice -who is Indigenous from the Siksika Nation- and others like former Calgary Flames star Theo Fleury.
"I want to make sure that every community has a great experience, not only with myself, but bringing some people in safely to make sure they have fun and get to experience something special," Rabbit said.
Long-time NHL forward Kris Versteeg and professional figure skater Carlotta Edwards donated funds to an upcoming camp so that kids can buy new skates.
Just Beginning
It has certainly been a unique and rewarding journey for Wacey Rabbit, playing in six different countries around the world, and he already has eyes on a second career in hockey behind the bench.
Perhaps more important than all of that, though, is his heart to serve those around him and make his community better, whether it be Indigenous youth, or the cities in which he plays.
---
---
Jonathan covers the Saskatoon Blades and the Victoria Royals of the WHL. He has extensive experience in hockey and sports journalism and broadcasting. This includes bylines at Sports Spectrum, Toronto Blue Jays, Victoria Grizzlies, DUBNetwork as well as a long-time role with the Canadian Baseball Network.