A lot of people don't like revisionist history, because you can't go back in time and change anything, and fretting over "what could have been" really doesn't accomplish much. But looking back over drafts gone by can and should be used as an important tool in helping us to understand the unpredictability of scouting, and how successful teams handle prospect selection. In 2006, the Edmonton Oilers came within a game of winning the Stanley Cup. It was an unexpected run, and the last playoff appearance of this gloried franchise. In the immediate years that followed, what happened with this team, and where did they go wrong?
The Erik Johnson Draft
2006 will probably be forever known as the year the St. Louis Blues messed up their team. Instead of picking a franchise center in Jonathan Toews, Nicklas Backstrom or possibly even Jordan Staal, they went with defenceman Erik Johnson. They had the right idea, in theory. Chose a cornerstone defenceman to anchor your blueline for years to come. But Johnson didn't quite pan out as expected, and he was eventually traded away. That year, the Oilers dealt their first round pick and didn't choose until the second round, where they snagged Jeff Petry.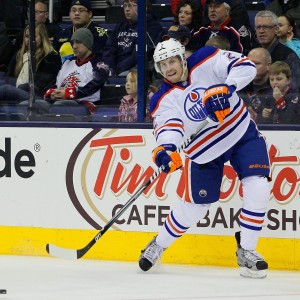 The only real notable player to come after Petry in that round was Milan Lucic, a pick which the Oilers actually traded to Boston. But they have Lucic now, so it's all good. Petry was a decent pick, though his subsequent handling, development and asset management left much to be desired. For a team coming off a Finals appearance, it was a decent draft. Of course, no one could have anticipated the futility that was to come. In fact, Chris Pronger forcing his way out later that summer set the team back, there's no question.
The Year of Sam Gagner
The 2007 draft was a strange one, in that 12 of the top 15 picks are no longer with the franchises that drafted them. Other than Patrick Kane at the top, it wasn't a particularly strong draft class in retrospect. The Oilers had the 6th overall pick, with which they took centerman Sam Gagner. The issues with Gagner wasn't his potential or talent level. In fact, he was touted to be an excellent NHL player. He was small, but he had the speed and skills. Unfortunately, he was rushed to the NHL before he had a chance to develop properly, and was forced to play in what I like to call the dead era in Edmonton.
Drafting Gagner was a good choice, at the time. He was a very highly rated prospect, the only real knock was his size. I wonder what would have happened had they allowed him some seasoning in the AHL. He wasn't the first and wouldn't be the last poorly handled young player in the organization. The most notable players selected after him were Jakub Vorachek, Logan Couture, Ryan McDonagh and Kevin Shattenkirk. Some excellent company. I still believe Gagner could have become a star had he not been rushed. But we'll never know.
The Dustin Penner Offer Sheet
The Oilers ended up getting Dustin Penner signed after the offer sheet from the previous summer, but you could argue they ultimately came out as losers. They would have had the 12th overall pick in 2008, but it was forfeited as part of the compensation package. They had another first rounder that year, a part of the Pronger trade, which ended up being the 22nd overall selection. Erik Karlsson was selected at 15, but there's no way of knowing if the Oilers would have chosen him had they stayed at number 12. The pick ended up going to the Sabres and they chose Tyler Myers, so there you go.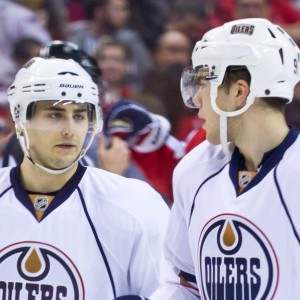 The Oilers selected Jordan Eberle at number 22, and it was a good choice. The only notable player going after him was defenceman John Carlson at number 27. Eberle spent some time in the AHL first before coming to the pros (they learned). His skill was never in question, but like Gagner, his size was a factor, and he tended to play on the peripherals. But, there really wasn't much choice in this spot, and they made the best decision. Eberle is what he is, and playing on Connor McDavid's wing permanently will make him a better player. Assuming they don't end up trading him.
What Happened in 2009?
When you talk about players who never seem to reach their potential, look no further than Magnus Paajarvi. He was extremely highly touted in his draft year, projected to go in the top 5 at one point. The Oilers nabbed him at number 10, but that was a choice they'll live to regret. At the time, he was the best player available. But the guy taken right after him? It was Ryan Ellis, a small defenceman who took a while to develop, but is now one of Nashville's best rear guards. Was Ellis on the Oilers radar? I'm sure he was. He was one of the best puck handlers on the board, with tons of offensive ability.
Maybe it was his size that turned them off. And at the end of the day, who knows how they would have handled him, or if he'd even still be an Oiler today. It's just tough to stomach when you look at Paajarvi, who only played one full season with the Oilers, notching 15 goals in 80 games. He hasn't been able to crack a team's roster consistently since then, and it seems like he may be on his last chance this coming year. There is no way of knowing how a prospect will perform once they hit the NHL. Paajarvi was supposed to be great.
The Years they didn't Choose First Overall
The selections of Taylor Hall and Ryan Nugent-Hopkins were probably the best decisions, and I won't re-hash the Nail Yakupov draft. But what about the years in between him and McDavid? In 2013, the Oilers ended up with the 7th overall pick, and they chose Darnell Nurse. They needed a defenceman, there's no question, and Nurse was very highly touted. The jury is still out on him, however. He looked fantastic playing for Canada at the World Juniors, helping them to Gold in 2015. He took big strides over the past couple of seasons, and the Oilers want to see that continued at the NHL level.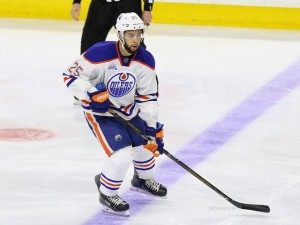 I have high hopes for Nurse. I believe he's got a high ceiling. Now in terms of decision-making, let's look at the guys taken after him. At number 8, the Sabres chose defenceman Rasmus Ristolainen. Winger Valeri Nichuskin and center Max Domi came in the few picks following. Based on all that, do you see Nurse as the right choice? I'd cautiously say yes, and in caution because the Oilers absolutely must develop this guy properly if they want him to work out.
In 2014, well that was the Aaron Ekblad year. The Oilers had the third overall pick with which they chose Leon Draisaitl. I always liked that pick, I think he's going to end up being a star, but just as with Nurse, Drai has to be brought along carefully. He started off last season great, and then his production tailed off. But that will happen with young players as they learn the NHL ropes. There were a lot of great players in that draft class, but I think the Oilers did well with their pick.
So What did We Learn?
It's been well documented that the Oilers drafting in the later rounds has been poor to very poor, and a big reason why they've been dreadful for this long. Other then 2009 (and arguably 2012), the Oilers did well with their first round selections. The draft really is a crap shoot, and even the most highly rated players don't always turn out. But I believe a lot has to do with the way the team develops them. Not everyone is an Ekblad or McDavid, who can just come in and be great without much help. Young players need guidance and support.
As much as scouting in the later rounds left a lot to be desired, asset management did as well. I'd like to believe the recent overhauls will make a difference in both those departments. This year, talented winger Jesse Puljujarvi fell into the Oilers laps at number four. They couldn't pass on him. He's the guy they wanted anyway. But had Columbus taken him at number three, there was a good chance the Oilers would have taken defenceman Mikhail Sergachev. He ultimately went to the Montreal Canadiens at number nine (an absolute steal that he was still on the board).
Mikhail Sergachev finds the back of the net, again #Habs

— Joey Alfieri (@joeyalfieri) July 7, 2016
I went to the Habs development camp, paying special attention to Sergachev. Yes, it's just a prospect camp, but this kid is the real deal. He has unbelievable poise with the puck, he doesn't panic, and his offensive potential is through the roof. He's also got an edge to his game. In fact, he got into a dust-up with Habs giant Michael McCarron. The Oilers will love Puljujarvi, don't get me wrong. But Sergachev would have been a great fit in Edmonton. Don't worry though, I don't see this as another Magnus Paajarvi-Ryan Ellis blunder. At least I really hope not.