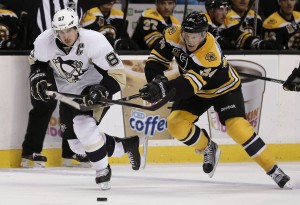 The Boston Bruins do not have a number three center.
David Krejci and Patrice Bergeron are both elite centers and anchors for the top two, often interchangeable, forward lines for the Bruins. Chris Kelly, while having a good season, probably isn't what you'd expect to be the center for the team's third line. It doesn't help that he's mostly lining up at left wing, despite being fourth on the Bruins in faceoffs with 410, even if many of these draws have come on the penalty kill. Then, there's Gregory Campbell who is undoubtedly nothing more than a fourth line mainstay at this point.
That leaves Carl Soderberg – technically the Bruins' third line center, even though he's anything but.
Soderberg's 31 points (10g, 21a) in 49 games is second amongst all Bruins. His cap hit according to NHLNumbers.com is $1.008m, making him an absolute steal. So, yes, playing behind superstars like Krejci and Bergeron makes him the Bruins' third line center on paper. But, with his solid offensive production (he'll likely surpass his 48-point total from last season), stability (he's one of five Bruins to dress in every game this season), and a first-unit power-play specialist, it's hard to think of Soderberg as a third line center.
This is both a blessing and a curse for the Bruins. For one, they continue to be one of the deepest teams in the NHL down the middle, stacked with two first line centers in Krejci and Bergeron, a second line center on the majority of NHL teams in Soderberg, and a surplus of bottom six guys such as Kelly, Campbell, and even Craig Cunningham. The bad part is that Soderberg, an upcoming, unrestricted free agent on a team close to the cap ceiling, is slowly pricing himself out of Boston for next season.
With the 2015 NHL Trade Deadline approaching, the Bruins are left with an intriguing scenario. If they cannot afford to sign Soderberg next season, should they try to move him for assets now or risk losing him for nothing come July 1?
You'll hear a lot about Dougie Hamilton, Torey Krug, and Reilly Smith being the three, big restricted free agents due for a big payday. They are, rightfully so, the priority for Bruins GM Peter Chiarelli. Hamilton is the future, cornerstone defenseman for the Bruins while Krug is a top-four, elusive puck-moving defenseman. Smith, the player most up for debate when signing, is young, can be signed for cheap, and still score 20 goals.
With the contracts that each demand, the Bruins will once again be looking for ways to circumvent the cap and get creative fitting talented players into their plans. It's the harsh reality that a soon-to-be-turning 30-year old center isn't the priority, but rather the unfortunate consequential causality of bad contracts. Soderberg is likely to be overpaid by another team desperate for center depth. The Bruins won't be able to match anything too outrageous and let's be brutally frank, there will be some outrageous bids for the Swedish center.
But if you're Chiarelli, why would you want to trade one of the more consistent players on the team this season? At times, the line of Kelly, Soderberg, and Loui Eriksson has been the best trio on the ice for the Bruins thanks to their chemistry and ability to control play in all three zones. However with the addition of David Pastrnak to the team and Claude Julien not wanting to play the rookie against top lines, Eriksson and Smith were bumped up a line leaving the team's 2014 1st round pick to play with Kelly and Soderberg. The results haven't been too impressive.
In the past two games, Soderberg was relegated to more of a pass-first philosophy. In Thursday's 5-2 win against the New York Islanders, Soderberg registered just one shot on a net for the second consecutive game while he logged a season-low 12:28 minutes of ice-time. Of course, the sole 47 seconds of Bruins' power play time did play a factor. But if Julien continues to shelter Pastrnak and line him up with Soderberg and Kelly, expect a dip in ice-time for the latter two.
What made the Kelly-Soderberg-Eriksson line work so well was that they each had roles and were trusted on the ice in most situations. Once Julien broke them up, the chemistry fizzled. Soderberg is a good center for Pastrnak to learn from, but he's better fit when playing with fellow countryman Eriksson.
So there's that to consider, too: does Soderberg make players better or does Soderberg need good players to make him better? Maybe this caveat makes him more affordable than imagined. Maybe Soderberg is a tad overrated, simply excelling on a team that has, for the most part, underachieved this season. This is also likely. Still, it's hard to imagine other NHL general managers not calling the Bruins regarding Soderberg's availability. He would come as a cheap rental from a team who is already looking at a tight cap situation for the 2015-16 NHL season and could fetch quite the return. And if Chiarelli is looking to upgrade the team for a big playoff push (spoiler alert: he is) and address some glaring deficiencies, why wouldn't he listen?
Well, because then the Bruins really wouldn't have a number three center.
The Bruins have been playing much better hockey as of late, and are returning to form gaining back some valuable depth with a healthy squad. If Soderberg were to be traded, he would certainly bring back a good return, but that would leave Kelly as the Bruins number three center. Although he's having a very good season, that's no longer anywhere close to his role. This is why Soderberg is such an important part of that equation, even if he's not the stereotypical description of a third line center. As mentioned earlier, he's one of a few Bruins who have played every single game. What if Krejci's mysterious injury flares up again? Soderberg gives them the depth necessary to stay afloat and be a good hockey team going forward.
The harsh reality is that the Soderberg will price himself out of Boston next season and the Bruins will be unable to sign him. The result? They lose him for basically nothing. Oh, well. The Bruins need to put their best foot forward in a playoff push this season and having Soderberg on the roster enables them to do so. Maybe next season Alexander Khokholachev or Ryan Spooner finally step up and become the third line center. Maybe the Bruins sign a veteran UFA like Mike Fisher for cheap.
What happens come July 1 is anyone's guess, especially with this Bruins team. What matters most is the hockey played between April and June.
Follow Mike on Twitter for more Bruins updates, news, and commentary.