Seven wins in 22 games, good for 15 points and dead last in the NHL standings. Where have we seen this before? Yes that's right, it's pretty much the same old Oilers from the past several years. Despite a new coach, new General Manager, new goalie and a few new players, things are just as dismal in Edmonton as they've always been. But let's not be too quick to write off this season as the same as the rest. Don't start printing Auston Matthews jerseys. Sure, the team is pretty bad, but there are reasons for that.
Injuries
Every team faces injuries, and the Oilers are no exception. It's not an excuse. But when Connor McDavid crashed into the boards and broke his collarbone, a little bit of steam came out of the Oilers balloon. I've said this since the season started, that even with McDavid, they didn't look like a playoff team. But number 97 brought with him a presence. Not just on the ice, but with the fans, with management, and in the dressing room. He actually is the Oilers savior. He's as good as advertised, and he lifted everyone's game. He wasn't going to fix their defensive woes, and thus him alone wouldn't transform them into a playoff contender, but everyone had a jump in their step when he was around.
Nail Yakupov found new life skating alongside McDavid. His production was improving and he looked more relaxed out on the ice. Since the injury, Yakupov has just two points and looks lost on most shifts. Essentially what was a dangerous line with Connor has become irrelevant and ineffective. Yakupov suffered a freak injury in the Oilers last game, but thankfully the timeline isn't as a bad as it initially looked. Over on the blueline, Justin Schultz's presence has actually been missed, not because he's really that good, but because he at least brings a little more depth to the defense corp. His return is looming, so maybe that will help. But probably not much.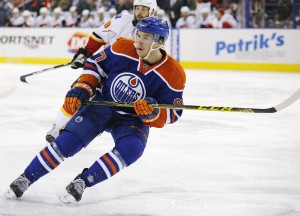 New Faces
Todd McLellan is a good coach. He's going to make this team better. But his task is not just teaching the players to buy into his system, it's also undoing years of bad habits, and removing a toxic culture. The Oilers did the right thing by cleaning house, but it will take longer than a quarter of a season to start seeing real change. Again, this isn't an excuse, or an effort to buy the team more time. It's just a reality of the sport. Plus, the coaching change wasn't to shake up an already good team who just needed a new voice. This was a much-needed change of atmosphere for a team that has been terrible for a long time.
But the coach isn't the only new guy. The Oilers brought in some new players at key positions, like Andrej Sekera and Griffin Reinhart on defence, and two new goalies. The Oilers have to stop looking behind them at all the challenges the team has faced. But unfortunately, there is still the ghosts of seasons past because the core of the team remains the same. The biggest new addition was obviously the aforementioned Connor McDavid, and I already cited the impact his absence has had. But when you inject all this newness into a team, it takes time to adjust. And it takes even longer when the team isn't very good.
Bad Defence
Yes there have been injuries to the Oilers blueline, but overall it isn't a very strong group. Unfortunately for Sekera, he was the big free agent acquisition, thus putting a lot of focus on him, but he isn't a top pairing guy. He's a serviceable defenseman who moves the puck and skates well, but there can't be too much expected of him. And with high expectations comes high disappointment. The injuries forced the call-up of Darnell Nurse, who has looked really solid so far this season. He is seen as the real horse for the Oilers, and hopefully he wasn't rushed in. Reinhart has looked downright awful at times, but it looks worse considering he cost the team a first round pick. Maybe we know why the Islanders had no problem giving up on him.
Brandon Davidson has shown a lot of improvement the past few games, and I can see him as becoming a mainstay on the Oilers back-end. But Mark Fayne and Eric Gryba have both been pretty terrible. They were brought in for their physical presence but their bad decisions stick out more than anything else. The team as a whole is guilty of giveaways, soft plays with the puck, and poor reads, and that's something that has to be addressed. They looked weak and small against the Hurricanes, which isn't exactly an imposing club. Obviously playing smart defensively has to permeate the whole team, and the constant shortcomings are certainly growing tiresome.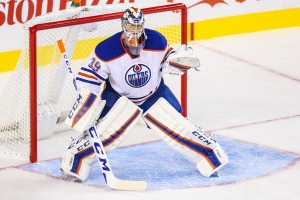 Goaltending
Thank goodness for Anders Nilsson. He was a pick-up that didn't get nearly as much attention as the Cam Talbot trade, but he has quickly become the teams defacto number one. It's discouraging to see what's happened with the Oilers goaltending situation, because it seemed as though they brought in the prized next best goalie in the world. I'm not saying Cam Talbot is a bad goalie. But he had played in 57 career regular season games prior to his move to Edmonton. It's really difficult to judge a goalie with that small a sample size. Not to mention he came from a sound defensive team in the New York Rangers to the mess that is the Oilers.
Through 12 starts, Talbot has a 3.09 goals against average and a .890 save percentage. His play just brings up the old paradox, whether a goalie is good (or bad) because of the team in front of him. Nilsson has better numbers in front of the same defense, so take that as you will. The Oilers gave up draft picks for Talbot in hopes that he would be their long-awaited number one. But if he's already fallen out of favor, he will likely walk as a free agent at the end of the season, and then where will that leave the team? Back to the drawing board? Can Nilsson be their guy long-term?
Now what?
To think that the Oilers will be in the running for the first overall pick is as funny as it is sad. They don't need another forward, no matter how good Auston Matthews is projected to be. They can't continue in the cycle of hoarding top picks and seeing no results on the ice. Do they need to make a big trade? Well they have to wait for McDavid to return because he will no doubt spark them again. And it's not all bad, because Leon Draisaitl has been an absolute beast since his call-up and looks like the real deal. It's hard to always preach patience, because that's what we've been hearing for years. And it's even more frustrating to wait on their injured star to return, still not knowing if there will be a drastic improvement. No, things aren't rosy in Edmonton. But I guess any team with a generational talent on their roster should at least give everyone some kind of hope.
Marcy, a former hockey player, is a hockey correspondent on CTV News and TSN radio. She began her career as a Sports Journalist in 2009 and has been part of The Hockey Writers since 2010, where she is currently a senior writer and editor.