The Minnesota Wild have had two major issues follow them throughout this season; the first is their penalty troubles and the second is injury issues. They've had some minor injuries to different players on their roster so far, but they've also had some longer-term injuries that have caused a lot of games missed. Jordan Greenway and Ryan Hartman were two of the players affected the most by long-term injuries, but thankfully are back in the lineup.
Brandon Duhaime is the last player out with a long term injury and will finally be making his return on Saturday, Jan. 7 from an injury he received at the end of November. He, like Greenway, has been injured multiple times this season but now he'll get to rejoin the lineup, hopefully for good.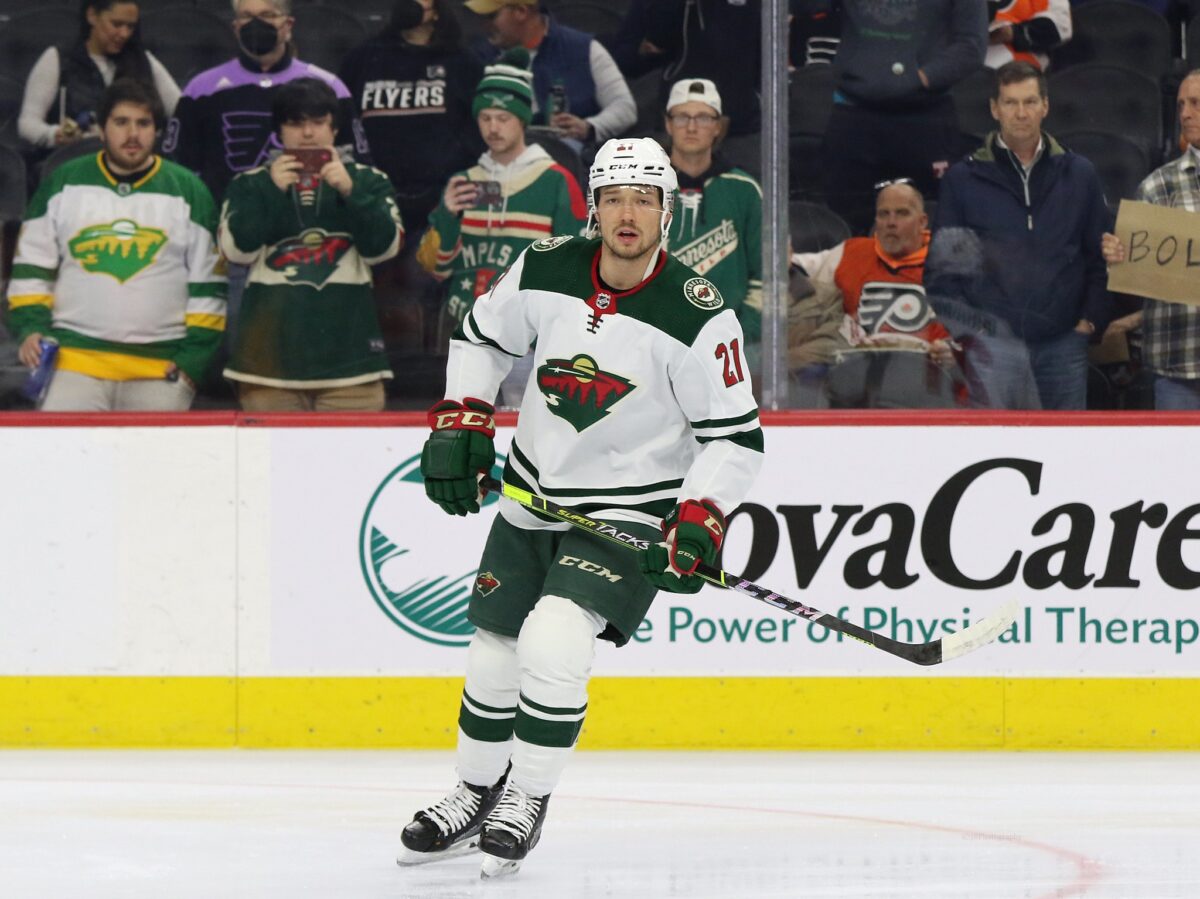 While this is great news for Duhaime and the Wild, it also leaves some hard roster moves for the team to make. The Wild have followed a pattern of injury in which every time they get a player back healthy, another one goes down with an injury, and now with Duhaime back, another player has fallen.
Wild's Duhaime Brings Grit Back
Out of the 37 games the Wild have played, Duhaime has only played in 14 of those due to his injuries. His first injury was at the beginning of November and he missed five games, he was back for barely a week before he was injured again and has been out since. This most recent injury has caused him to miss 17 games and it'll be interesting to see how he adjusts back to the lineup.
---
Latest News & Highlights
---
So far this season, Duhaime has registered three goals and one assist for four points. He's currently in his second season with the Wild and while he did tally some points in his rookie campaign last season, he's not known for his goal-scoring attributes. His physicality and grit are the biggest assets to his game currently and the Wild will be looking forward to having that back on the roster.
Despite the small number of games Duhaime has played this season, he's already amassed 40 hits, while last season he played in 80 games and had 201 hits. If he hadn't been out due to injury this season, he'd be on pace to hit 200 and possibly surpass it. The Wild have missed that physicality, and prior to adding Ryan Reaves to the lineup, their players were getting pushed around. Now with both Reaves and Duhaime in the lineup, they'll be able to protect their players.
Wild's Zuccarello Out
The Wild have been dealt a hard blow with the return of Duhaime—they've lost Mats Zuccarello to injury. He received an upper-body injury in their win over the Tampa Bay Lightning and is expected to be out for at least the next two games against the Buffalo Sabres and St. Louis Blues. While Duhaime is a great gritty player that will be great to have back in the lineup, losing Zuccarello even for just two games is still a hard blow.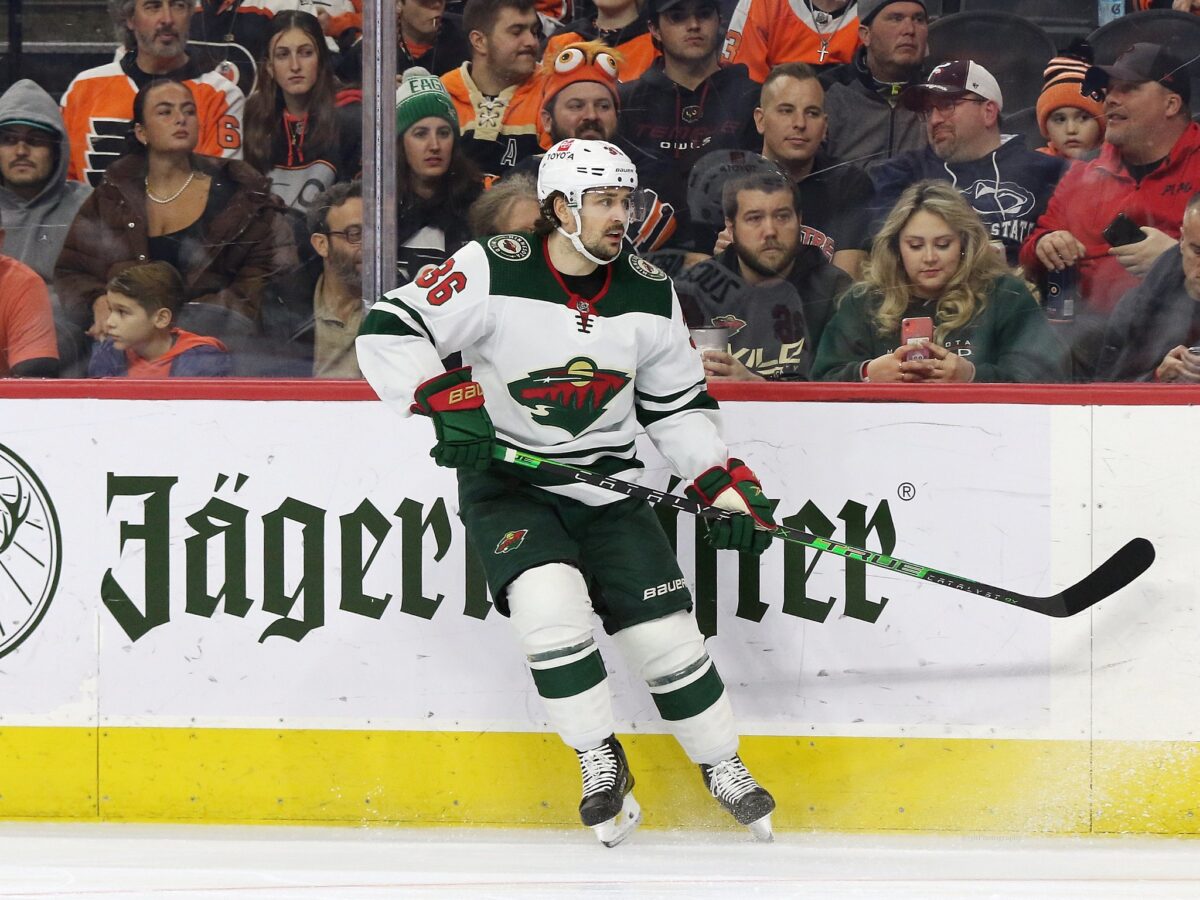 Zuccarello has played in all 37 games and is second on the team with 40 points. He's tallied 16 goals and 24 assists, which has come from being on a line with Kirill Kaprizov. The Wild have tried different line combinations to see if Kaprizov could work with anyone besides Zuccarello but obviously, those two have had the most success together. Now without Zuccarello, there's going to be a loss in scoring production and it'll possibly affect Kaprizov as well.
Duhaime Fills in On Second Line
If Zuccarello had to be injured, at least it happened when another player was coming back to the lineup. However, Duhaime would not be a good fit in Zuccarello's spot on the first line and there's nothing wrong with that, but he has to go somewhere. So the Wild have moved Matt Boldy up to the top line with Kaprizov and Duhaime will slide into Boldy's spot.
Related: 3 Wild Veterans That Could Make or Break Their Season
It's going to be very interesting to see how Duhaime will fit in alongside Frédérick Gaudreau and Ryan Hartman. He should fit fairly well with Hartman on the opposite wing who has a similar gritty style while Gaudreau is pretty good at adapting to whoever he is with. However, there will still be an adjustment time for them, plus Duhaime will need time to adjust to being back on the ice after being out so long.
Duhaime's Full-Time Role
Everyone knows Duhaime isn't going to stay on the second line forever, Zuccarello is expected to be back soon and when that happens, Boldy will drop back down and Duhaime down from there. So, what spot will he be taking and who will be bumped down to the Iowa Wild in the American Hockey League or possibly scratched to make room for him?
It's been rumored that Ryan Reaves should be the odd guy out for Duhaime but it won't be easy to do that because, with Reaves in the lineup, his teammates have been able to play without being pushed around. While he hasn't contributed much in terms of points, he hasn't done anything wrong to deserve having his spot taken away either.
It's going to be a brutally tough decision on what to do with Duhaime. He was playing so well at time of injury and deserves to play and close to return. But nobody deserves to come out and the #mnwild have been outstanding since Thanksgiving

— Michael Russo (@RussoHockey) January 5, 2023
If this had happened two months ago, it would be feasible that the Wild would consider sending Mason Shaw back to the Iowa Wild because he was brand new, but now that he's established himself, there's no way they'd want to send him back especially his 11 points in 30 games as a rookie. While it'll be hard to see them pull Reaves out of the roster, it seems like that's the only possibility they have to keep Duhaime in their lineup if everyone else is healthy.
Wild Have Too Many Options
Like in an article written earlier this season, while the Wild have injury issues, they also have an issue with too many good players. With Duhaime returning, it's easy to see they have a number of prospects who could be on the roster right now, but also current roster players that have earned their spots. It's a problem every team would love to have and it's going to be fun to follow this team as they continue to develop their younger players and their veterans work to improve their games as well.
Hopefully, the Wild can have a fully healthy team soon enough, but if they can't, they have plenty of prospects to rely on. It would also be great if Duhaime can stay healthy and in the lineup longer than a week's time. If he can re-join the roster and play like he was before being injured, the Wild will be lucky to have him and possibly get some more wins under their belt thanks to his gritty play.
---
---