With the offseason settling comfortably into the middle stretch and 85 days between us and the first official game of the new season we at THW wanted to bring you a series focused on ways you can stay updated on your favorite teams and players via social media.
The Chicago Blackhawks have one of the most prolific PR teams in the league. They manage the team image and narrative expertly, with accounts galore. In addition to the obvious, we hope to bring you other ways to keep track of the best team in the league. This is considered a work in progress so if there's any valuable resource I may have missed, please feel free to add the info in the comments below.
Teams
Chicago Blackhawks
The team itself puts out a ton of info on social media, making sure that their players give regular interviews, participate in photoshoots, and in general contribute to our fanaticism. (Did you know "fan" comes from the word "fanatic," meaning "a person with an obsessive interest in and enthusiasm for something, especially an activity?" Who am I kidding; of course you did.)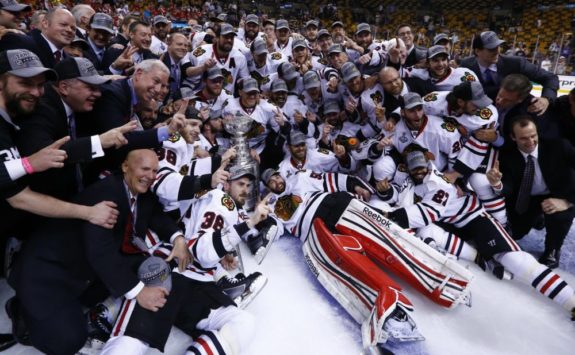 Rockford Ice Hogs
The AHL affiliate of the Blackhawks, and home to many developing players, the Ice Hogs too have a host of ways they reach out to fans and make themselves available via social media.
Newspapers/Stations
CSN Chicago
CSN Chicago has some of the most complete Blackhawks coverage out there, unsurprising when you consider that the Blackhawks organization is a partial owner of CSN Chicago. Its narrative is generally right in line with that of the Blackhawks' front office, but Tracy Myers, the Blackhawks reporter for CSN Chicago, writes excellent pieces and adds dry little zingers on her Twitter account. She also is a research fiend and tends to supplement her articles with adjacent facts and links through Twitter.
Chicago Tribune
The Tribune also has a dedicated Blackhawks reporter who attends and dissects every game. Chris Kuc's coverage is drier than Myers' and Lazerus' but is still a reliable source of Blackhawks news.
Chicago Sun-Times
The CS-T employs Mark Lazerus as its full-time Blackhawks reporter who performs much the same functions as Myers and Kuc. Lazerus occasionally guest-stars on CSN shows to discuss the Blackhawks (where you can also see Tracy Myers) and has expert-level knowledge of the sport (like Myers and Kuc). Lazerus can be really funny on his Twitter account, but has the occasional swing-and-miss.
Blogs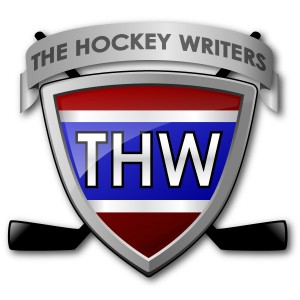 The Hockey Writers
At THW we aim to bring you strong analysis of more than just the play-by-play. We focus on player development as well as team-wide analysis, and everything in between. And I must say, we're darn engaging.
It might look like a relic from the nineties, but I promise you, the authors and their facts are all up-to-date. HöckeeNight doesn't post every day, or even every specific-number-of-days, but really hold their tongues until they have something concrete to say. The Puckcasts are another story.  Listening to one is akin to listening to me and my teammates sitting around in the locker room talking to hear ourselves talk. That doesn't mean we don't have something worth listening to — it just takes a while to find it. (To clarify: My teammates and I are not on the PuckCast. That was a simile.)
While its white lettering on black background makes it hard enough to read, this blog is worth the effort. Smart, sarcastic, and occasionally just a little bitter, my coffee and Puckin' Hostile have a lot in common. The author, who goes by Gatekeeper, has spent a lot of his life looking at how a team functions and reading everything he can get his hot little hands on regarding the Chicago Blackhawks. Fair warning: he sometimes gets into rumors, but he does label them as such. I personally enjoy the site but it might not be to everyone's taste.
Killion, Fells, and McClure present a complete and critical look at movements Blackhawks management makes. They don't shy away from player analysis, looking at Corsi and other fancy stats. Do they sometimes get a little…tetchy about certain players? Yeah. But when you really love something you're bound to have certain standards.
A FanSided LLC project, Blackhawk Up has a rotating cast of characters. Due to the way the site is run, individual opinions and takes on the team aren't always internally consistent between authors but remain strong.
SCH is an SB Nation blog, and if you're at all familiar with SB Nation blogs, you know the drill. The author to watch is JenLC, or @RegressedPDO. She is a fancy stats person, and uses them effectively to analyze an individual's play. She doesn't spend her time cracking wise (except on Twitter) but instead hones in on key factors that can make or break a player, and is hockey-smart.
Any other blogs, podcasts, or Twitter accounts you think should be included? Drop us a line or add them in the comments below, along with your reasoning behind their value.