Every year at the WJC, there are a handful of players that enjoy a breakout tournament that puts them on the radar of hockey fans everywhere. Hardcore fans may know most of these names, but there will always be a few that come out of absolutely nowhere to solidify their status as legitimate NHL prospects. Here's a look at the names you should be listening for to make a splash in this year's tournament.
The Forwards
William Nylander (Sweden): Tied for the second highest point total in last year's tournament, Nylander is the highest scoring returner in this year's tournament. He has ripped up the AHL this year, leading the league in points as a 19 year old (which is absolutely unprecedented). The slick playmaker with incredible vision is the odds-on favorite to lead the tournament in scoring.
Jesse Puljujarvi (Finland): As a 16 year old on the Finnish team last year, Puljujarvi was one of the best players on the ice, despite being held pointless in a disappointing tournament for the Finns. One year older with the tournament in his home country in his draft year, it could be Puljujarvi's time to shine. He brings a total offensive package, has good size (6'3″, 196 lbs), and uses it well to protect the puck in the offensive zone.
Travis Konecny (Canada): He received rave reviews at Flyers training camp before being sent down, and continued his impressive play as the captain of the Ottawa 67's in the OHL. He's undersized, but plays like he's 6'2″, 220 lbs, and has plenty of shiftiness in his game. Has impressed so far in camp.
Canada's best player easily in the two pre-tourney games thus far: Ottawa 67 Travis Konecny.

— James Duthie (@tsnjamesduthie) December 20, 2015
Alex DeBrincat (USA): Many said his 104 point season last year was largely a byproduct of playing on the same team as Connor McDavid, but DeBrincat has shown this season that he is no fluke. In his first 25 games this season, he racked up 31 goals, 21 assists, and 52 points, while being held pointless in a game just twice. Is currently slotted to start the tournament on the top American line with Matthew Tkachuk and Auston Matthews.
Jake Virtanen (Canada): The only NHLer to be loaned to Team Canada this year, Virtanen could use a confidence boost considering he has just four points in 21 games between the NHL and AHL this season.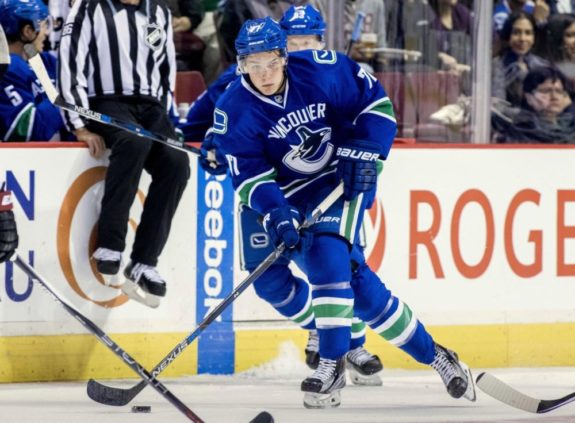 Virtanen plays a heavy, physical game and loves to use his rocket of a shot from all angles. Paired with the right playmakers on his line, he could be a deadly weapon.
Auston Matthews (USA): Barring a collapse in this tournament and the second half of this season, Matthews will be the #1 pick in the 2016 NHL Draft. Matthews was already one the best players for the US at last year's tournament, and will be relied upon to be the driving force of the offense this year. An impressive package of offensive talent that can pass and shoot equally well, and possesses great size and intelligence.
Kasperi Kapanen (Finland): You would be hard pressed to find a more disappointing player in last year's tournament than Kapanen. The former first round pick was supposed to be the driving force behind the Finnish offense, but he was largely invisible. He'll be expected to carry the load again this year, but will have a much better supporting cast on offense.
Timo Meier (Switzerland): The 9th overall pick in the 2015 NHL Draft is the second highest returning scorer for a Swiss team that has shown a penchant for upsets in previous tournaments. With Nashville declining to loan Kevin Fiala to the Swiss, Meier will be the go-to forward in this year's tournament. Meier is a willing physical player with a nose for the net, and powerful shot.
Pavel Zacha (Czech Republic): If the Czechs are going to go anywhere in this tournament, it will be on the back of a huge performance from Zacha. He'll be slotted in the #1 center spot, but the Czechs don't have a lot of talent surrounding him. The 2015 6th overall pick has been solid, but not tremendous this year, checking in at 35th and 18th in the OHL in points and points per game.
Dylan Strome (Canada): There is probably only one more position in this entire tournament that is more pressure packed than being Canada's #1 center (being Canada's #1 goalie). Strome is an average, not great skater, which is something to keep an eye on with the tournament being played on an Olympic sized rink. Despite his limitations in the area, Strome's vision and pinpoint passing ability mean he will still be an impact player in this tournament.
Yevgeni Svechnikov (Russia): Svechnikov is the classic Russian forward: incredible one-on-one moves and skill, great skater, and average-at-best play away from the puck. However, there is no doubting his offensive talents. Should be the leading scorer for Russia this tournament. In two warm-up matches against Denmark and the Czech Republic, he rattled off six goals and two assists.
The Defensemen
Ivan Provorov (Russia): Provorov is expected to be heavily relied upon by Russia in all situations for this tournament. He's capable of playing equally well at even strength, the power play, and the penalty kill. He won't "wow" you with incredible skill, but is very patient with the puck and rarely makes mistakes. In Russia's tune-up game against Denmark, Provorov contributed three assists en route to a 5-0 Russian win.
Zach Werenski (USA): The captain of the Americans is going to need to have a great tournament if the US wants to have a serious shot at the gold. With Noah Hanifin in the NHL and Jake Walman ruled ineligible to play for the US, a lot of the heavy lifting will fall on Werenski. He's a smooth-skating defenseman that loves to jump into the play, and should be a weapon on the power play.
Brandon Hickey (Canada): If there is one player that is going to surprise people this tournament, it will be Brandon Hickey. Canadian fans probably know the least about him of all their players because he is a rare Canadian playing NCAA hockey. He's the first NCAA player to make the Canadian team since Jaden Schwartz in 2012. I've seen him play 20-30 times live at BU, and he is the real deal. He skates incredibly well, has a booming slapshot, and is capable of laying big hits.
Olli Juolevi (Finland): The highest scoring defenseman on the highest scoring team in the OHL, Juolevi will be heavily relied upon by the Finns as they try to win gold on their home turf. Juolevi is a smart, cerebral defenseman that is cool under pressure and rarely makes mistakes. He makes an impact on both ends of the ice with good decision making and strong skating.
Gustav Forsling (Sweden): The highest scoring defenseman in the tournament last year, Forsling will look to defend his title by making his living on the power play, where he scored six of his eight points in last year's tournament. He is relatively undersized, but excels in the offensive zone with a good shot and strong offensive instincts.
The Goalies
Alex Nedeljkovic (USA): In the last three tournaments, there has been little question as to who the starting goalie for the Americans would be. Thatcher Demko, Jon Gillies, and John Gibson were all the #1 goalies going into camp, and reaffirmed their status in camp. This year, it's not so clear. It is likely that Nedeljkovic and the other goalie in camp, Brandon Halverson, will both see action in the preliminary round before coach Ron Wilson decides who to stick with in the elimination games. Halverson played one game in last year's tournament, a cakewalk 6-0 win over Germany. My money is on Nedeljkovic to win the starting job, though it could go either way.
Mackenzie Blackwood (Canada): Blackwood is a goalie with pro size (6'4″, 225 lbs), good athleticism, and strong positioning in his net. He's having a phenomenal season in Barrie this year, putting up an impressive 2.36 GAA and .932 save percentage, good for 2nd and 1st in the league, respectively. However, Blackwoood will not be playing in the first two games of the tournament due to a suspension carrying over from a vicious slash in the OHL.
https://twitter.com/HockeyWebCast/status/673168690377007105
Despite having to miss the first two games, including a key matchup against the US, Blackwood will still be Canada's go-to guy in the medal round. He's been that good this year.
Thomas Lillie (Denmark): The Danes will be facing an uphill battle to avoid relegation this tournament. They recorded their first ever win at the highest level of the tournament last year, led by Nikolaj Ehlers and Oliver Bjorkstrand, two of the best players in the tournament. Ehlers is in the NHL, and Bjorkstrand is too old to play this year.
The Danish goalies regularly face 50+ shots each game, and if the Danes are to have any chance, they will need great goaltending. To understand how many shots they face, consider that in last year's tournament, Lillie posted a tremendous .935 save percentage, but had a 3.38 GAA.
Adam Huska (Slovakia): Last year, it was Denis Godla in net for the Slovakians that captivated fans of the tournament with an unbelievable performance en route to being named Best Goalie at the tournament. This year, the Slovaks will turn to Adam Huska in net. Huska has been absolutely dominant in the USHL this year, lapping the field in all major goaltending categories. He leads the league in GAA (1.65), save percentage (.942), and shutouts (4). No other goalie in the league has a GAA below two or a save percentage above .930.