The holiday season is quickly approaching sending children around the world into a state of excitement and giddiness.  The feeling of excitement is not restricted to children though as the December holiday marks an exciting time for hockey enthusiasts as well.  Junior hockey fans around the world look forward to the holiday season as top players under the age of twenty compete for roster spots on their respective national teams.  The Under-20 World Hockey Championships is a short tournament filled with high pressure games where the world's top teenage hockey players converge in hopes of sending their home nations into celebratory mode by winning the annual WJC gold medal.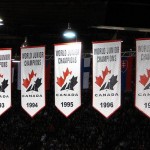 Starting on Boxing Day (December 26th, 2011) ten nations will congregate in Alberta to participate in the World's best junior international tournament. Next Monday Hockey Canada will announce its selection camp roster that will represent Team Canada at the World Junior Championship as the host nation.  It is no secret that Canadians place a lot of pressure on these teenagers to bring home the gold medal each year and this year will be no different as  Canada looks to rebound after a devastating overtime loss in a collapse to Team Russia last year in the gold medal game.  Over the past decade, Team Canada has finished no worse than a silver medal earning the gold and silver five times each. Unfortunately, Canada has not brought home the gold medal in two straight World Junior Championships and have looked fairly beatable when it came down to the big medal games.
The junior hockey seasons are well underway and Hockey Canada is keeping a close eye on all eligible players in order to ice the best possible team to get this nation back on top of the podium. Hockey Canada officials have the difficult task of choosing from a very deep player pool but it's the depth of these top Canadian junior players that makes the decision process that much more difficult.  In today's article, we look deeper into the makeup of the past ten Canadian World Junior Hockey teams and determine where the majority of Team Canada's roster stems from.
In preparation for the 2012 IIHF World Hockey Championship, Hockey Canada held its annual summer evaluation camp and among the forty-seven invited (26 forwards, 17 defensemen and 4 goaltenders), thirteen hailed from the Western Hockey League, twenty-three represent the Ontario Hockey League, nine are from the Quebec Major Junior Hockey League and two skaters currently play in the NCAA program.  Since the summer camp, Team Canada has five eligible players that currently remain with their National Hockey League clubs and several other top players are sidelined with serious injuries.  The first overall pick in the 2011 NHL draft, Ryan Nugent-Hopkins is playing lights out with the Edmonton Oilers and he is joined by fellow NHLers Ryan Johansen (Columbus), Brett Connolly (Tampa Bay), Sean Couturier (Philadelphia), Devante Smith-Pelly (Anaheim) and Erik Gudbranson (Florida) as players that are long shots for the 2012 World Junior Championship based on their availability.
Losing key junior eligible aged players to the National Hockey League has been a recurring theme since the lockout and it has definitely affected the quality of Team Canada's top roster players.  Since the 2004-2005 NHL lockout, professional teams have shown a trend of providing their top draft picks with the opportunity to play key NHL minutes as it is a means of filling the roster with cheaper top end talent.  Prior to the lockout, NHL teams were more willing to loan their junior eligible players to their respective nations and that is reflective in the satistics.  In the IIHF World Junior Championship tournaments from 2002 to 2004 (prior to the lockout), five NHL players were released to compete for Team Canada in the tournament including Nick Schultz (Minnesota Wild, 2002), Steve Eminger (Washington Capitals, 2003), Pierre-Marc Bouchard (Minnesota Wild, 2002), Marc-Andre Fleury (Pittsburgh Penguins, 2004) and Brent Burns (Minnesota Wild, 2004).  In the six World Junior Championships since the 2005 lockout, Team Canada has received zero players from NHL rosters for the annual junior tournament.  While adding Nugent-Hopkins, Johansen, Connolly, Couturier, Smith-Pelly or Gudbranson would be a tremendous boost for Hockey Canada history tells us that the likelihood of those players returning are slim, very slim.  In saying that, Canada does have the luxury of replacing those top players with good talent but at the end of the day the best junior aged players are not being displayed and that can be said for other nations as well.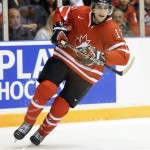 Fortunately, every year there are players who step up early on that did not receive an invitation to the summer evaluation camp and this year we are seeing several players that will earn a closer look.  For example, Barrie Colt forward Tanner Pearson (1992) is taking the OHL by storm leading the league with 52 points in 23 games.  The point is that Canada has a wealth of capable players to fill the voids left by departed NHL prospects and those out of the lineup with injury.  Hockey Canada has to have some growing concerns with the injuries that appear to piling up.  Everett Silvertips defenseman and top 2012 NHL draft prospect Ryan Murray is currently sideline with a high ankle sprain leaving his involvement in question.  Ryan Murphy (Kitchener Rangers) was injured a few weeks back on a dangerous hit and has yet to play since the incident.  There is word that Murphy has been cleared to play which is good news for the Kitchener Rangers, Team Canada and the Carolina Hurricanes who selected him twelth overall in last year's NHL Entry Draft.  Jonathan Huberdeau was expected to star on Team Canada's number one line but he is sporting a cast on his foot and his participation depends largely on his recovery.  Team Canada head coach Don Hay would definitely welcome each of these star forwards to his roster but he may be forced to build a team without them.
Traditionally, the World Junior Championship Team Canada rosters have been composed mainly of players from the Canadian Hockey League (CHL) with an emphasis on WHLers and it will be interesting to see how the 2012 squad shapes up.  Two-hundred nineteen players have participated for Hockey Canada at the IIHF World Junior Championships over the past decade dating back to 2002 and the statistics on the origins of players is interesting.
Breakdown of Players by League for the Past 10 Team Canada WJC Rosters
| | | | | | | |
| --- | --- | --- | --- | --- | --- | --- |
| U20 Tournament | WHL | OHL | QMJHL | NCAA | AHL | NHL |
| | | | | | | |
| 2011 | 9 | 6 | 4 | 2 | 0 | 0 |
| 2010 | 8 | 7 | 6 | 0 | 0 | 0 |
| 2009 | 12 | 6 | 3 | 1 | 0 | 0 |
| 2008 | 8 | 10 | 3 | 1 | 0 | 0 |
| 2007 | 7 | 9 | 4 | 3 | 0 | 0 |
| 2006 | 7 | 8 | 3 | 4 | 0 | 0 |
| 2005 | 14 | 5 | 2 | 0 | 1 | 0 |
| 2004 | 10 | 6 | 3 | 1 | 0 | 2 |
| 2003 | 8 | 8 | 3 | 1 | 0 | 2 |
| 2002 | 9 | 9 | 2 | 1 | 0 | 1 |
| | 92 | 74 | 33 | 14 | 1 | 5 |
| | 42% | 34% | 15% | 7% | 1.00% | 2% |
The Western Hockey League players have the highest representation on Team Canada over the past decade with the majority (42%) playing for a team in the WHL.  In fact, the WHL has sent the most players to Team Canada in seven of the past ten years.  Recently, Ryan Johansen, Brayden Schenn and Jordan Eberle have represented the WHL and been crucial players in Canada's success.
The Ontario Hockey League has alwaays rivaled the WHL and has sent its share of top players to compete for Team Canada.  Seventy-four OHL players have donned the red and white equating to 34% of Team Canada's roster over the last ten tournaments.  OHLers Taylor Hall, Ryan Ellis and John Tavares have starred in recent World Junior Championships.
The QMJHL has fluctuated in its representation on the Team Canada World Junior roster over the past few years but the numbers show that "Q" players make up 15% of Canadian WJC players since 2002.  More recently there has been a small influx of QMJHL players on Team Canada with six players in 2010 and four players last year.  In Buffalo, QMJHLers included Sean Couturier, Louis Leblanc, Simon Depres and goaltender Olivier Roy.
College hockey is becoming a viable route for top Canadian players and while Hockey Canada seems to have a preference to those players competing in the Canadian Hockey League it does recognize top players in the NCAA circuit as well.  Fourteen players (6.5%) have joined Team Canada at the World Junior Championships from NCAA programs since 2012. Dylan Olsen (Minnesota-Duluth) and Jaden Schwartz (Colorado College) were the two lone representatives on last years' team and its fully expected that Schwartz will become a vital player for the upcoming 2012 World Junior Championship.  In the 2006 IIHF World Junior Championship college hockey was well represented on Team Canada with four players including Andrew Cogliano, Jonathan Toews, Daniel Bertram, and Sasha Pokulok.
Projecting the 2012 Team Canada WJC Roster
The upcoming roster has a ton of possible line combinations and from a "team" perspective the role players have the potential to play significant roles.  From an offensive standpoint, Team Canada's look will depend largely on the status of injured Huberdeau, Murray and Murphy and the other current NHLers.  However, as it stands now Canada will look towards Jaden Schwartz, Quinton Howden, Mark Strome, Tyler Toffoli and Mark Stone for veteran leadership but who fills the other open roster spots will be determined shortly.  The possible forwards include:  Ty Rattie, Matt Puempel, Brendan Gallagher, Freddie Hamilton, Boone Jenner, Lucas Lessio, Mark Schiefele, Ryan Spooner, Brett Ritchie among many others.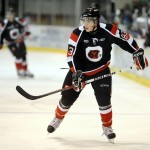 Canada has always owned one of the strongest defense cores in the tournament and this season should be no different – even if Erik Gudbranson does not participate. It appears that the entire defense roster will be brand new this year for Team Canada if Gudbranson doesn't return. Ryan Murphy, Dougie Hamilton, Duncan Siemens, and Brandon Gormley were the early favourites to lock down a roster spot but Gormley was unimpressive during the Subway Super Series opening the possibility for other emerging defenders to crack the lineup.  Cody Ceci, Jerome Gauthier-Leduc, Nathan Beaulieu, Joe Morrow and Stuart Percy are playing strong hockey and will give Hockey Canada executives a tough decision to make.
The area where Team Canada might lack this season is between the pipes.  Goaltenders Tyler Bunz (WHL), Louis Domingue (QMJHL), and Scott Wedgewood (OHL) joined the returning Mark Visentine (OHL) at the evaluation camp but Canada is lacking that elite prospect goaltender.  The coaching staff will likely chose the hottest goaltender and ride him throughout the tournament.
Just for fun, if Team Canada allowed me to select its roster the team would feature the following players (assuming Huberdeau, Murray and Murphy are available and the players competing in the NHL are not):
Goaltenders (2):  Tyler Bunz (Medicine Hat Tigers), Louis Domingue (Quebec Remparts)
Honourable Mention: Scott Wedgewood (Plymouth Whalers)
Defensemen (7):  Dougie Hamilton (Niagara Ice Dogs), Ryan Murphy (Kitchener Rangers), Ryan Murray (Everett Silvertips), Cody Ceci (Ottawa 67's), Joe Morrow (Portland Winterhawks), Brandon Gormley (Moncton Wildcats), Nathan Beaulieu (Saint John Sea Dogs)
Honourable Mention:  Duncan Siemens (Saskatoon Blades), Stuart Percy (Mississauga Majors)
Forwards (13):
Jonathan Huberdeau (Saint John Sea Dogs) – Mark Schiefele (Barrie Colts)- Jaden Schwartz (Colorado College)
Quinton Howden (Moose Jaw Warriors) – Ryan Strome (Niagara Ice Dogs) – Tyler Toffoli (Ottawa 67's)
Zack Phillips (Saint John Sea Dogs) – Ryan Spooner (Kingston Frontenacs) – Mark Stone (Brandon Wheat Kings)
Tanner Pearson (Barrie Colts) – Boone Jenner (Oshawa Generals) – Freddie Hamilton (Niagara Ice Dogs)
Matthew Bissonnette (Acadie-Bathurst Titans)
Honourable Mention: Matt Puempel (Peterborough Petes), Brendan Gallagher (Vancouver Giants), Greg McKegg (Erie Otters), Christian Thomas (Oshawa Generals)
League Representation on Projected Roster:
OHL – 10, QMJHL – 6, WHL – 5, NCAA – 1
The Team Canada 2012 IIHF World Junior Championship roster for the selection camp will be announced Monday, November 28th and you can bet that all potential players will be monitoring their cell phones (more than usual) for that long-awaited call but until the rosters announced these players must bring their 'A' game each and every night.  The competition to make Team Canada is fierce and Hockey Canada is watching closely.