The holiday season is almost upon us. With that season, comes a few beloved traditions: gift-giving, holiday music and the IIHF World Junior Hockey Championship. World Juniors time is also a good time to check in with this year's class of players eligible for the 2015 NHL Entry Draft.
This is the latest edition of The Hockey Writers' Alternate Draft Rankings. Designed as a complement to Chris Ralph's The Next One rankings, the Alternate Rankings take a different bent: I rank players in the order that I would take them, based upon a hypothetical world where I both (a) own an NHL club and (b) have to draft a team from scratch.
The 2015 Draft has a bit of everything, but is quite top-heavy with skilled forwards. Outside of Noah Hanifin and Oliver Kylington, there's a fair drop in terms of high-end defenders – particularly compared to the quality of the forward prospects. There's also no sure-fire excellent goaltender slated for the top part of the draft; there's good goalies in the mix, but nobody like Thatcher Demko (from last year) pushing for a potential first round spot. And the theme this year seems to be European imports: of the 30 ranked players, seven are Europeans playing in the Canadian Hockey League.
A disclaimer: I'm based in Calgary and see some WHL teams live, but typically see a few college, junior and World Junior games on TV. That does limit my ability to judge a lot of things, so there's some guesswork and weighing of statistical stuff involved.
---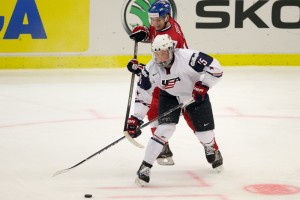 #1: F Connor McDavid – Erie Otters (OHL)
Broken hand or no broken hand, McDavid is creative, confident and dominant in the OHL. As long as his play doesn't drop off when he returns, he'll be a great addition to any club and the clear top pick.
#2: F Jack Eichel – Boston University Terriers (NCAA)
As impressive as McDavid's dominance of the OHL has been, Eichel's rapid adaptation to the nuances of the NCAA game has been equally impressive. I favour McDavid slightly more due to him being slightly more dynamic and Eichel playing a lighter NCAA schedule, but teams won't be too angry about "settling" for Eichel.
#3: D Oliver Kylington – AIK (SHL)
He's a strong teenager playing big minutes on a team in a really good league. Arguably the best D-man in the draft, I have him ahead of Strome and Hanifin because there's less questions about the "team effect" on his numbers (Strome) and his adjustment to a higher level of hockey and more games (Hanifin).
#4: F Dylan Strome – Erie Otters (OHL)
I'm skeptical of the notion that Strome's sick numbers are a product of playing with Connor McDavid, primarily because they usually don't play together – and that Strome's numbers continued once McDavid was hurt. That said, he's second fiddle and often gets slightly easier match-ups because teams try to isolate McDavid's line – often with little success, mind you. Still: Strome is quite good, just a notch below the draft's generational guys.
#5: D Noah Hanifin – Boston College Eagles (NCAA)
A big bodied defender, Hanifin has faced a learning curve playing with the rebuilding Eagles – who have taken a step back with the departure of several of their key stars from prior seasons. That said, Hanifin is whip-smart and uses his size well, so it's merely a matter of adjusting his tendencies to the increased size and speed of NCAA players.
#6: F Pavel Zacha – Sarnia Sting (OHL)
This Czech import has emerged as one of the most impressive players in the entire Canadian Hockey League, and it's even more impressive when you consider that this is his first season in North America.
#7: F Lawson Crouse – Kingston Frontenacs (OHL)
Crouse has really stepped it up this season, with the absence of injured star Sam Bennett barely being felt because he's managed to up his production and become a valuable commodity for the Kingston coaching staff in many different situations. (Bennett's absence has provided Crouse with an opportunity that he's really taken advantage of.)
#8: F Travis Konecny – Ottawa 67s (OHL)
From the people that scouted and developed OHL star (and NHL draftee) Sean Monahan comes Konecny. He's obviously not a carbon copy, but he's mature, he plays well in all situations and he'll be a strong pick-up for most teams.
#9: F Matt Barzal – Seattle Thunderbirds (WHL)
Barzal's got speed and creativity. He's not physically massive, but as a May birthday, he's got a bit more time to grow than a lot of guys in his draft class.
#10: F Daniel Sprong – Charlottetown Islanders (QMJHL)
Sprong's a strong player in the Q; he's been a point-per-game player on a team that's not amazing or stacked. That said, he was also a point-per-game last season, so there may be minor questions about his progression.

#11: D Jeremy Roy – Sherbrooke Phoenix (QMJHL)
A right-handed shot – a rarity in the NHL these days – Roy has been a strong contributor for Sherbrooke.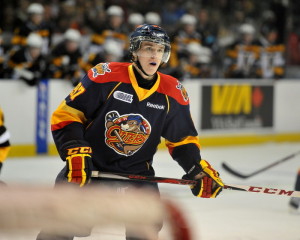 #12: F Evgeni Svechnikov – Cape Breton Screaming Eagles (QMJHL)
Russian import is rack up just over a point-per-game in his first year in North America. Granted, it is on a good team in a league known for offense. Teams may take him earlier because of his big frame (he's 6'3″).
#13: D Zack Werenski – University of Michigan Wolverines (NCAA)
He's big. He's defensively responsible. He's playing in a good program known for developing strong NHLers.
#14: D Ivan Provorov – Brandon Wheat Kings (WHL)
His defensive game can probably use a bit of work, but he's producing great offensive numbers in his first year in North America. Slightly ahead of his teammate Ryan Pilon, who's reportedly a bit better defensively but worse offensively.
#15: F Mitch Marner – London Knights (WHL)
Good news: great offensive numbers (on a good team, albeit). Bad news: he's a bit on the small side, size-wise.

#16: D Ryan Pilon – Brandon Wheat Kings (WHL)
Just a smidge behind his Brandon teammate, Pilon's progressed a lot this season, to the point where he's wresting ice-time away from more veteran Wheaties defenders.
#17: F Miko Rantanen – TPS Turku (SM-Liiga)
Talented Finn playing regular minutes on a good pro team in a good league. He's not blowing the doors off offensively, but he's definitely playing with and against guys better than he is.
#18: F Jansen Harkins – Prince George Cougars (WHL)
A big surprise in the Dub this year, Harkins is the straw that stirs the drink for the Cougars. He's really stepped up his game, though his points totals have relied upon his ability as a distributor of the puck and the ability of his teammates to bury the chances he creates for them.
#19: F Kyle Connor – Youngstown Phantoms (USHL)
He's got excellent numbers in the USHL and a frame that can probably pack on some more muscle. There may be some question about the quality of competition in the USHL (as compared to the Canadian leagues), which likely won't hurt his stock much at all but may be used as justification to take someone else higher.
#20: F Brock Boeser – Waterloo Blackhawks (USHL)
Excellent scorer at the USHL level, but he's not a big kid.

#21: F Filip Chlapik – Charlottetown Islanders (QMJHL)
Young for this draft class (a June birthday), Fhlapik has strong numbers as a first-year North American junior. He hasn't quite filled out yet, though, and likely his defensive game can use some work, particularly with the track meets the Islanders often play in.
#22: F Nick Merkley – Kelowna Rockets (WHL)
Along with Harkins, another one of the biggest offensive producers from the Dub this year. Merkley's downgraded slightly because he's a player on a more stacked team, as Kelowna is really good even without Merkley.
#23: D Nicolas Meloche – Baie-Comeau Drakkar (QMJHL)
He's right-handed, which is good. He's big, which is good. He gets points on the board, which is good. His up-tick in production has also been accompanied by more trips to the penalty box, which needs to change going forward.

#24: D Jakub Zboril – Saint John Sea Dogs (QMJHL)
Someone who could rise if an NHL team falls in love with him, this first-year North American player has good numbers in the Q, but really shined at the Ivan Hlinka Tournament – he had more than a point-per-game playing on the back end. His numbers may be propped up a bit by playing on a good team in a high-scoring league.
#25: F Timo Meier – Halifax Mooseheads (QMJHL)
A Swiss import, Meier's scored over a point-per-game this season, his second in North America. As an October birthday, he's one of the older players in this class, which may diminish his stock a bit, but he's got size and offensive skill to spare.
#26: F Nikita Korostelev – Sarnia Sting (OHL)
A second-year Russian import, Korostelev is a steady offensive producer, but also has a striking amount of discipline – as of this writing, he'd taken just six minor penalties in 32 games.
#27: D Brandon Carlo – Tri City Americans (WHL)
A big-bodied American, ironically playing for the Americans, Carlo was invited to Team USA's World Junior camp and has been making a strong case for himself. He uses his size well in the defensive end.
#28: F Colin White – US National Development Team (USHL)
White has decent size, good instincts and steady strong production in the USHL. His placement is more a statement about the guys above him than White himself.
#29: F Thomas Novak – Waterloo Blackhawks (USHL)
Novak may be a dark-horse candidate to move up. Scouts say he's got incredible skill and instincts, but his offensive production just hasn't yet materialized at Waterloo. He's committed to Boston College for next season.

#30: F Jordan Greenway – US National Development Team (USHL)
Greenway has a lot of potential, particularly due to his size. He 6'5″ and already 220 pounds. His scoring hasn't set the USHL on fire yet, but once he learns to use his size to his advantage – and he'll have time in college to do that – he could be very strong as a pro.

ON THE CUSP:
I don't personally have any goaltenders ranked in the first round – I find it really difficult to project goalies, so even the highly-rated ones I tend to underrated compared to other rankers. However, two goaltenders could creep into the first round – Barrie's Mackenzie Blackwood and Quebec's Callum Booth. Booth, in particular has good numbers this season in the Q and had a solid showing at the Ivan Hlinka tournament over the summer.
On the blueline, two names on the outside – barely – are Acadie-Bathurst's Guillaume Brisebois and Peterborough's Matt Spencer. Brisebois is one of the youngest players in the draft – born in July 1997 – and has shown growth this season. Spencer is another younger draft-eligible defender, but also sees his stock potentially raised due to him being a right-handed shot. With those rarer than unicorns these days, a team could take a flyer on him late in the first round.
Up-front, there are a few names to keep in mind as players that could creep into the first round: From Europe, Swede Jens Looke and Czechs Michael Spacek and David Kase are all playing in pro leagues at 17. In the CHL, Niagara's Graham Knott, Portland's Paul Bittner, Red Deer's Adam Musil and Swift Current's Jake DeBrusk are also in the mix. I'd also put Vladimir Tkachev into this category; given his success for the Edmonton Oilers at camp, his stock will be very high as an early second round sleeper.