Goals are calling the Carolina Hurricanes' second line of Jeff Skinner, Victor Rask, and Elias Lindholm. Will they please pick up and answer the call in tonight's match against the Toronto Maple Leafs? They need to answer the call loudly and clearly. December is over halfway gone and the team is suffering through a drought of goals that is leaving them winless and pointless. Somebody on this team needs to break through and score. I like tonight's second line of Skinner, Rask, and Lindholm.
What do you get when you score six goals in six games?
That's an easy one. You get six losses. Ten goals over the last eight games is not much better. The 'Canes are in a major tailspin and if they cannot pull up quickly, will crash and burn all hopes of being near the playoffs this season. The team has not played in glaringly bad fashion, except in Philadelphia. They just have not found a way to score. It's that simple.
Who do we blame? Eric Staal? He is the captain and should be leading by example. He's too easy of a target, in my opinion. The Staal-hater bandwagon is one that is easily jumped on, but I'm not there just yet.
#Canes Just Say No to more Staals. EStaal might well need to become an ex-Cane. What a weak spaghetti noodle defensive noneffort by 12

— Doug Abrams (@dabrams2021) December 17, 2014
I do agree that he needs to lead by example. He should be scoring and getting assists and playing hard every single shift. And I do think he has been playing hard. If I felt otherwise, I'd be right there with the cacophony of voices screaming that he needs to step up.
My one negative on Staal would be that I don't think he is being aggressive enough in going to the net. I truly believe that doing so would make a difference in his game, and light a fire in his teammates to do the same. Perhaps he is tentative a bit from recent injuries, perhaps he's gotten less aggressive, who really knows? A more assertive Eric Staal will only help this team.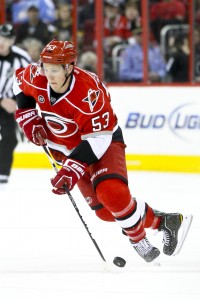 Line two to the net please
The tentative lines for the game against Toronto were announced during the morning skate. I like line two. Skinner, Rask, and Lindholm are the quintessential "young guns" I have written about and believe strongly in on this team. Jeff Skinner is legit. He has earned his spot on NHL ice with his performance over the past three years. He reached the 200th NHL point mark in Tuesday's loss against Montreal.
Skinner has been a reliable scorer for the Hurricanes until this season. Currently he has 15 points through 26 games. It has not been his best start by any measure. He did have to deal with an early concussion which may very well have gotten his game off track. But Skinner has been more aggressive in the past few games, and I am looking for him to dial in very soon. Against Toronto would be a great time for him to find his scoring magic and help bring the 'Canes out of the scoring drought.
Jeff Skinner is trying. Some may question the effort of others on the team, but I believe that Skinner is giving a genuine effort to score. He fired 10 shots at the Detroit Red Wings on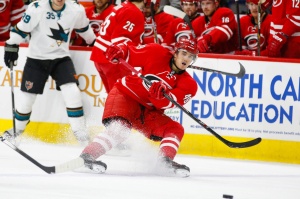 December 7th, when backup goalie Petr Mrazek was an absolute wall. He scored the team's lone goal in Montreal Tuesday night, and Hurricanes success will come quicker if Skinner can get it going on a consistent basis.
Victor Rask is the center on this line, and what can you say about Victor? He is playing in his first NHL season and has earned his spot. With 4 goals and 5 assists heads may not be turning. But his play in other areas of the game is significant. He has played in all 30 'Canes games this season. He ranks third among NHL rookies with 70 shots on goal. Rask has a 51.4% faceoff percentage and is averaging 15:18 time on the ice. I like him centering with Skinner and Lindholm. Against the Leafs would be a prime time for Victor Rask to shine, and steer line two to the net.
Elias Lindholm can score goals
The "Swedish Beast" is only 20-years old. The youngest of the three "young guns" in today's article. He has 7 goals and 6 assists so far this season. These stats may not turn any heads either, but neither will the Hurricanes' overall play. They have not been scoring is the point. But, I believe that Lindholm has a nose for scoring goals and is growing toward being a solid scorer. He has shown his youth at times, but he has also shown that he is maturing in this league.
My point is that I am looking for line two – Jeff Skinner, Victor Rask, and Elias Lindholm to lead the team out of the scoring desert and start putting goals on the scoreboard. The game against the very hot Toronto Maple Leafs tonight would be a good time for line two to answer…goals are calling.