While they haven't been at the top of fantasy owner's lists over the past couple seasons, the Buffalo Sabres may be working their way to the top end of fantasy hockey drafts. Coming off yet another unsuccessful season – aside from the breakout of highly touted rookie Jack Eichel – the Sabres are coming together as an interesting team in the Atlantic Division and Eastern Conference.
That being said, there's no prediction just how successful (or unsuccessful) they're going to be this season. But when it comes to fantasy hockey the team's overall success is only a small piece to a much larger puzzle. And while they will certainly still have their team struggles because of their young core, the Sabres are on the rise.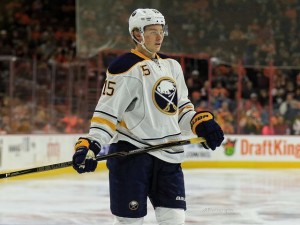 With that, fantasy owners need to take note that the value of the Sabres' top players will also be on the rise. Keep an eye on them as there will be some Buffalo love in this year's fantasy drafts. So here's a look at some of the players to watch for and a couple that you should stay away from.
Top Performer: Jack Eichel, C
The youngest player on the Sabres roster, 19-year-old Jack Eichel should be the best option in Buffalo this season. As a rookie last season, the former second overall pick notched 24 goals and 56 points in 81 games for the Sabres. He finished fourth in Calder trophy voting behind Artemi Panarin, Shayne Gostisbehere and Connor McDavid, but revitalized a Sabres' roster that needed a pure talent like him to come along.
While his hits, penalty minutes and plus-minus rating might be something worth considering for fantasy owners, there's no denying how talented he is in the offensive zone. On top of that, if you're looking to nab him in some kind of keeper or dynasty league, the Sabres are on the rise (as was mentioned earlier) which should dictate an overall increase in both his statistical output and his plus-minus rating.
Underrated Performer: Rasmus Ristolainen, D
Last season, Rasmus Ristolainen took a significant step for the Sabres. He nearly doubled his shot totals from 121 to 202 in 2015-16 and saw a 21 point increase from his previous season. His first full season in Buffalo was 2014-15 when he notched eight goals and 20 points in 78 games for the Sabres. But last season he not only played all 82 games, he managed to record nine goals and 41 points from Buffalo's back end.
While he still might not be considered one of the premier defensemen in the NHL, he definitely deserves more recognition than he's getting heading into this fourth NHL campaign. He finished 24th in defensive scoring last season and will likely see an increase in both ice-time and production this coming season with the growth of the Sabres team.
Don't sit on him too long in your draft (if he isn't already a keeper in dynasty leagues) as he likely won't be around for too long. While he still sits outside the top 10 in defensive rankings, he will be on some owners' lists as a sleeper pick for this coming season.
Overrated Performer(s): Zach Bogosian, D and Cody Franson, D
Bigger names don't always equate to big production. Everyone's heard of Zach Bogosian and Cody Franson, but as fantasy players they might not be as big as they seem on the ice. Both defensemen seem to be on the decline in their careers.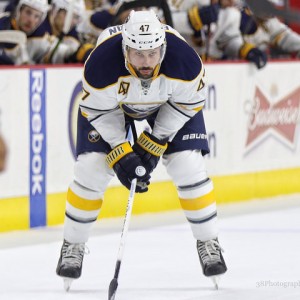 While both are still only in their 20's (Bogosian is 26 and Franson is 29), the pair have spent the past couple of seasons either moving from team to team in Franson's case or spending significant time on injury reserve in the case of Bogosian.
In two seasons with Buffalo, Bogosian has racked up 31 points (7g-24a) over 85 games. Last year was his best offensive year since 2011-12 when he was with Winnipeg in their first season back in Canada.
Franson notched 17 points (4g-13a) last season with the Sabres in 59 games. He had his best season in 2014-15 with the Toronto Maple Leafs and Nashville Predators notching 36 points (7g-29a) in 78 games.
Now, if your league measures statistics like hits, these two would make great fantasy assets. However, if you're basing it strictly offensive ability, it might be best to leave these two for the later rounds of your fantasy draft or even see if you can grab one of them post-draft in free agency.
Fantasy Sleeper: Sam Reinhart, C
Lost in all the hype of Eichel's rookie season last year was the growth of fellow young gun Sam Reinhart. Playing in his first full season with the Sabres, Reinhart scored 23 goals and added 19 points in just 79 games.
At six-foot-one and just 189 pounds, he's not the biggest player. However, with the skill set of Eichel alongside him, he was able to create room for himself and showcase some of his offensive skills.
While he won't be an asset fantasy-wise for those secondary stats just yet, his ability to put the puck in the net and his presence on the power play will certainly make him a good depth player for fantasy owners. Like most of the players on this list, don't sit on him too long because he could be a guy that other teams are looking to grab as well.
Bounce-back Candidate(s): Tyler Ennis, C
Having dealt with an injury for the most part of 2015-16, Tyler Ennis experienced what was by far his worst season in the NHL. He notched just three goals and 11 points in just 23 games during the regular season and was forced watch most of the Sabres season.
That being said, this is a player who has scored 40-plus points three times in his career and 45-plus points twice. While his best season came back in 2010-11 when he scored 49 points (20g-29a) in a full 82 games, he was on pace to match that mark in 2014-15 when he notched 46 points (20g-26a) in just 78 games.
Now he won't be your top line centre by any means when it comes to your fantasy team, but he's a good asset to have in deeper leagues. With the additions of Eichel, Okposo and others to the Sabres' roster Ennis could very well see a slight increase in his production and may even have a breakout season. Regardless, look for him to be the bounce-back player for the Sabres – hungry for a full season.
Breakout Candidate: Robin Lehner, G
We've been waiting and waiting for this guy to live up to expectations and 2016-17 could finally be the year that Robin Lehner shows just how good he can be guarding an NHL crease.
In 107 career regular season games (spread over six NHL seasons) Lehner has a losing record of 35-45-18. However, his other numbers aren't terrible. He has a career 2.80 goals against average and .916 save percentage to go along with three shutouts.
Last season, with the Sabres, he played in 21 games with a record of 5-9-5. His goals against average was below his career average at 2.47 and he had an impressive .924 save percentage. However, he had to deal with injuries throughout the season and that could've led to his inconsistency.
Sabres goalie ratings in Yahoo fantasy hockey:
234 – Robin Lehner
293 – Anders Nilsson #Sabres

— Lukas Kotecki 😷 (@Sabres_Blitz) August 26, 2016
That being said, the Sabres are better this season and barring any injury setbacks Lehner should be too. He's expected to man the Buffalo crease for the majority of the season with Nilsson backing him up. With the Sabres ready to take a step forward, this could finally be the year for the young goaltender with so much promise.
Impact Rookie: Hudson Fasching, RW
At just 21, Hudson Fasching had the chance to play with Buffalo's big club at the end of the 2015-16 season. He recorded one goal and one assist in seven games and added a plus-two rating over that time.
Before that, Fasching played three seasons with the University of Minnesota in the NCAA where he notched 94 points (46g-48a) over 115 games. He won't be the best right winger of the pack, but he certainly can help fantasy owners in a crunch. In deeper leagues, he will definitely be a guy to watch for over the next couple of seasons.
Goaltending
In net, the front runner and undisputed starter is Lehner. But the Sabres seem to be the least experienced team when it comes to their goaltenders. Combined, Lehner and Nilsson have played in 159 career games.
But, that seems to be the motto for this year's team. Young and coming in with a want-to-win attitude could be just what the Sabres need. We all saw that Lehner has the passion needed to win from his multiple on-ice outbursts last season. But the biggest thing for him will be whether or not he can contain that drive – maintain composure during hard times.
If not, Nilsson is there to back him up. At just 26, Nilsson has played 52 career games in the NHL. That includes 29 games he played last season between Edmonton and St. Louis. While his career numbers aren't incredibly impressive – with a 3.09 goals against and a .900 save percentage – this will certainly be a learning curve for the goaltenders themselves as well as the Sabres organization.
Don't expect Nilsson to be much of a fantasy asset, and keep an eye on the Sabres as they may be in the market during the season to acquire a new goaltender to back up their young starter.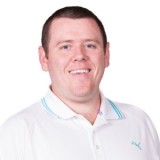 Andrew is in his 8th year reporting for The Hockey Writers covering the Toronto Maple Leafs. He began his broadcasting with CBC's Hockey Night in Canada team as well as being part of their coverage of the 2014 Winter Olympic Games in Sochi. He's the former play-by-play voice of the London Jr. Knights for Rogers TV and currently hosts the Sticks in the 6ix podcast. You can follow him on Twitter at @AndrewGForbes.