This is a team with a new coach and hopes of rebounding to its playoff form from two seasons ago.
However, the Calgary Flames were widely viewed as overachievers that year — based on analytics — and their leading scorer remains unsigned.
There is uncertainty in Calgary and it's difficult to predict what will happen with the Flames this season.
What will Glen Gulutzan's impact be in replacing Bob Hartley? Will Johnny Gaudreau ink a new deal before the season opener or be a rare contract holdout in this day and age?
Time will tell, but the Flames should have some solid fantasy contributors again regardless of whether Calgary emerges as a post-season contender.
Top Performers: Johnny Gaudreau, LW and Mark Giordano, D
As long as he's signed from Day One, Gaudreau should continue to establish himself as one of the league's brightest young stars and a fantasy standout.
Gaudreau was a Calder finalist as a rookie — with 24 goals and 64 points in 80 games — and avoided the sophomore slump last season by taking his game to another level as a point-per-game player. He scored 30 goals and 78 points in 79 games, finishing tied for sixth in league scoring.
https://twitter.com/Gear_K19/status/653074315143835649
Gaudreau is clearly a point-producing machine and an offensive catalyst — somewhat similar to Chicago's Patrick Kane — which makes him an elite fantasy player. Whether he should be a top-10 pick in this year's drafts is debatable, but Gaudreau should absolutely be going in the top 30 if not the top 20. He's a top-15 fantasy performer among forwards, so it just depends on what kind of league you're in and how many defencemen and/or goaltenders would warrant consideration ahead of Gaudreau.
Giordano is Calgary's captain and ranks among the top-10 fantasy defencemen. He finished sixth in defence scoring last season with 56 points and was tied with Oliver Ekman-Larsson for second in goals with 21 — behind Brent Burns' league-leading 27.
Giordano was on pace for similar totals before getting hurt the previous two seasons, so he shouldn't be a one-hit wonder for fantasy teams.
In 2014-15, he recorded 11 goals and 48 points in 61 games — prorated to 15 goals and 65 points over 82 games, which would have ranked second only to Erik Karlsson's 66 points and might have been a Norris-worthy campaign for Giordano had he not been injured. Ditto for 2013-14 when Giordano produced 14 goals and 47 points in 64 games — prorated to 18 goals and 60 points, which would have been third behind Karlsson's 74 and Duncan Keith's 61.
Giordano will turn 33 -years old before the start of this season but has shown no signs of slowing down as a bit of a late bloomer. He should definitely be drafted among the top-10 defencemen, arguably among the top five and potentially even the top three.
Underrated Performers: Mikael Backlund, C and T.J. Brodie, D
Backlund quietly had a career year last season, topping 20 goals and 40 points for the first time. He finished with 21 goals and 47 points in playing all 82 games.
Backlund will continue to serve as Calgary's third-line centre this season, but that role will be counted on as much for scoring as checking. Gone are the days of two scoring lines, a checking line and an energy line. More and more teams are rolling three, if not four scoring lines and Calgary will be joining that trend.
Backlund will probably see some power-play time on Calgary's second unit and could be capable of 50 points with the right linemates this season. If he plays with Michael Frolik and maybe a rookie like Hunter Shinkaruk, Matthew Tkachuk or Daniel Pribyl, that is definitely within the realm of possibility and would make Backlund a sneaky good fantasy pick.
"He is one of the most underrated players in the league." – Bob Hartley on Mikael Backlund ~ https://t.co/e75WtesoLO pic.twitter.com/zHJ9sXu5Ed

— Calgary Flames (@NHLFlames) April 24, 2016
Brodie was hurt for part of last season and seemed to get overshadowed by Calgary's acquisition of Dougie Hamilton. Like Backlund, Brodie quietly went about his business and put up a career-high 45 points, including six goals, in 70 games — prorated to 53 points, which would have tied Brodie with Dustin Byfuglien for eighth overall in defence scoring.
Brodie netted 11 goals and 41 points in 81 games the previous campaign and should be good for at least that many again this season.
Yet, Brodie doesn't garner the recognition he deserves for whatever reason and often falls further than he should in fantasy drafts too.
Overrated Performer: Dennis Wideman, D
He could go either way this season. Some see the 33-year-old as a bounce-back candidate, having enjoyed a career-best fantasy campaign two seasons ago with 15 goals and 56 points in 80 games.
However, Wideman was a disappointment last season even before he collided with a linesman and served a 20-game suspension. Wideman only managed two goals and 19 points in 51 games — prorated to three goals and 31 points.
Tyler Bozak and Dennis Wideman are among @THNMattLarkin's top fantasy value fallers this off-season. Who is No. 1? http://t.co/RSYUDtezrx

— The Hockey News (@TheHockeyNews) July 8, 2015
Wideman's best years are probably behind him and his future point totals will likely be closer to 30 than 60. Wideman might have another 40-point season in him, but that would be an optimistic outlook. Hopefully, last season's debacle has bumped him down your fantasy rankings regardless.
Fantasy Sleeper: Troy Brouwer, RW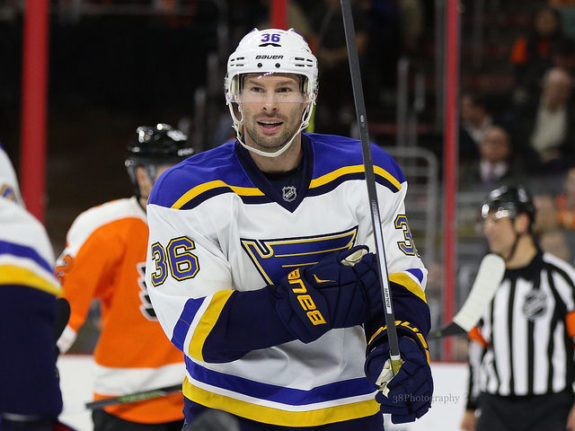 He's pencilled in to play with Gaudreau and Sean Monahan on Calgary's top line, which would obviously be a big boost to Brouwer's fantasy value.
Solid as he was for St. Louis in the playoffs, Brouwer has always been a better player in real life than in fantasy. But if he's riding shotgun with Gaudreau and Monahan and doing some of their dirty work, Brouwer's stat-line should reflect that and he could top his career high of 43 points, which he's achieved in two of the last three seasons.
Brouwer's best campaign was actually the lockout year — with 19 goals and 33 points in 47 games — when he was on pace for a career-high 33 goals and 58 points over 82 games. That might be a stretch for this season, but 50 points would seem obtainable in this situation.
When it comes to drafting depth forwards, you could do worse than Brouwer this season, providing he clicks with Gaudreau and Monahan and sticks in that spot.
Bounce-back Candidate: Michael Frolik, RW
He's a better bet here than Wideman. Frolik was limited to 64 games in his first season for Calgary, scoring 15 goals and 32 points. That prorates to 19 goals and 41 points over 82 games, which is roughly what Frolik has produced in the past.
Frolik actually had 19 goals and 42 points in 82 games for Winnipeg the previous season, and injuries haven't been much of an issue over his eight-year career. Frolik has played at least 79 of 82 games in five of those eight seasons — plus 45 of 48 in the lockout year — and doesn't get hurt often.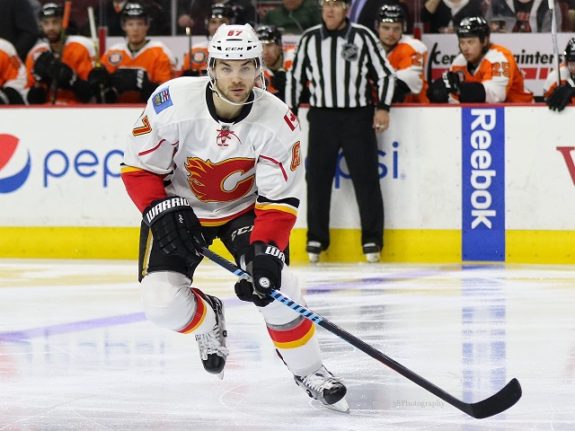 Many had Frolik pegged for a bit of a breakout season in Calgary after finishing strong with Winnipeg, but that didn't happen. Now that he's familiar with his surroundings, Frolik could eclipse his careers highs — dating back to his rookie season — of 21 goals and 45 points.
Like Brouwer, Frolik could certainly flirt with 50 points this season and should once again be on your fantasy radar regardless of whether he's on a line with Backlund or Sam Bennett.
Calgary has a couple more forwards worth mentioning as bounce-back candidates.
Lance Bouma is coming off a tough year — just two goals and seven points in 44 injury-plagued games — after breaking out for 16 goals and 34 points in 78 games the previous season. Bouma should be good for at least 10 goals and 25 points if he can stay healthy this season.
The other is Alex Chiasson, who was acquired from Ottawa and has a history with Gulutzan from their Dallas days. Chiasson appeared to have a fair bit of potential back then, so much so that the Senators asked for him as part of the package for Jason Spezza. It didn't work out there under Dave Cameron — who is ironically now an assistant on Gulutzan's staff in Calgary — but perhaps his old coach will be able to get the best out of Chiasson again.
Chiasson did tally 13 goals and 35 points in 79 games with the Stars prior to getting traded but only managed eight goals and 14 points in 77 games for the Senators last season. Like Bouma, Chiasson should be capable of 10 goals and around 25 points in Calgary this season.
You would only be drafting Bouma and/or Chiasson in the deepest of fantasy leagues, but they could be decent waiver claims if you're regular lineup is depleted by injuries.
Breakout Candidate: Sam Bennett, C
He had a decent rookie season — with 18 goals and 36 points in 77 games — considering he was coming off shoulder surgery, but Bennett is capable of much more.
There were glimpses of how dominant he could become — such as his four-goal game against Florida in January — and Bennett has the ability to be considered Calgary's most dangerous centre by season's end.
Bennett and Monahan will continue to form a one-two punch down the middle for years to come — Bennett is the more gifted player between the two, a higher-end offensive talent — and Tkachuk could be to Bennett what Gaudreau is to Monahan as early as this season.
If Tkachuk cracks the roster and there's instant chemistry with Bennett, then it wouldn't be surprising to see Bennett take a sophomore jump into that 25-goal, 50-point range. Consistency will be key for Bennett.
Calgary's other breakout candidate would be defenceman Jyrki Jokipakka, who was part of the trade-deadline return for Kris Russell and impressed enough with the Flames to be named to Finland's roster for the upcoming World Cup of Hockey.
Team Finland's D pairs: Määttä-Ristolainen, Jokipakka-Vatanen, Lindell-Pokka, Lepistö.

— Sami Hoffrén (@shoffren) September 5, 2016
Jokipakka had hip surgery in the offseason but is believed to be healthy enough to suit up in the World Cup and will gain valuable experience there before coming back to Calgary. The Flames can afford to shelter Jokipakka a bit — behind Giordano, Brodie, Hamilton and Wideman — but don't be shocked if Jokipakka overtakes Wideman for a top-four role as the season progresses.
Jokipakka produced six assists in 18 games for Calgary to end last season, which prorates to 27 over 82. It wouldn't be fair to expect 30 points from Jokipakka in his first full season, but 20 points seems realistic and reasonable.
Impact Rookie: Matthew Tkachuk, LW
As mentioned, there is a spot on the left side of Bennett that is there for the taking for Tkachuk or another rookie like Shinkaruk. Pribyl shoots right-handed, but he could possibly get a look there on his off wing too.
Gaudreau has the top-line spot locked up and Bouma and Micheal Ferland are better suited to bottom-six roles, so Tkachuk could be the perfect fit for Bennett on the second line. Tkachuk should be considered the favourite to land that gig.
Expect the Flames to try that combination early in training camp, and to give Tkachuk every opportunity to stick in the big league rather than returning to junior for a second season with the reigning Memorial Cup champion London Knights.
Tkachuk was already a force in his first and only OHL season — racking up 107 points, including 30 goals, in just 57 games — and capped it off by scoring the overtime-winning goal in the Memorial Cup final. Tkachuk took his game to another level during that playoff run, recording 20 goals and 40 points in 18 games despite playing through a sprained ankle.
That prompted speculation that Tkachuk could go as high as third overall in June's draft — he was ranked as the fourth-best prospect by most scouting services — so the Flames were fortunate he fell to them at sixth. Tkachuk, the son of Keith and a power-forward type like his father, will be motivated to make Columbus, Edmonton and Vancouver regret passing on him.
Assuming Tkachuk is on Calgary's roster to start the season — at least for a nine-game audition — he'll be a fantasy-relevant rookie. Like Jesse Puljujarvi in Edmonton, Tkachuk won't have great odds at winning the Calder Trophy, but he could have a rookie season similar to Bennett's from a year ago. Matching that stat-line of 18-18-36 would be a strong start to Tkachuk's NHL career.
Shinkaruk is a local boy trying to become a hometown hero. He's got a bit of Theo Fleury in his game, but Shinkaruk is still facing an uphill battle in becoming an NHL regular, especially with Tkachuk as his competition for a top-six role this season.
Shinkaruk didn't get many opportunities in Vancouver — where Gulutzan was previously an assistant coach under Willie Desjardins — with the Canucks only giving Shinkaruk a single game before shipping him off to the rival Flames. This, despite Shinkaruk's steady progression and strong AHL numbers with 21 goals and 39 points in 45 games with the Utica Comets last season.
Like Tkachuk, Shinkaruk was a big-time point-producer in junior — he had seasons of 91 and 86 points in the WHL — but there have been concerns about his flashy game translating to the NHL. The Flames were willing to take that chance and Shinkaruk actually scored two goals and three points in a seven-game stint with Calgary to end last season.
If he can pick up where he left off, Shinkaruk could force his way onto the opening-night roster as well, even if it isn't alongside Bennett. Shinkaruk might be a good fit with Backlund if he can commit to playing a 200-foot game.
As a fantasy player, Shinkaruk has decent upside but is also quite comparable to his former junior linemate Emerson Etem, who is still finding his way in the league after five seasons. Shinkaruk could take a while to get going too.
Pribyl is even more of a wild-card. The Flames signed him out of Czech Republic where he was a point-per-game player in the pro league last season (45-16-29-45). Originally drafted by Montreal but never signed, Pribyl added five goals and 11 points in nine playoff games for Sparta Praha.
Pribyl is 23 years old and has good size — listed at 6-foot-3 and 207 pounds — so it's possible that he'll be more NHL-ready than either Tkachuk or Shinkaruk. However, Pribyl might not be healthy enough to participate at the start of training camp. He's still recovering from ACL surgery in May to repair a knee injury, but he's been rehabbing in Calgary and getting acclimatized to his new surroundings.
Once he's up to speed, Pribyl could be a sleeper to make an impact for Calgary. The Flames will just be hoping he pans out better than their last Czech experiment — Roman Cervenka, who struggled with injuries and illness before bolting back to the KHL.
Goaltending
This was Calgary's biggest weakness last season, resulting in a total overhaul.
Gone are Jonas Hiller, Karri Ramo and Joni Ortio, replaced by Brian Elliott, Chad Johnson and David Rittich.
That new trio represents the present, while Jon Gillies, Mason McDonald and Tyler Parsons are projected to be the future between the pipes for the Flames.
Elliott is slated to be this season's starter after being acquired from the St. Louis Blues for a second-round pick at the draft in June. Elliott had been platooning with Jake Allen for the past few seasons in St. Louis, but the Blues wanted to increase Allen's workload going forward and thus deemed Elliott expendable.
Fantasy Spin: Brian Elliott Traded to Calgary – https://t.co/1R1TGvlCF1 #hockey #THW pic.twitter.com/FJXkIs7PMB

— The Hockey Writers (@TheHockeyWriter) June 25, 2016
ICYMI: Earlier this week, #Flames GM Brad Treliving introduced Brian Elliott to the #yyc media!https://t.co/zsPnsdbV2G

— Calgary Flames (@NHLFlames) July 29, 2016
Calgary got Elliott on the cheap, but the Flames were close to landing Ben Bishop the day before. That price was steeper and Calgary was ultimately scared off by Bishop's contract demands — thus settling for Elliott as a consolation prize.
Johnson was signed as a free agent and is considered an above-average backup. He could push Elliott for playing time but will be the number two netminder to begin the campaign.
Rittich is another 23-year-old out of the Czech league and he's expected to split time with Gillies for the AHL's Stockton Heat. They could form one of the better minor-league tandems and both could make their NHL debuts in the event of injuries.
Gillies missed most of last season after requiring hip surgery but is considered a top prospect — somewhat similar to Winnipeg's Connor Hellebuyck — while Rittich is more of an unknown to North American hockey fans, having never been drafted.
For now, Elliott is the Calgary goalie to own in fantasy leagues and it'll be interesting to see how he adjusts to the change of scenery. Elliott isn't an upper-echelon starter but could be a good value pick as a second- or third-stringer for your fantasy team.