Hockey is a simple game. You just need to outscore your opponent. While it may sound less complex than it is, Team Sweden looks like half their work is done coming up to the World Cup of Hockey. Almost everyone seems to agree on that the Swedish defensive roster – including Henrik Lundqvist in the net – is one of the best in the tournament. If not the best.
However, the team also needs to score, obviously. Not as many want to acknowledge Sweden's brilliance when it comes to the offensive side. That's understandable, in all honesty, seeing that the set of forwards is not comparable to the straight through quality defensemen and goalie on the roster and that both Henrik Zetterberg and Alexander Steen have dropped out of the team due to injuries.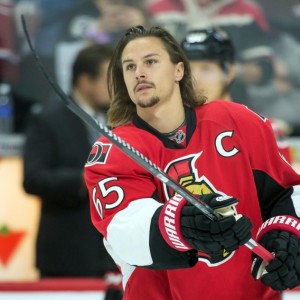 Should Sweden worry about goalscoring? I'm not so sure.
They don't have any Tyler Seguins, Patrick Kanes or Alex Ovechkins, but they have a variety of other players that together may generate the same amount of goals, or even more, as the mentioned superstars will.
Skilled Defensemen
When a defensive roster doesn't even have room for John Klingberg, you can count on that there's some offensive quality in there. In Erik Karlsson, Oliver Ekman-Larsson, and Victor Hedman, Team Sweden has three defensemen that each scored over 45 points in the NHL last season. In the WCH they will, therefore, carry a heavy load in the offensive zone, as they are sharp shooters and potential goal scorers in the same sense the forwards are.
And even the more defensive Swedish players have skill. Have you seen this, when Niklas Hjalmarsson, of all players, dangled up Erik Karlsson during the World Cup camp?
@hammarenfyra having some fun with @ErikKarlsson65 pic.twitter.com/pjrQdU3Hvc

— Karl Trogens (@karlrbk) September 6, 2016
On the powerplay it's become clear that one of these defensemen will get more responsibility to create goals. According to reports from this week's training camp, Team Sweden will shape their two powerplay set-ups like this:
PP1: Karlsson, Ekman-Larsson, D. Sedin, H. Sedin, Eriksson
PP2: Strålman (Karlsson), Forsberg, Landeskog, Bäckström, Hörnqvist
The reason why Ottawa Senators team captain, Erik Karlsson, is included in both formations is because he is anticipated to play double shifts in every powerplay. "Erik will get a lot of powerplay time", the coach Rickard Grönborg said to Swedish media outlet Expressen. "Surely a minute and a half per powerplay, and it's all about finding a good environment for him." Clearly, Sweden will be relying on him.
Top Two Lines
Of course, if you want to win the WCH, you need to on the plus side in the goal column when the game is played five on five. For Team Sweden, the top two lines will be crucial for that offensive game, while the bottom two will focus on stealing energy from the opponents and keeping a clean sheet while on the ice.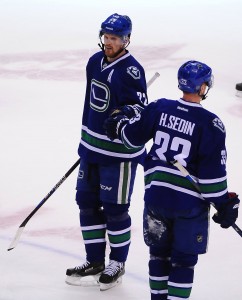 Judge for yourselves, as early reports have Team Sweden formatting their four lines like this:
D. Sedin, H. Sedin, Eriksson
Forsberg, Bäckström, Hörnqvist
Rakell, Söderberg, Landeskog
Hagelin, Krüger, Silfverberg
(Backlund)
As you can see that's a very nose-heavy offensive arrangement. This means that the six players in the two first lines, who are the six players most capable of producing a significant number of goals, need to live up to their given task. That being said, the bottom six should not be underestimated – there are some exciting players in those lines as well, but not of the same goal scoring material as the top two.
An alarming fact is that there is a blatant lack of snipers on the team. Other than Filip Forsberg and perhaps Loui Eriksson, is there anyone, really? This means that the usual playmakers need to dust off their shooting sticks and contribute to the goal scoring. Nicklas Bäckström needs to do it. Henrik Sedin needs to do it. Patric Hörnqvist needs to do it more than before.
If this comes together, however, Team Sweden should be able to outscore every opponent in the World Cup of Hockey. Simple as that.
For all news and team coverage of the World Cup of Hockey from The Hockey Writers, see our page here.
---
The Hockey Writers coverage of the World Cup of Hockey 2016 is being brought to you by PrimeSport, the official Fan Travel & Hospitality Package Partner of the World Cup of Hockey 2016.
Freelance sports journalist settled in Malmo, Sweden. Author on the official site of the Swedish Hockey League. Cover Swedish prospects on their road to the NHL, and Swedish players making it in the NHL.