A few days ago, I wrote a piece suggesting the Edmonton Oilers give Leon Draisaitl time at the wing position instead of his natural center role. The logic behind the idea is that Draisaitl is currently slotted in as a third-line center on the Oilers depth chart and he's shown the ability to be a much more valuable piece than a typical third-line center may provide an average NHL team. He's got experience on the wing, he's getting better each season and I think providing Draisaitl opportunities for success is going to be key for his potential moving forward. That said, moving Draisaitl up, but not onto the wing means the Oilers would need to swap his position with a player like Ryan Nugent-Hopkins. Would Nugent-Hopkins as your third-line center be a better fit?
Oilers Should Consider Starting Draisaitl at Wing – The Hockey Writers https://t.co/GfmYFkFE8L

— Edm Oilers view (@EdmOilersview) September 5, 2016
Having strong depth at center is key for the Oilers potential success moving forward, but I don't believe Nugent-Hopkins is best utilized as a third-line center. From a macro-perspective, he's one of Edmonton's most complete players and is considered a strong enough talent to be selected to team North America at the World Cup of Hockey. From a micro-perspective, there is a lot about Nugent-Hopkins as a player to like if you're an Oilers fan.
I was taken to task for that opinion by one of the commenters on the Draisaitl article. This person suggested Nugent-Hopkins hasn't in fact shown himself to be a quality second-line center in the NHL, and thus makes more sense in the bottom-six. I don't agree, but it required I at least look more closely at the scenario.
A Good Third-Line Versus Second-Line Center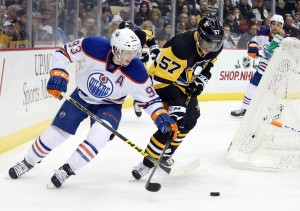 The qualities people associate to the definition of a strong center in the NHL will vary. Some will go by points, some will go by faceoff numbers, others by statistics such as Corsi, Fenwick and zone starts. Some will look only partially at stats and consider the general makeup of a player on offense versus defense. If you look a certain numbers or angles only, you'll get a variety of opinion on who should and should not be considered a good or quality center in or out of the top-six. Looking at Nugent-Hopkins numbers, one could see how opinions may vary greatly.
Nugent-Hopkins doesn't have the strongest faceoff percentages. He's also not the best center in the NHL when it comes to underlying stats — his Corsi and Fenwick numbers don't necessarily scream possession driver. He is however considered by many a strong two-way center and he's consistently a 50-point producer. All that said, he's had some trouble staying healthy. If he's going to be considered one of the better NHL second-line centers, he needs a bounce-back season where he delivers on a lot of fronts. If he doesn't, people may continue to question his ability and he risks getting passed by on the Oilers depth chart.
Points
Nugent-Hopkins produces points at the pace of a decent to good second-line center. Anyone who wants to call him less than that based on his point production isn't giving him his due credit. If he reaches 50 points this season, it will be for the fourth time in six years and if you prorate his lockout-shortened campaign in 2012-13 and his 2015-16 season, where he was not at all a healthy 100%, he'd have been at 50 points in those two seasons as well.
If injury-free and paired with the right linemates (my suggestion is quality time with Draisaitl and Benoit Pouliot) it shouldn't be a stretch to think that a full season, some power play time and quality overtime minutes in 3-on-3 where he excels, he's got the potential to be a 60-to-65-point player. I'd go so far as to suggest 60 points could be his baseline instead of his ceiling. His closest PPG comparable is a player like David Krejci — definitely a second-line center.
Faceoffs
There is no denying that Nugent-Hopkins needs to improve his faceoff percentages. Before last season, where his numbers took a dip, he was slowly improving but has not been a 50% NHL faceoff player over his career. One of the arguments made by the commenter against Nugent-Hopkins as a second-line center was that to be a good second-line center, you "need" to be a good faceoff guy — and by good, I believe he meant over 50%.
It's a nice quality to have, and one would hope that Nugent-Hopkins develops more into a stronger faceoff player, but being a strong faceoff guy is not the hill a second-line center will die on. Players like Ryan Getzlaf, Nicklas Backstrom, Henrick Sedin, Adam Henrique and Jeff Carter were all under 50% last season in the faceoff circle. All of these players are second or first-line centers in the NHL. It isn't ideal, but Nugent-Hopkins isn't alone in this regard. Furthermore, it can be argued a contributing factor to his dip last year in all areas including faceoffs, was in large part due to his poor health. He could be right around the 50% mark if he takes a step forward this season.
Corsi and Fenwick
Over his career, Nugent-Hopkins could be a stronger scorer of underlying stats like Corsi and Fenwick. That said, he has played his best possession hockey with Taylor Hall, Jordan Eberle, Draisaitl and Pouliot and does have some positive numbers to show for his hard work. Draisaitl (50.8) and Pouliot (51.9) possession stats show that Nugent-Hopkins is not incapable of pushing the play and a second-line of Draisaitl and Pouliot could have and has shown to have some success in the past.

There are players to avoid playing Nugent-Hopkins with. Nail Yakupov and Nugent-Hopkins have not been strong players together and if possible, that combination should be avoided. Will Nugent-Hopkins and a player like Jesse Puljujarvi or Patrick Maroon have the ability to mesh? Only time will tell, but it wouldn't be a fools bet. The pair of Nugent-Hopkins and Maroon for example only played a total of five minutes together last season. We can't realistically read from that total sample size how these players would fare together.
Deployment
While zone starts show he's more likely to get quality offensive time and could make more of those opportunities, Nugent-Hopkins also routinely plays against some of the opposing team's top players. Since the day he was drafted and then thrust into the NHL, he's done the heavy lifting for the Oilers. His numbers reflect his deployment and as players like McDavid and Draisaitl continue to improve their two-way game, I have no doubt Nugent-Hopkins numbers will go up due to playing him against weaker competition.
The Results
Like the commenter did in the Draisailt piece, you could make the argument that Nugent-Hopkins is not a great second-line center. There just isn't much validity in suggesting he isn't a good second-line center. He's Edmonton's most complete two-way player and he's clearly not a bottom-six forward. I don't expect the Oilers to play him much on the third line in the 2016-17 season.
Where will they play him? I believe second-line center, with short-handed and on second-unit powerplay minutes. Where will that put Draisaitl? Well, if he's not your third-line center (which he's currently slotted to be), then there isn't much else to do but give him time on the wing and at center.
I looked closer at Nugent-Hopkins and my opinion hasn't changed. Draisaitl gets more opportunities throughout the lineup and Nugent-Hopkins gets a chance to stay healthy and become a bonafide, high-end second-line center in the NHL.
Jim Parsons is a senior THW freelance writer, part-time journalist and audio/video host who lives, eats, sleeps and breathes NHL news and rumors, while also writing features on the Edmonton Oilers. He's been a trusted source for five-plus years at The Hockey Writers, but more than that, he's on a mission to keep readers up to date with the latest NHL rumors and trade talk. Jim is a daily must for readers who want to be "in the know."
Other content contributions include: NHLtradetalk.com, The Sportster and hosting weekly video casts, THW News and Rumors Rundown, plus Oilers Overtime.
For interview requests or to provide content info, follow Jim on Twitter or his social media accounts. They appear under his photo on articles like this one.