If the Edmonton Oilers move forward with a top-nine centered by Connor McDavid, Ryan Nugent-Hopkins and Leon Draisaitl, they'll have one of the better groupings of one-through-three centers in the NHL. It's a varied set of skills, a mix of size, speed and two-way ability and all three centers have shown a propensity for putting up points. It's been years since the Oilers could boast they had this kind of strength at the center position and a player like Draisaitl rounds out the Oilers depth chart quite nicely.
As wonderful as this advantage down the middle seems, it's not all rainbows and lollipops. There are at least three main issues of concern should Edmonton decide to start the season and press forward with this specific scenario. Specifically, if the Oilers choose to leave soon-to-be-star, Draistaitl as a third-line center.
Todd McLellan's History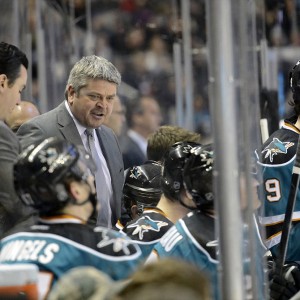 McLellan is not a coach who likes to play top-six forwards out of the top-six position. We've seen his blueprint with the San Jose Sharks — namely with Joe Pavelski —and McLellan is looking at a similar situation here in Edmonton where Draisaitl is already more than a third-line player.
Back in his days as the Sharks Head Coach, McLellan opted for moving Pavelski out of the number three center position and into a winger spot on one of the top two lines. McLellan believed Pavelski was too strong a talent to be limited to third-line minutes and as such wanted to get one of his more talented players on the ice more often.
Currently, Pavelski is considered one of the best and most unique wingers in hockey because he's a fantastic talent, plays alongside Joe Thornton and consistently is near the top of standings for faceoff percentages on the Sharks roster. It could be argued that had McLellan not moved Pavelski when he did, Pavelski may not have become the player he has.
It's this kind of move McLellan should consider making with Draisaitl. While Draisaitl doesn't have the strong faceoff history Pavelski does, McLellan can use Draisaitl — who had 51 points in 72 games last season — in more than just a typical winger's role. Draisaitl can play center on powerplays, he can take faceoffs in special situations and over the course of a game, if need be, take the place of a center when chemistry among the lines is lacking. Having Draisaitl play regularly at center is always an option to fall back on and with the payday he's likely to command on his next contract, giving him as much opportunity as possible to earn that contract will be critical to maximizing Draisaitl's value.
McLellan has gone on record suggesting that he's an advocate of stockpiling centers. He believes that it's much easier to move a center to the wing than the other way around and while Draisaitl has shown improvement, his NHL career is still relatively young. Draisaitl has shown to have better chemistry with some players than others and as a result has an element of inconsistency to his game. His best days came playing alongside Taylor Hall and with Hall now in New Jersey, the belief is McLellan is actively encouraging Oiler management to add another center, providing the flexibility to move a player like Draisaitl up and down the lineup.
Injuries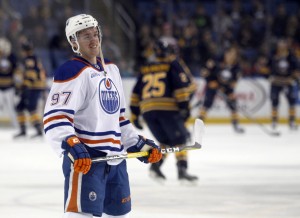 The Oilers are a team known to have a history of major injuries and accumulate a ton of man-games lost. Last season alone they missed 368 games due to injuries to some of their strongest talents and key players. If we look solely at center, in 2015-16, Edmonton lost McDavid to 37 games and Nugent-Hopkins for 25 games. That's Edmonton's first and second line pivots down for a good chunk of the season and because of it, Edmonton was out of the playoff picture early on in the year. The Oilers were left with Draisaitl as a relative rookie, Mark Letestu and combination of players like Anton Lander, Matt Hendricks and less experienced centers to pick up the slack. It was an unfortunate set of circumstances, but the lack of depth wasn't a pretty sight.
Moving Draisaitl to the wing and bringing in a new third-line center who can play significant minutes will create flexibility if and when the Oilers injuries issues begin to rear their ugly head. Not doing do could mean facing a real dilemma should Edmonton need to move Draisaitl into a first or second-line center role. If Draisaitl himself goes down to injury, but he's positioned as a winger on the Oilers in 2016-17, his position is much easier to fill with the depth Edmonton has been collecting at forward.
The Oilers will be better-suited shopping for centers in a supply heavy market and it appears those wheels are already in motion. Chiarelli has gone on record saying he's invited at least one, perhaps as many as two centers to camp on a PTO. Both options Chiarelli is considering, he's described as long-term fixes, not short-term solutions.
Center Minutes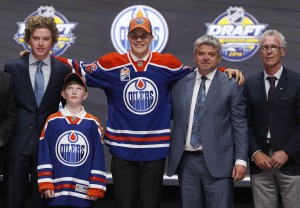 A strong third-line center in the NHL averages about 14-16 minutes per game. A top-six forward plays much more than that and Draisaitl, as effective of a hockey player as he has shown himself to be so far, shouldn't be limited in the minutes played. Because Nugent-Hopkins is also more than a third-liner, swapping their minutes-per-game doesn't solve the issue. If the Oilers are icing a healthy roster, McDavid needs to be the Oilers primary option and Nugent-Hopkins needs to be the Oilers number-two.
The only effective way to get Draisaitl the minutes he may need is to either play him at the wing in a top-six role or ensure he gets powerplay time on the wing while pulling his regular third-line duties. Both would work, but both require Draisaitl playing a large portion of time out of the center-ice position.
Moving Draisaitl up to right-wing may also move rookie Jesse Puljujarvi down a spot and this isn't necessarily a bad thing. Should Puljujarvi make the team out of camp he'll require time to get accustomed to the NHL. As the season progresses, perhaps he proves to warrant more ice-time, but starting Puljujarvi on a strong third line with a combination of players like Zack Kassian, Patrick Maroon, Nail Yakupov and/or a veteran third-line center gives the rookie a chance to ease himself into the rotation. It's a much-preferred option to placing the pressure to deliver squarely on his shoulders from day one.
Winger, Winger Chicken Dinner
There is something to be said for having center depth. Finally, the Oilers seem to have it. Yet, despite a powerful one, two, three, there may be a false sense of security that has the potential to hurt the Oilers playoff hopes. If injuries take a toll or should McLellan want flexibility in his lineup, rotating forwards from center to wing, the Oilers are a much stronger team with the addition of a bonafide third-line center and Draisaitl starting at the wing. Should Edmonton not make a move, the injury and production cards need to fall right and that's not always something that fits the Oilers recent past.
The previous few seasons of the Edmonton Oilers shows it's not a matter of if a key player will go down, but when. It's not a matter of if someone struggles, but for how long and with whom. This kind of history should tell Oiler management to approach the season with the attitude, it's better to have additional talent and not need it, versus needing talent and not having it.
With so many centers still on the free agency market, it would be a shame if the Oilers didn't take advantage of the options available. And with so many options available to maximize the production of a player like Draisaitl, Edmonton should make finding ways for him to produce at a high level a priority, not an afterthought.
Jim Parsons is a senior THW freelance writer, part-time journalist and audio/video host who lives, eats, sleeps and breathes NHL news and rumors, while also writing features on the Edmonton Oilers. He's been a trusted source for five-plus years at The Hockey Writers, but more than that, he's on a mission to keep readers up to date with the latest NHL rumors and trade talk. Jim is a daily must for readers who want to be "in the know."
Other content contributions include: NHLtradetalk.com, The Sportster and hosting weekly video casts, THW News and Rumors Rundown, plus Oilers Overtime.
For interview requests or to provide content info, follow Jim on Twitter or his social media accounts. They appear under his photo on articles like this one.