The Edmonton Oilers have a logjam at center right now and with everyone entering the year healthy it presents a unique dynamic for the team. Last year Edmonton amassed an astounding 368 man games lost due to injury. Not once did they play a game with all of their best players. Their struggles extended beyond injuries as offensive inconsistency plagued the team all year. When you're one of the worst offensive teams in the League, change is necessary.
A report out of Edmonton speculates that Leon Draisaitl will be moving from center to right wing to balance out the offensive lines.
Draisaitl, 20, played last year mainly with Taylor Hall who was traded to the New Jersey Devils. He put up 51 points in 72 games after a late-October call-up and never looked back. Draisaitl had a breakout year and was one of the few positive storylines for Edmonton in 2015-16.
Related: Oilers Insiders Speculate Team Targeting Mike Richards
Related: Health Will Be Key Factor for Oilers Success in 2016-17
During a radio appearance on Thursday, Oilers insider Jack Michaels touched on head coach Todd McLellan wanting to load up his top two scoring lines, preferring to play all the Oilers best players together. He did something similar when he coached the San Jose Sharks loading up with Patrick Marleau, Joe Thornton, Joe Pavelski and company all playing on the top two offensive units. McLellan has made it known in the Edmonton market of how highly he views the elite skill-level of Ryan Nugent-Hopkins (RNH), the former 1st overall pick in 2011. To him, RNH is the equivalent of what Pavelski is to the Sharks.
Draisaitl was a force in junior playing predominantly on the wing. During the Kelowna Rockets run to the Memorial Cup final in 2015 he was arguably the most effective player in the CHL let alone the WHL.
""I think the real preference for Todd McLellan, for now and the foreseeable future, maybe for the next two or three seasons, is to have Draisaitl on the wing. I really believe that's the preference. And that's why they're saying if we're bringing in a guy on a PTO he's not just showing up to fill space, he's going to have a chance to make the team. What they're really saying is he's going to have a chance to make a meaningful impact, which is what you'd expect from a third line centre."

– Jack Michaels, on Oilers Now with Bob Stauffer
Rumour: Mike Richards Offered a PTO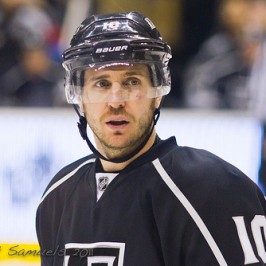 The same interview with Michaels and host Bob Stauffer said it's believed Oilers GM Peter Chiarelli has offered UFA center Mike Richards a professional tryout (PTO) and with an opportunity in camp to win the vacant third-line center job, opened by Draisaitl moving to right wing.
Richards, 31, is coming off a disastrous year with just five points in 39 games averaging 12:10 TOI with the Washington Capitals. He's nearly a decade removed from his prime scoring 80 points for the Philadelphia Flyers in 2008-09. The following year he won a gold medal with Canada at the Olympics and lost in the Stanley Cup Finals. Philadelphia soon went into a tailspin and reports of locker-room issues led to a trade to Los Angeles where he was a part of two Stanley Cup wins in three years.
Related: Oilers Targeting Mike Richards
His contract was ultimately terminated by Los Angeles after some legal issues but after straightening out his personal life he was able to impress the Washington Capitals to re-join the league.
Offensively Richards is well removed from his elite-level offensive prime but could potentially provide some value to the Oilers fourth line which hasn't had any real sense of stability. Known for his penalty-killing abilities, defensive acumen and faceoff prowess, Richards struggled to his standards with a 49.5 FO%. Still, that put him second among Capital centers that played a minimum of 39 games. To earn a roster spot, Richards will have to improve his footspeed.
Mark Letestu has failed to provide the Oilers with any consistency as the Oilers go-to defensive center. Anton Lander hasn't developed as hoped and other options like Drake Caggiula and Jujhar Khaira may not be ready for full-time NHL duty.
Updated Offensive Depth Chart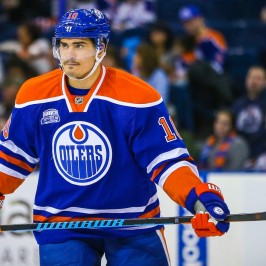 Chiarelli stated during an interview that the team has tendered a PTO offer to an unnamed player but is still waiting to hear back. Edmonton's looking at a few others, but that's the most they can say publicly. If true it creates a bit of a conundrum for a few players.
Nail Yakupov, 22, will once again be boxed out of the top six and will likely be playing third-line RW minutes. The plus side is he'll have weaker defensive matchups. The downside is that he has yet to make use of his opportunities in Edmonton and this truly could be his last year.
Jesse Puljujarvi, 18, was expected to be thrust into one of the top six spots on RW. Unless he's able to light the world on fire in camp forcing the Oilers to make a trade for Benoit Pouliot or Patrick Maroon on the left side, he could very well be starting the year in the AHL with Bakersfield. Puljujarvi is exempt from the under-20 rule in the AHL by being a European prospect. Mikko Rantanen (Colorado) did it last year with San Antonio and was named AHL Rookie of the Year.
Puljujarvi is also still eligible for the World Juniors and can play for Finland this winter.
| | | |
| --- | --- | --- |
| LEFT WING | CENTER | RIGHT WING |
| Milan Lucic | Connor McDavid | Jordan Eberle |
| Benoit Pouliot | Ryan Nugent-Hopkins | Leon Draisaitl |
| Patrick Maroon | Mike Richards | Nail Yakupov |
| Matt Hendricks | Mark Letestu | Zack Kassian |
| Iiro Pakarinen | Anton Lander | Jesse Puljujarvi |
This could also signal the end for Anton Lander in Edmonton as well. Lander, 25, is a UFA at the end of the year and since being drafted 40th in 2009 has failed to stick full-time with the Oilers. Lander's development has halted as a fringe NHL fourth-liner despite showing a brief breakout at the end of the 2014-15 season. After posting 20 points in 38 games he entered last year with the third-line job and had the worst offensive year of his career, just three points in 61 games. Lander, however, led all Oilers centers with a 54.5 FO% while averaging 12:04 TOI.
If the report holds legitimacy and we're adding fuel to the fire, Draisaitl moving to the right side could also mean Chiarelli and the Oilers have a pending deal for Yakupov. That's pure speculation at this point. If it's true then Puljujarvi will jump into that third-line spot next to Maroon and Richards to start the year. Puljujarvi is already in Edmonton for training camp and has no plans to go back to Liiga in Finland.
Edmonton Oilers regular contributor providing insight on all things Oilers including club history, prospect profiles, trade breakdowns, and everything else in between. Check back regularly for new and exciting content. Follow on Twitter @SanderTHW.