Potential is the first word that comes to mind with this team.
Granted, it's been coming to mind for a decade now and never coming to fruition, but maybe just maybe this will be the season that the Oilers finally break through!?!?
From a fantasy perspective, Edmonton's young forwards have been solid contributors over the years — when healthy — and they haven't been hurting fantasy teams, even if they haven't been helping their actual team climb the standings.
In saying that, for all the talked-about talent up front, the Oilers haven't exactly been lighting it up or leading the league in the goals-for category. Quite the opposite, in fact. Edmonton ranked 25th in team scoring last season — ahead of only Buffalo, Carolina, Toronto, Vancouver and New Jersey. Edmonton was 26th the previous two seasons since the lockout, so that's pretty telling.
If the team isn't scoring much, neither is your fantasy team, but that statistic probably speaks more to Edmonton's lack of scoring depth than its top-end fantasy contributors. For what it's worth, many are predicting — or assuming — that the Oilers will climb the goals-for ranks this season and at least get into that middle-third (11-20).
That optimism has a lot to do with the new face of the franchise — and likely captain — but also assumes Edmonton will enjoy a healthier season. The Oilers suffered 372 man-games lost to injury last season — fourth most in the league, trailing only Toronto (455), New Jersey (410) and Montreal (392). Worth noting, Toronto's total includes 164 games for complete-seasons lost by Stephane Robidas and Nathan Horton, and New Jersey's accounts for Ryane Clowe's 82 games so, in actuality, Edmonton might have been the most impacted by injuries over the course of the 2015-16 campaign.
Health Will Be Key Factor in Oilers Success – https://t.co/DoTIPKlJE8 #hockey #THW pic.twitter.com/jx3l6O4DVu

— The Hockey Writers (@TheHockeyWriter) September 3, 2016
For reference sake, the New York Rangers had the least man-games lost with just 97, while Chicago (122) and Washington (127) rounded out the top-three healthiest teams. That's a huge discrepancy and was obviously a huge factor holding the Oilers back, especially considering many of Edmonton's injuries were to key contributors — both in real life and in fantasy.
So if the Oilers can avoid the injury bug — or limit its impact — they should make some headway, and your fantasy team should also reap the benefits of picking Edmonton players.
Top Performer: Connor McDavid, C
This is a no-brainer. As long as McDavid stays healthy in his sophomore season — he missed 37 games with a broken collarbone as a rookie — he'll be a fantasy stud. McDavid should be a top-10 pick in most leagues this season and many believe he could challenge for the Art Ross Trophy as the league's leading scorer.
Sidney Crosby, Patrick Kane . . . McDavid? Taking the teenager third overall in a fantasy draft would be a bold move, but it could look brilliant by season's end. Albeit a smaller sample size — with 48 points in 45 games — but McDavid ranked third in the entire league for points-per-game last season (1.07) behind only Kane (1.29) and Jamie Benn (1.09).
Can Connor McDavid win the scoring title? @NHLJensen's center rankings for 2016-17 https://t.co/kJ0pJTkvcm

— NHL Fantasy on Ice 🏒 (@NHLFantasy) September 6, 2016
There would seem to be more upside to McDavid than Benn in a points-only league for this season, especially if the Oilers stick to their plan of loading up the top line with Jordan Eberle and Milan Lucic flanking McDavid. That has the makings of a potent trio and 100 points isn't out of the realm of possibility for McDavid, who turns 20 in January and will probably have a 'C' on his chest when the puck drops in October.
Underrated Performers: Ryan Nugent-Hopkins, C and Adam Larsson, D
These two have long been connected, with Edmonton debating between them for the first overall pick in 2011. The Oilers took Nugent-Hopkins and Larsson fell to New Jersey at fourth overall but was acquired by Edmonton in a blockbuster trade for Taylor Hall this offseason.
Now teammates, Nugent-Hopkins and Larsson haven't lived up to fantasy expectations thus far in their careers. They have, to this point, been overrated based on their draft status and have disappointed their fantasy owners throughout their first five seasons in the league. However, a case can be made for both — or, rather, for each — that they are being underrated heading into this fantasy season.
I still believe Nugent-Hopkins is one of the most underrated players in the NHL.

— Justin (@JTFoster92) October 18, 2015
Nugent-Hopkins has also struggled with injuries and has topped out at 56 points — twice achieving that total, with a career-high 24 goals two seasons ago. That's not bad, but it's not great considering Nugent-Hopkins' best statistical season was still his rookie campaign, with 18 goals and 52 points in 62 games — prorated to 24 goals and 69 points over 82 games.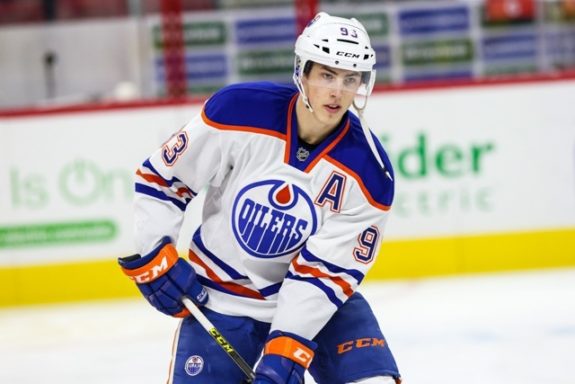 Nugent-Hopkins is actually coming off one of his worst seasons, with 12 goals and 34 points in 55 games — prorated to 18 goals and 51 points. He missed 26 combined games to a broken hand and a concussion. Based on that, Nugent-Hopkins is plummeting down the fantasy rankings for different websites — be it Dobber, Yahoo, ESPN or CBS — and will actually enter this season as an underrated player for a change.
A healthy Nugent-Hopkins has the talent and potential to be closer to 70 points than 50 and should be good for 60-plus in a full season. That makes Nugent-Hopkins a bounce-back candidate — another category to be covered in this outlook — and a strong bet for a career year. Expect him to get a boost from representing Team North America at the upcoming World Cup of Hockey and to hit the ground running in the regular season.
Larsson will have to adjust to life in Edmonton — and the pressures that come with calling the (former) City of Champions home as an athlete — but that change of scenery from New Jersey could be a big boon for his fantasy value. Larsson could certainly be more boom than bust for the Oilers.
The Devils had cast Larsson strictly in a shutdown role and while the Oilers also see him as a defence-first type, Larsson should be given more offensive opportunities in Edmonton. In New Jersey, Larsson was among the league leaders in defensive-zone starts and rarely stepped on the ice in power-play situations.
Projected to be paired with Oscar Klefbom — a fellow Swede and Edmonton's top offensive blueliner — Larsson will certainly be getting more balanced zone starts, which should bump up his point totals. The Oilers don't have Larsson pencilled into a power-play spot on either unit to start training camp, but there is a good chance he could play his way into that mix sooner than later, which would further boost his numbers.
Adam Larsson has the most underrated shot on the team. Shoot more.

— Pucks and Pitchforks (@pitchforkedpuck) January 3, 2015
As previously noted, the Devils were also the league's lowest-scoring team last season, so Larsson also stands to benefit from being a member of the more offensive-minded and offensively-gifted Oilers. Edmonton wasn't a much higher-scoring team — netting 203 goals to New Jersey's 184; 19 more — but all signs point to improvement for Larsson's stat-line. How much improvement is a matter of debate and only time will tell.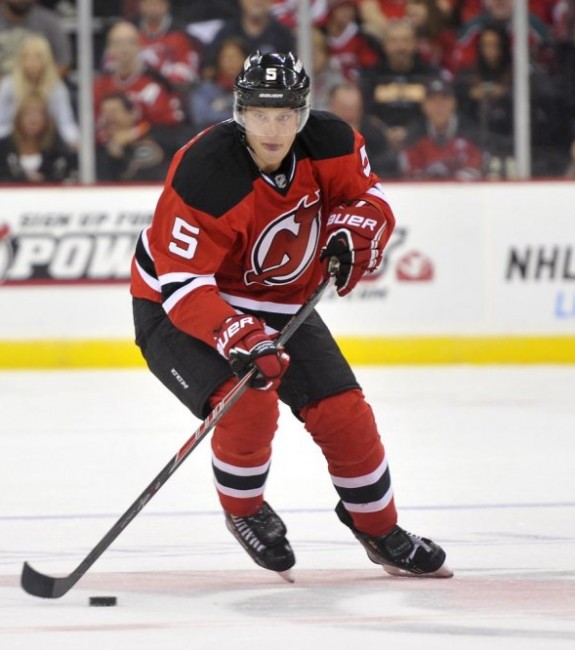 Larsson was limited to three goals and 18 points in playing all 82 games last season. That isn't a guy you'd want on your fantasy team. Truth be told, he's never scored more than three goals in the NHL and has topped out at 24 points in 64 games two seasons ago — prorated to 31 points over 82 games.
Anything above 30 points is worthy of fantasy consideration among defencemen and Larsson is certainly capable of that. Heck, he could probably come close to 40 with a token amount of power-play time.
A couple fantasy comparables could be Anton Stralman and Marc-Edouard Vlasic. Larsson has that kind of upside. Stralman was limited to just one goal and 13 points in 81 games during his final season with the Rangers — in a similar role to Larsson in New Jersey — before breaking out for nine goals and 39 points in 82 games the next season, his first with Tampa Bay. Stralman followed that up with nine goals and 34 points in 73 games last season — prorated to 10 goals and 38 points over 82 games — so it wasn't a fluke.
The difference being, Stralman went from pairing with stay-at-home Marc Staal to an offensive catalyst in Victor Hedman with the Lightning. Klefbom isn't on Hedman's level — at least not yet — but it's a similar situation with Larsson transitioning to the Oilers.
Vlasic posted a career-high 39 points last season, including eight goals, in just 67 games — prorated to 10 goals and 48 points. Two seasons ago, Vlasic had nine goals and 23 points in 70 games — prorated to 10 goals and 27 points.
Larsson could fall somewhere in between on Vlasic's numbers, perhaps splitting the difference and coming in right around 35 points this season. That would basically be doubling his output from last season, so Larsson absolutely could be underrated as a fantasy player.
Overrated Performer: Leon Draisaitl, C/RW
This depends entirely on where and how the Oilers deploy Draisaitl.
If he's centering the third line and expected to carry wingers like Patrick Maroon and Nail Yakupov, Jesse Puljujarvi or Zack Kassian, then you'll want to temper your fantasy expectations for Draisaitl.
However, if the Oilers decide to play Draisaitl on right wing — which may be coach Todd McLellan's preference — and he's lining up with Nugent-Hopkins and Benoit Pouliot in a top-six role, then Draisaitl could post a similar stat-line to last season.
And if Draisaitl somehow ends up on McDavid's wing or on the top power-play unit with McDavid, then he could be a fantasy steal.
Oilers Should Consider Starting Draisaitl at Wing – https://t.co/F3Icxw9lAc #hockey #THW pic.twitter.com/6VipnXJcdp

— The Hockey Writers (@TheHockeyWriter) September 4, 2016
The latter seems unlikely, unless Eberle goes down to injury in the preseason like last year. Even then, McLellan would probably try Puljujarvi or Yakupov with McDavid before Draisaitl. The power-play configuration may include Draisaitl, who is probably Edmonton's best passer, so he could rack up some assists there.
The concern — and why Draisaitl could be considered an overrated fantasy player — is that Draisaitl will suffer a sophomore slump. Reality is, Draisaitl slowed down significantly in the second half of last season, whether that was him hitting a wall from an adrenaline dump or the opposition finding ways to better defend him.
If you jinxed Draisaitl by picking him up in your fantasy pool some time in December, it's time to fess up, and cut the poor man loose.

— Hockey Abstract (@HockeyAbstract) March 30, 2016
Draisaitl will also be without his wingman, Hall, who drove the offence for their line. Hall's speed opened up passing lanes and a lot of ice in general for Draisaitl. Teddy Purcell was Draisaitl's other winger for the most part and he's gone too.
Draisaitl debuted the previous season and only managed two goals and nine points in 37 games — prorated to four goals and 20 points — before getting sent back to junior, where he dominated in leading the WHL's Kelowna Rockets to a league championship and the Memorial Cup final. That initial stint with the Oilers was under former coach Dallas Eakins, who played Draisaitl primarily on the third line with Yakupov. They didn't develop any chemistry and were ineffective as a duo, though Draisaitl is a different player than he was back then and McLellan might be able to get more out of them in a reunion.
All in all, Draisaitl set the bar awfully high with 19 goals and 51 points in 72 games last season — prorated to 22 goals and 58 points. Dependent on deployment, there is a very real possibility that Draisaitl's point total will be closer to 40 than 60 this season. Therefore, it wouldn't be wise to reach for Draisaitl in the early rounds.
Fantasy Sleeper: Brandon Davidson, D
He's still a relative unknown around the league and Davidson's stat-line from last season won't sound any alarm bells with four goals and 11 points in 51 games — prorated to six goals and 18 points.
However, the Oilers and their followers see a lot of potential in Davidson. Many are pegging him for a top-four role, plus power-play time on the second unit ahead of Larsson.
Oilers: Is Brandon Davidson Ready to Explode? https://t.co/RwQJi0PXdS #THW

— The Hockey Writers (@TheHockeyWriter) August 17, 2016
Davidson is definitely a late bloomer as a sixth-round pick from 2010, but he's been improving with every season and beating cancer in the process. He's a confident skater with good size and a booming shot from the point.
If Davidson is healthy coming into training camp — his season was cut short by a serious knee injury that he has been rehabbing — then he'll likely play a bigger role in Edmonton than outsiders may be aware of.
Davidson is obviously a depth option when it comes to fantasy and he'll probably be available on the waiver wire in most leagues to start the season. Keep an eye on him and if you notice Davidson's point total starting to take off, don't hesitate to take a flyer on him.
Bounce-back Candidates: Nail Yakupov, RW and Zack Kassian, RW
Both first-round picks from years past, here are two more of Edmonton's underachievers. The Oilers took Yakupov first overall in 2012 and Kassian was selected 13th by the Buffalo Sabres in 2009. Both showed some early promise but have since been trending toward bust territory.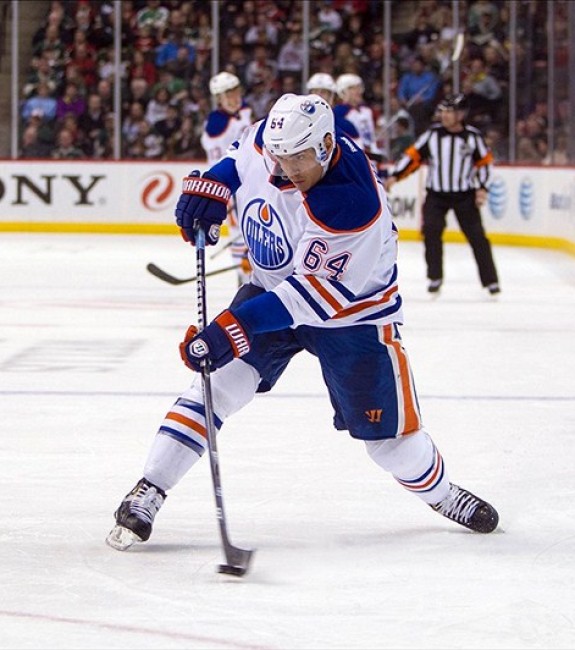 Yakupov scored six goals and 23 points in 60 games last season — prorated to eight goals and 31 points — but those numbers were inflated by a brief stint on McDavid's wing before suffering an ankle injury. Yakupov lost that spot to Eberle and wasn't the same player upon returning to the lineup.
Further down the depth chart, Yakupov looked lost at times and was often invisible. His agent asked for a trade and Edmonton explored the market but reportedly couldn't get more than a third-round pick in return.
That obviously wasn't enough and Yakupov remains an Oiler, now out to prove his worth not only to the team that drafted him but also to the rest of the league. And to Russian hockey officials for passing on him, then criticizing him during the world championship tournament in the spring and not even considering him for the World Cup roster.
This is also a contract year for Yakupov and really a make-or-break season for his career, so Yakupov should be returning to Edmonton with plenty of motivation. With the right opportunity, perhaps Yakupov will be able to get off to a hot start like last season and maintain it. Remember, this is a guy who scored 17 goals and 31 points in 48 games as a rookie during the lockout year — prorated to 29 goals and 53 points. That kind of potential is there.
Kassian has had his off-ice battles with alcohol and drugs, but he's clean and sober and coming to Edmonton's training camp in arguably the best shape of his life. Lots of players say that, but Kassian is actually looking the part of a slimmed-down, toned-up version of the reclamation project that Edmonton took on partway through last season. Whether that improved physique — and a much better mindset — translates into on-ice success remains to be seen.
The 2016-17 season represents a major opportunity for the #Oilers Zack Kassian: https://t.co/qh0zKM7TwK pic.twitter.com/3zdAdLyTyk

— Jonathan Willis (@JonathanWillis) August 22, 2016
Kassian's best season came in Vancouver, the year after the lockout, when he produced 14 goals, 29 points and 124 penalty minutes in 73 games — prorated to 16 goals, 33 points and 139 penalty minutes. That's what Kassian is capable of, but he's coming off just three goals and eight points, plus 114 penalty minutes, in 36 games with the Oilers last season — prorated to seven goals and 18 points over a full campaign.
It'll be interesting to see how Edmonton's depth chart shakes down on right wing. Eberle will likely be on the top line with McDavid, leaving Yakupov, Kassian, Puljujarvi and possibly Draisaitl to fill out the other three spots. Iiro Pakarinen, Anton Slepyshev and Tyler Pitlick will be pushing for playing time at that position too.
It'll make for a competitive preseason and once those line combinations take shape, the fantasy projections will become clearer as well, but Yakupov and Kassian both fit the bill as potential bounce-back candidates.
Breakout Candidate: Oscar Klefbom, D
Again, not to compare him to Hedman, but Klefbom could be Edmonton's best-kept secret. It's become apparent that Klefbom possesses all the skills to be an upper-echelon offensive defenceman.
Klefbom will be manning the point on Edmonton's top power play and he should be able to take more chances at even strength with Larsson as his partner than with Justin Schultz for much of last season. Klefbom is extremely mobile and has excellent instincts so, surrounded by Edmonton's firepower, he's bound to break out.
@TheHockeyNews has Oscar Klefbom projected at just 24 pts! How many will the #Oilers rearguard get this year?

— Ryan Robinson (@BlogManRy) August 10, 2016
That is, if Klefbom doesn't get hurt again. He's been injury-prone throughout his career and that has been holding him back from already becoming a household name — in real life and in fantasy. Staying healthy is of the utmost importance for the upcoming season.
Aside from former captain Andrew Ference (55), Klefbom missed the most games of any Oiler last season (52). He hurt his wrist and that turned into a staph infection in his leg. Klefbom also had issues with his feet and needs custom skates to prevent them from bleeding. He's a bit of a band-aid, but fortunately there are IR spots in most fantasy leagues if needed.
https://www.instagram.com/p/BIiBfLaBNe0/
If he's healthy — and that's a big IF — Klefbom could build on the momentum that he had to start last season. He scored four goals and 12 points in 30 games before being sidelined — prorated to 11 goals and 33 points. With Larsson as his partner and providing there's chemistry between them, 40 points could be possible for Klefbom.
Oscar Klefbom could definitely turn out to be valuable for the Oilers pic.twitter.com/4zNZufwaQa

— Carolyn Wilke (@Classlicity) August 26, 2016
Darnell Nurse deserves a mention here too. He had his ups and downs as a rookie, recording three goals and 10 points in 69 games — prorated to four goals and 12 points. Nurse could double that output — 20 points seems reasonable, providing he's on the opening-night roster and especially if he sees any power-play time.
Impact Rookie: Jesse Puljujarvi, RW
He's coming off an injury and will be adjusting to playing in North America, so don't expect the world from Puljujarvi and don't expect him to start his NHL career on McDavid's wing. As mentioned, Eberle is getting that gig. So Puljujarvi's place on Edmonton's roster is very uncertain entering training camp.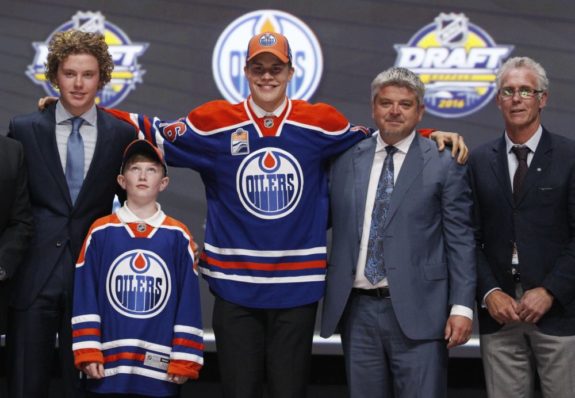 If Draisaitl does move to the wing, then Puljujarvi might begin in Bakersfield the way Draisaitl did last season. The Oilers have a bad reputation for rushing prospects to the NHL — albeit, the previous management regime, but Peter Chiarelli will want to take a patient approach with Puljujarvi. Nobody wants to turn him into another Magnus Paajarvi.
There are similarities between the two in terms of their size and speed, but Puljujarvi projects as a better finisher. Perhaps some AHL seasoning would be best as a means of maintaining that confidence. That said, Puljujarvi is physically NHL-ready and plays the forward position of weakness for the Oilers, so his chances of making the cut could be quite high.
It's unlikely that Puljujarvi will challenge for the Calder Trophy as the league's top rookie, but stranger things have happened. If he can produce 15 goals and 30 points in 65 games, that should be considered a successful campaign for Puljujarvi.
The other rookie forward to watch out for is Drake Caggiula, a left-winger who the Oilers may convert to a centre. Caggiula was a college free-agent signing who actually outscored Jimmy Vesey, the overhyped Hobey Baker winner who signed with the Rangers. Caggiula produced 25 goals and 51 points in 39 games for the University of North Dakota, while Vesey put up 24 goals and 46 points in 33 games for Harvard. Vesey did boast a slightly better points-per-game average (1.39 to Caggiula's 1.31). Both were sought after by several NHL teams, but Caggiula's signing didn't garner nearly the hoopla and has since flown under the radar.
put me down for Drake Caggiula having more goals than Vesey next season

— hrkshire bathaway (@hrkac) August 19, 2016
Caggiula is a long-shot to start the season in Edmonton, but he'll likely be among the first injury call-ups and could stick once he gets to the big league. He's not overly big but plays a determined game and has drawn favourable comparisons to Brad Marchand. Caggiula can be a pest and could rack up some penalty minutes as well for fantasy leagues that reward that category. Definitely a name to take note of for the future.
Goaltending
Cam Talbot is Edmonton's clear starter and Jonas Gustavsson is the likely backup, though Laurent Brossoit could get another long look in training camp.
Aside from McDavid's health, Talbot's goaltending will likely be the biggest key to Edmonton's success or lack thereof this season.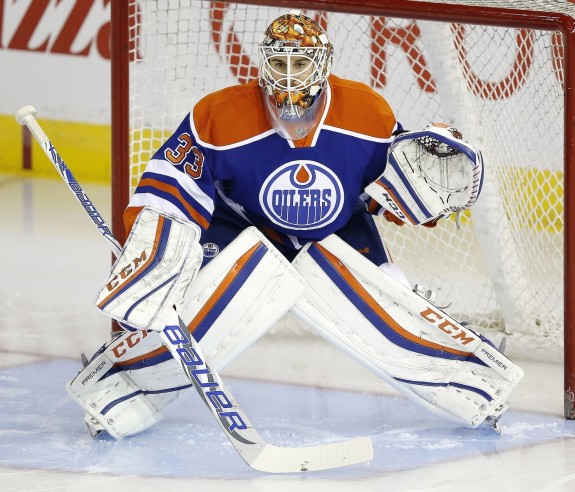 Talbot was really strong in the second half of last season after settling in and signing a three-year extension with the Oilers. He was consistent throughout 2016 and also backstopped Canada to gold at the world championship, shutting out the high-scoring Finns in the championship game.
Talbot should be the only Oilers goalie on your fantasy radar, but it's debatable how high you should take him. Most leagues value wins above all other goaltending categories and Talbot won't be among the NHL leaders there, even if the Oilers improve enough to push for a playoff berth.
Talbot also doesn't have much of a track record yet. He was undrafted and played sparingly behind Henrik Lundqvist in New York, aside from a stellar stretch when the Rangers' starter was hurt. That got Talbot recognized around the league and more than a few teams were interested when Edmonton traded for him last June.
Talbot didn't hit the ground running with the Oilers and was actually getting outplayed by Anders Nilsson up until the Christmas break. Many fantasy owners made that swap — claiming Nilsson off waivers — but Talbot took over when play resumed and never looked back in the New Year.
The #Oilers will live or die by Cam Talbot this season: https://t.co/7xdHGwhKe3 pic.twitter.com/MMUo13BF4N

— Jonathan Willis (@JonathanWillis) September 5, 2016
Now Talbot will be looking to build on that momentum and confidence from winning the worlds. Most pundits wouldn't rank Talbot among the league's top-15 starters, but he could in that conversation by Christmas if he picks up where he left off last season.
If Talbot continues to turn in consistent performances, the Oilers will probably ride him for 60-plus starts. A workhorse like that is certainly a fantasy asset, especially if the Oilers are winning more than they are losing in 2016-17.