It is officially NHL Draft week.
But this is no ordinary draft week. No, this week has an extra wrinkle to it thanks to the Vegas Golden Knights. They enter the league as the 31st team. As such, they get the opportunity to draft one player off the other 30 teams.
When that's done, the Entry Draft takes center stage. All 31 teams meet at the United Center in Chicago for two days of picking their potential future players.
Where do the Columbus Blue Jackets stand in all of this? What can we expect to see at the Expansion Draft Wednesday? Then what can we expect to see at the Entry Draft? This guide will get you ready for both drafts. Not only will we give you the storylines, we'll try to piece together some possible predictions. Let's start with the Expansion Draft.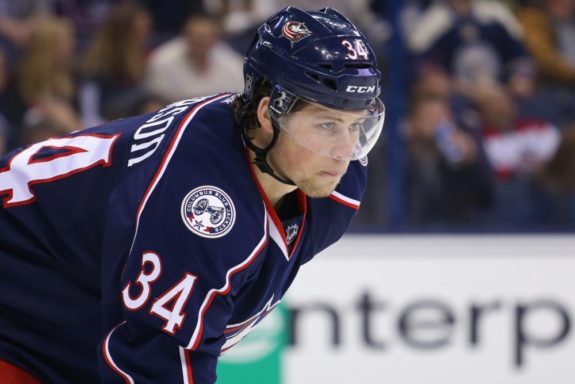 The Expansion Draft
On Sunday, the NHL released the protection lists of the 30 current teams. We know which players are available. The Golden Knights will spend the next couple days trying to make their best possible team.
GM George McPhee spoke to the media on Sunday after the protection lists became public. He said that he is open to negotiation if any team wants to try to protect its roster. Teams can only negotiate with the Golden Knights until Thursday at 8 A.M. Eastern.
The Blue Jackets protected list didn't come with any major surprises. The only question was which defenseman would they protect between Jack Johnson and Ryan Murray. Previous reports indicated Johnson would be protected. As it turns out, it's Johnson that is available to Vegas, not Murray.
Here is who the Blue Jackets protected.
Forwards: Nick Foligno, Brandon Dubinsky, Scott Hartnell, Alexander Wennberg, Cam Atkinson, Brandon Saad and Boone Jenner.
Defense: Seth Jones, David Savard and Ryan Murray.
Goaltender: Sergei Bobrovsky.
What does this list show us, if anything?
First, the Blue Jackets protected their entire top-six forwards from last season. This points to them losing a bottom-six forward or a defenseman in Johnson entering the last year of his contract. There's more to this.
Players like Josh Anderson, William Karlsson, Matt Calvert and Joonas Korpisalo were not protected. The Blue Jackets value players like Anderson and Korpisalo. This points to a potential deal between the Blue Jackets and Golden Knights. We'll learn Wednesday what the exact ramifications are.
If the teams reached a deal, the Golden Knights would agree to not take players like Anderson or Korpisalo. Of course that comes with a price.
According to reports, the Blue Jackets would give the Golden Knights their first round pick, 24th overall, and a prospect. If you think that's a steep price to steer away, you would be correct. There is likely more to it.
There is a belief out there that part of this deal involves the contract of David Clarkson. The Golden Knights would acquire the last three seasons of Clarkson's contract at a full cap hit of $5.25 million. It would help the Golden Knights get to the cap floor while helping the Blue Jackets get precious cap space.
That would at least justify trading a first-round pick if over $15 million becomes available. I still think there's more on the Blue Jackets' side.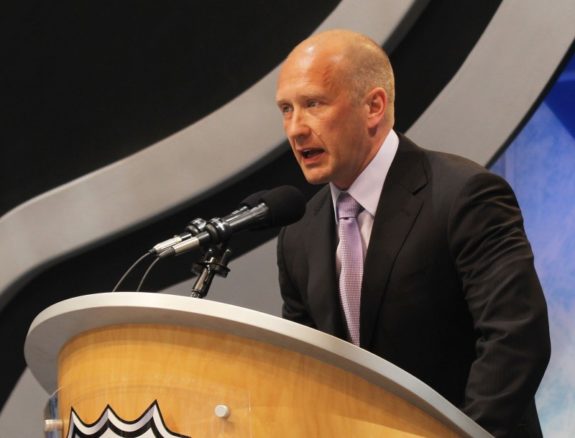 GM Jarmo Kekalainen recently said they were looking for a "sniper for the key moments." Could a bigger move be in the works? It's possible, whether it's in the form of a signing or a trade. Having the extra cap space opens that door even wider than before. Even if the Blue Jackets lost their first rounder, they have other assets and an abundance of young defenseman. If a sniper or center are available, the Blue Jackets can explore those options.
You never know. The Blue Jackets reached out to Ilya Kovalchuk's camp to see if there was an interest in joining. Matt Duchene is still out there. The Blue Jackets would have more flexibility, and that's never a bad thing.
Another thing that the extra cap space does is allow the Blue Jackets to re-sign their pending RFA's. Both Anderson and Wennberg need new contracts. Trading Clarkson's contract allows them to do this in the offseason. That's better than waiting for the season when Clarkson would go to LTIR. Clarkson's cap hit counts NOW.
Who Do the Blue Jackets Lose?
So now who do the Blue Jackets lose on Wednesday night? If there's a deal in place, the consensus opinion is that one of Karlsson or Calvert will be gone. But until a deal is reached, nothing is official. McPhee admitted Sunday that no trades are done. That means any of the exposed Blue Jackets could end up in Vegas if no deal is reached.
If I had to venture a guess, I believe the reports that either Karlsson or Calvert would go. I'd lean Karlsson because good, defensive centers aren't easy to find. The Blue Jackets DO NOT want to lose Anderson or Korpisalo. A deal would ensure they stay with the Blue Jackets.
We'll all find out together Wednesday night during the NHL Awards. The Blue Jackets won't know until late as they are announcing players in reverse order of the standings. Prepare for a long night of nail-biting and anticipation.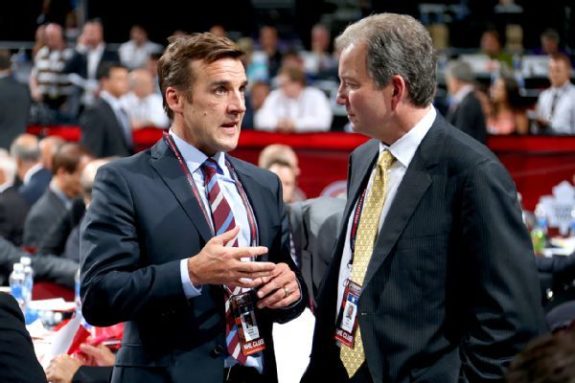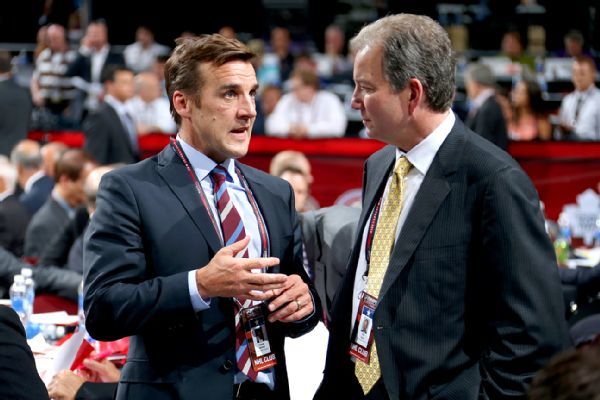 The NHL Draft
As of this writing, the Blue Jackets do have the 24th pick. By the end of the night Wednesday, that might not be the case. We will write this draft guide as though they have the pick. They still technically have it for now.
As with all Blue Jackets' drafts, they'll pick the best available player in any spot. If the still have the pick come Friday night, they have options. They could go with centers Robert Thomas, Josh Norris or Morgan Frost. Conor Timmins is a nice defensive option. Kristian Vesalainen and Maxime Comtois could give the Blue Jackets help on the wings.
Keep those names in mind. But I'd expect the pick to go to Vegas as part of the Expansion Draft. We'll see. If the pick goes to the Golden Knights, the Blue Jackets do not pick until 86th overall. That doesn't happen until Saturday. They would have five picks assuming no other picks are acquired or dealt. They pick 86th, 117th, 148th, 179th and 210th.
For the purposes of our guide, I'll try to pinpoint players to keep an eye on around each of those spots. With Jarmo's good track record of drafting later-round gems, they could still get an impact player late. Look no further than Oliver Bjorkstrand.
The 86th Pick
Forwards: Lane Zablocki, Tyler Steenbergen, Ty Lewis, Ostap Safin
Defense: Markus Phillips, Luke Martin, Cale Fleury, Robin Salo
Goaltending: Dayton Rasmussen
The 117th Pick
Forwards: Maksim Sushko, Joel Teasdale, Nick Campoli
Defense: Dmitri Samorukov, Antoine Crete-Belzile, Nathan Knoepke
Goaltending: Kyle Keyser
The 148th Pick
Forwards: Greg Meireles, Jack Studnicka, Drake Rymsha
Defense: Jacob Paquette, Dmitry Rodionychev, Jonatan Asplund
Goaltending: Jiri Patera
The 179th Pick
Forwards: German Poddubnyi, Cedric Pare
Defense: Zachary Lauzon, Jacob Golden
Goaltending: Matt Villalta
The 210th Pick
Forwards: Matthew Phillip, Kyle Maksimovich
Defense: Trenton Bourque, Daniel Bukac
Goaltending: Kaden Fulcher
My personal favorites on those lists are everyone on the 86th pick (if any of those are available, that's a good thing, especially Robin Salo). I also like Teasdale and Samorukov at 117th, Studnicka and Paquette at 148th, Poddubnyi at 179th (could be the Erie Otters' top center in 2017-18), and Makismovich and Bourque at 210th. Did you know Maksimovich played on the Otters' top-six ahead of projected second rounder Ivan Lodnia? Yeah, he's got some game. He also played well at the Mastercard Memorial Cup. He deserves a shot.
As news breaks, we will keep you posted on all things Blue Jackets. We will bring you full NHL Draft coverage from the United Center from the first pick to the last.