The final weekend before the NHL's Expansion Draft has long been touted as having the potential to be an extremely busy weekend around the league. Teams with too many assets to protect were expected to make deals to avoid losing players for nothing, while other teams were expected to attempt to upgrade their rosters before the Vegas Golden Knights and general manager George McPhee enter the picture.
Indeed, the trade freeze would prove to be a busy time for the Arizona Coyotes and general manager John Chayka. Arizona got things started off on Friday evening with a smaller trade, as they acquired 23-year-old center Nick Cousins and goaltending prospect Merrick Madsen from the Philadelphia Flyers in exchange for prospect Brendan Warren and a fifth-round pick in this year's draft.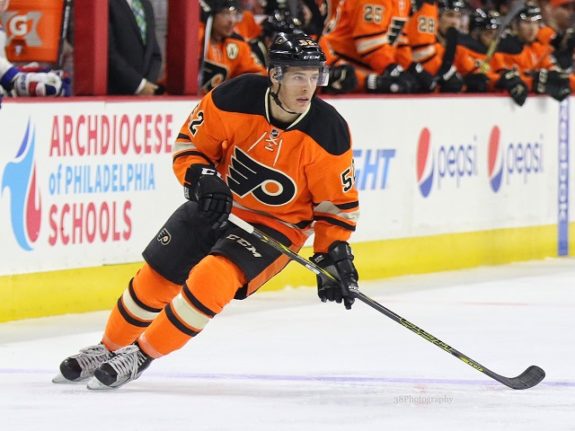 Cousins, a pending unrestricted free agent who recorded six goals and 10 assists in 60 games with the Flyers in 2016-17, likely will fit in a bottom-six role for the Coyotes next season should he be re-signed by the team. Madsen, who stands at 6'5″, recently finished his junior season at Harvard University, where won 28 games and recorded a save percentage of .923 in 36 starts. He'll likely finish out his college career before turning pro next summer.
Smith Headed North of the Border
After the Cousins trade, reports began to emerge early on Saturday morning that the Calgary Flames were seriously interested in acquiring starting goaltender Mike Smith from the Coyotes. After quite a bit of speculation, the trade became official shortly before the 12:00 P.M. PT trade freeze went into effect — the Coyotes sent Smith to Calgary (and retained 25% of his salary) in exchange for goaltender Chad Johnson, defenseman Brandon Hickey and a conditional 2018 third-round pick.
TRADE

To #Flames
Mike Smith (25% retained)

To #Coyotes
Chad Johnson
Brandon Hickey
Cond. 3rd rd pick (2nd rd pick if Flames make playoffs)

— CapFriendly (@CapFriendly) June 17, 2017
Johnson, who briefly played for the Coyotes during the lockout-shortened 2012-13 season, is a pending unrestricted free agent and reportedly was included in the trade for expansion draft purposes. Hickey, a 21-year-old left-handed defenseman, recorded four goals and 11 assists in 35 games at Boston University as a junior last season.
The fact that the Coyotes only had to retain 25% of Smith's $5.67 million cap-hit likely is a victory for the team. Smith's departure will open up approximately $4.25 million in cap space for the Coyotes, meaning that they'll have more flexibility to potentially make another move or two when the NHL's trade freeze is lifted on the morning of June 22.
New Expansion Draft Strategy?
With the departure of Smith, and the acquisition of Johnson, the Coyotes are now left with just a single goaltender on the roster that meets the NHL's exposure requirements for goaltenders – Louis Domingue. This means that the Coyotes must protect Johnson and leave Domingue unprotected in the Expansion Draft in order to remain compliant.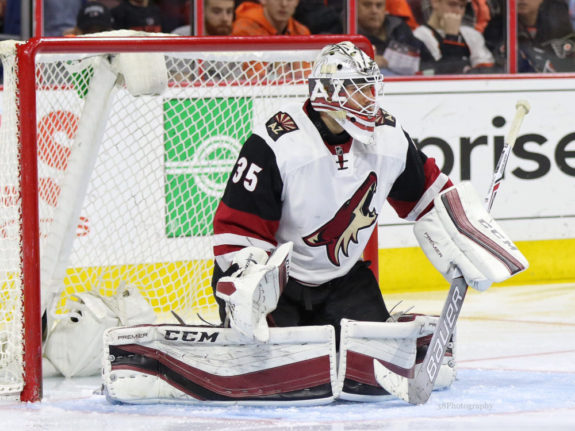 With Domingue unprotected, there's a risk that the Coyotes could lose the only goaltender they have under contract. However, this risk appears to be very low, as the Golden Knights have much better options to choose from. Veteran goaltenders such Marc-Andre Fleury, Jimmy Howard and Antti Raanta figure to be available in the expansion draft, and youngsters such as Phillipp Grubauer, Calvin Pickard and Petr Mrazek could be available as well. It's unlikely that the Golden Knights would use a selection on the relatively unproven Domingue.
More Moves Coming?
Despite the fact that the Coyotes received a goaltender back from the Flames in the Smith trade, it appears as if the team might not yet be done making moves:
Despite Johnson's inclusion in the Smith trade to the Flames, I'm told Arizona is still in the market for a starting goaltender. https://t.co/snIJMQSB8N

— Darren Dreger (@DarrenDreger) June 17, 2017
The Coyotes could explore a trade for a starting goaltender, but there are plenty of solid options available in free agency as well should they elect to go that route. Veterans like as Ryan Miller, Steve Mason, Brian Elliott and Peter Budaj will be unrestricted free agents on July 1 and one could help bridge the gap until Louis Domingue is ready to assume Arizona's starting role.
Along with a starting goaltender, the Coyotes are also reportedly interested in acquiring center Derek Stepan from the New York Rangers. Stepan, who has not recorded fewer than 44 points in any of his professional seasons, is signed for four more years and carries a $6.5 million cap-hit. With so much cap space to spare, Stepan's salary wouldn't be a problem for the Chayka. However, New York's asking price could be a sticking point in any deal; centers of Stepan's quality do not grow on trees, so it may take some draft picks and a high-end prospect or two in order to bring him to Arizona.
At any rate, we'll have to wait a few days before finding out what's next on John Chayka's agenda, as the trade freeze is underway until June 22. The next few weeks around the NHL should be very eventful, and it's likely that the Coyotes will be a major part of the wheeling and dealing that could begin shortly.