The Toronto Maple Leafs will be buyers before the March 3 trade deadline, meanwhile the San Jose Sharks are at the other end of the spectrum, as general manager (GM) Mike Grier will look to sell off some of the team's assets. This is likely going to include star forward Timo Meier and if this is indeed the case, Leafs GM Kyle Dubas needs to be ready with a trade package Grier can't refuse.
Meier is the absolute perfect fit for the Maple Leafs top six and even though it would be a significant trade package heading to sunny California, the Sharks winger is the type of impact player who could push the Maple Leafs over the hump and into Stanley Cup contention.
Adding Meier Gives Maple Leafs More Balance
Right now, head coach Sheldon Keefe is having to play Calle Jarnkrok on the team's second line. By adding Meier, it allows for Jarnkrok to be pushed down the depth chart and move back to his natural position at right wing alongside David Kampf and Alexander Kerfoot. This is the type of balance Toronto needs as they gear up for what Leafs Nation is hoping is a long Stanley Cup Playoff run.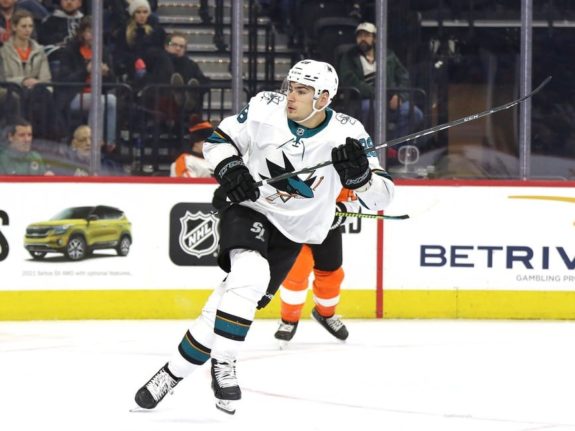 Meier plays at heavy game, meaning he isn't afraid to finish his check, he's willing to go to the dirty areas of the ice and he loves to battle. There's also a ton of offense and skill to his game, as he currently sits with 21 goals and 38 points in 39 games this season. It's not often you can add someone with this type of skillset to an already talented forward group and Dubas and company need to pounce on this opportunity.
Meier Appears Ripe for the Taking from Sharks
All signs have pointed to the Sharks going into full tank mode the rest of the season as they will try to increase their odds of landing 2023 top prospect Connor Bedard. And if you've watched any of the World Juniors you know why. Grier essentially started the Sharks' rebuilding process when the team traded away long-time defenseman Brent Burns and now his attention will be on a few other assets, including Meier, who is a pending restricted free agent at season's end.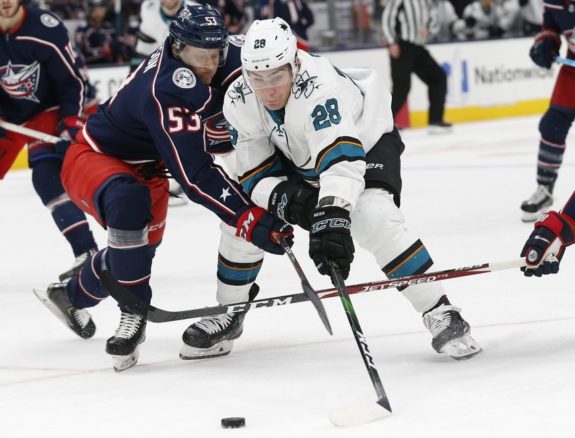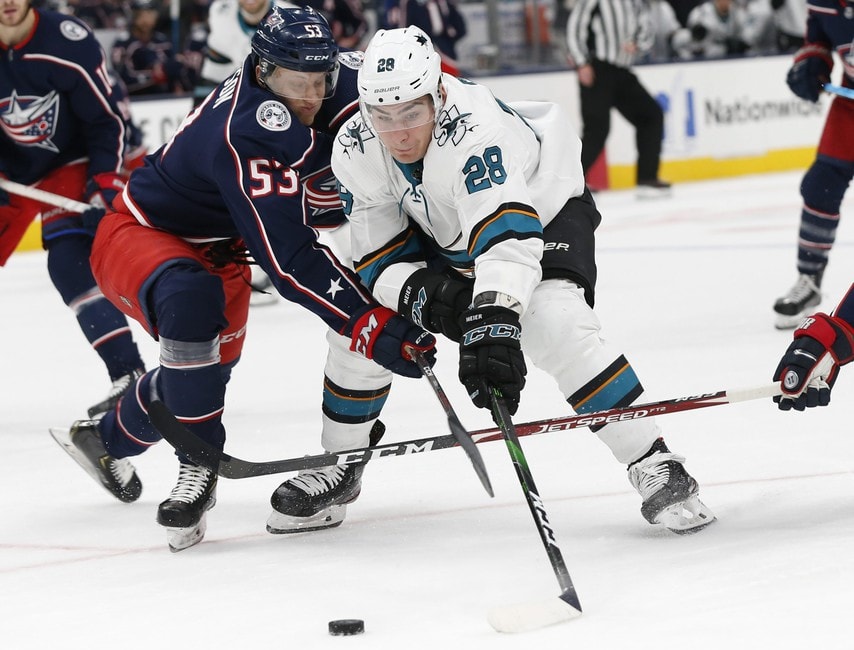 Meier's $10 million qualifying offer shouldn't scare Dubas and company away as they can work out a long-term contract extension and drive the average annual value of his salary down. Toronto isn't loaded with cap space for next season, however if they have a chance to make a splash this season, why not focus on the present? Considering Dubas doesn't have a contract for 2023-24, it could be something that benefits everyone involved.
Related: Maple Leafs' 2022-23 Trade Targets: Nashville Predators
As you can see in the above clip, my colleague Peter Baracchini enlightened me on Meier as a trade target a few weeks ago on an episode of our Maple Leafs Lounge podcast.
John Tavares and William Nylander are in need of a power forward to play alongside them on the second line. They need someone who is going to go to the front of the net and battle. They need someone who thinks at their elite offensive level, to make plays and create offense out of nothing at times. No offence to Jarnkrok, but Meier has all of these tools and could help drive the top six from being a talented group, to a dominant one.
---
Latest News & Highlights
---
Meier's is also physical presence who has recorded 87 hits this season, compared to just 24 from Jarnkrok, which would put him first on the Maple Leafs in this category. His 21 goals would rank him second on the team and his 38 points would rank fourth. There's no denying he's a talented player and one who would look really good in blue and white.
Maple Leafs Have Trade Assets to Finalize Deal
The Maple Leafs have some serious talent among their prospect group and enough talent to entice Grier and the Sharks to bite. I do think NCAA prospect Matthew Knies is untouchable at this point, however the Leafs can get this deal done without having to move Knies to San Jose.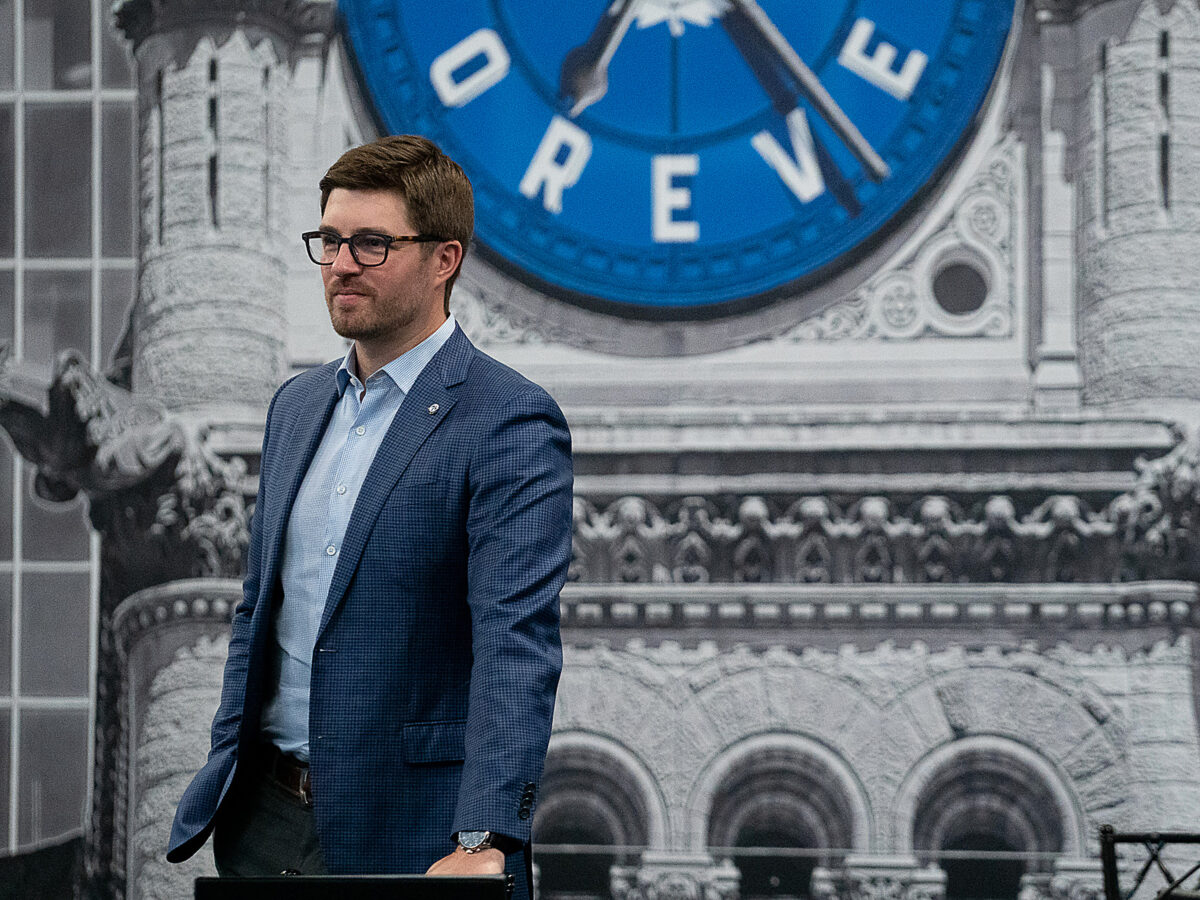 If Meier is going to end up in Toronto, it's likely going to take the Maple Leafs sending two high-end prospects, a first-round pick and someone off their roster to help balance out the finances. There's also a possibility the Sharks retain some of Meier's $6 million cap hit or another team, say the Chicago Blackhawks, who are willing to make a three-way trade to eat some salary and be rewarded with either a prospect or future draft pick.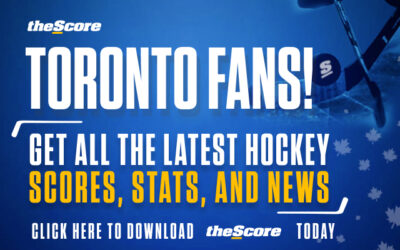 If I was asked to present a deal to the Sharks their GM would take seriously, I'd offer the oft-injured Nick Robertson, prospect Topi Niemela, a first-round pick in 2023 and Pierre Engvall and his $2.25 million cap hit for the rest of this season. It's a significant package, there's no denying that, however if you think the Sharks are going to settle for anything less for their best player who is 26 years old and in the prime of his career, think again. This is the type of blockbuster trade Dubas and the Maple Leafs should try and pull off ahead of this season's trade deadline.