While the San Jose Sharks should certainly be kicking the tires on top-nine UFA wingers, there might be a more shrewd way to bolster their forward corps. With around $5 million remaining in cap space, the Sharks could afford to sign someone of the caliber of former Capitals Alex Semin, Joel Ward, and Eric Fehr. San Jose might also want to use some of that space to sign another defenseman. Perhaps veteran right-handed defenseman Marek Zidlicky. 
Conceivably, the Sharks could sign both Semin and Zidlicky on matching one-year $2 million deals. Semin is probably going to get $2-3 million on a one-year prove it type deal after being bought out by Carolina. Zidlicky, on the other hand, is getting very near retirement but was still half-way decent last season. However, if the Sharks want to go after better, more expensive defensemen and still boost their forwards, three former Sharks would be smart additions up front.
Marcel Goc
The Sharks' first round pick back in 2001 never lived up to his scoring potential but Goc has carved out a nice little career as a bottom six center. Nowadays Goc is at most a fourth line center but he is solid one at that. An extremely reliable defensive player, Goc is tremendous in the faceoff circle with a career 52.5 percent.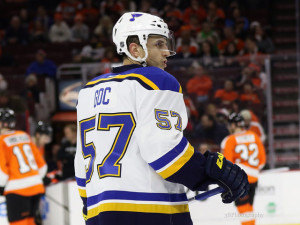 Last year was a career low points wise for Goc with just three goals and six assists but he is definitely capable of 10-15 points centering perhaps Barclay Goodrow and Ben Smith. Those two wingers can provide the nasty physical play whereas Goc can play the role of more cerebral centerman. Goc should come in the $1 million range for a one-year deal.
Given his age, (will be 32 next season) Goc might be the least ideal former Shark to bring back. Although Goc did score 25 points just two seasons ago splitting time with Pittsburgh and Florida. That is more than James Sheppard scored last season between San Jose and New York. Speaking of which…
James Sheppard
There is no doubt Sheppard was over-matched last season in the third line center role for the Sharks. Scoring 18 points for the whole season when Chris Tierney scored 14 in his final 18 games from the same spot shows that to be true. However, if used on the fourth line, Sheppard is an excellent role player who can drive possession.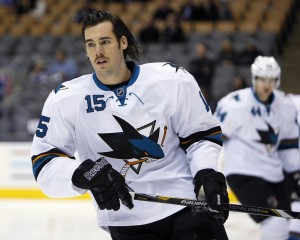 In 2013-14 Sheppard spent much of the year on the fourth line before playing the latter third as the third line center. That season Sheppard posted a 52.5% Corsi-for percentage, higher than Tyler Kennedy, Martin Havlat, and even higher than 2014-15 possession stud Matt Nieto.
While Sheppard was indeed not a good fit for third line center and was traded at the deadline this past season, he would be a good choice to bring back. For a stretch of games Sheppard did have success centering Goodrow and Melker Karlsson on the third line. Given San Jose's improved forward depth, Sheppard could once again center Goodrow and Karlsson but as a fourth line this time. These three would absolutely crush opposing fourths. Sheppard will likely cost only around $1 million and would be worth every penny.
Andrew Desjardins
This offseason has already seen three players dealt at last year's trade deadline return to the clubs that traded them. Daniel Winnik is back with the Toronto Maple Leafs and Zbynek Michalek and Antoine Vermette are back with the Arizona Coyotes.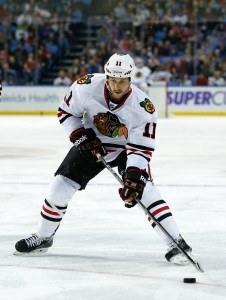 Like Sheppard, Andrew Desjardins was traded away by the Sharks at the deadline and would be a nice fit to come back. Vermette went back to the Coyotes after winning with Chicago, why can't Desjardins do the same after getting his Stanley Cup ring? (Update: Desjardins has re-signed with Chicago for two years $800K AAV) Desjardins thrived in a shut-down role on the Blackhawks' fourth line. He was always a solid fourth liner with the Sharks but never got a chance to play against opponent's top players because the Sharks mostly played him with terrible wingers.
San Jose would be making a good decision to offer Desjardins a nice raise from $750K to $1 million. He could comeback and play between Goodrow and the player he was traded for, Ben Smith. This would be a tough as nails fourth line with similar skills to the Desjardins-Marcus Kruger-Andrew Shaw line in Chicago. Perhaps not the same scoring touch, but defensively responsible, smart, physical players. That would then allow Karlsson to be bumped up into a top-9 role, something he is more than capable of after playing a good portion of his rookie year on the Joe Thornton line.
Desjardins is extremely good at the draw, and plays a physical, smart, two-way game with underrated play-making skills as a fourth line center. The Sharks would be wise to bring him back. Between these three former players, Sheppard and Desjardins are probably better fits at this point. They are much more familiar with current Sharks players and both likely have more of an offensive touch in their late-20s. Between Sheppard and Desjardins, the former brings more offensive ability but Desjardins is more reliable in his own end and in the face-off circle.