Thursday night in Vancouver the Canucks once again suffered a lopsided defeat at the hands of the San Jose Sharks, losing 4-1 for the second time in the young  season.  Vancouver has not beaten the Sharks since January 2012, a streak spanning all of the abbreviated 2013 regular season, a sweep in the 2013 playoffs, two preseason games, and now two more in the current campaign.
It is tempting to simply conclude that the Sharks are just too good right now and have entered a level no longer occupied by Vancouver among the league's elite.  Though that appears to be the right conclusion, it is useful to examine where the Canucks are lacking in relation to the team that appears to be the favorite in the Pacific Division.
Not Enough Depth Up Front
One bright spot for Vancouver so far this year is that the Sedins have resumed their point a game pace from past years, with Henrik having six assists and Daniel netting two goals to go with four assists.  The only other forward with more than two points is the surprising Mike Santorelli, who has scored four goals already this year, doubling his output from last season.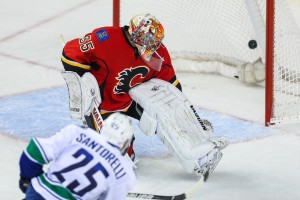 The rest of the Canucks' forwards have been inconsistent at best.  It is unclear what is going on with Ryan Kesler, but so far this year he has one goal and no assists, matching the statistics for Dale Weise.  He also has the worst plus/minus number on the team at -4.  Perhaps all the in juries and surgeries have taken a toll on Kesler and he can no longer perform at the top level that he has in the past.
It is also possible that he simply does not have the line mates needed to be successful right now.  Chris Higgins hasn't scored a goal since April 4th, a streak spanning 10 regular season and four playoff games.  He also has just one assist in that time frame.  To be fair, Higgins' strength isn't really as a goal scorer, even though he averaged close to 20 goals per 80 games the past two seasons.  Higgins slots in as more of a third line player, but with Zack Kassian suspended and Alex Burrows injured, he has been a mainstay on the second line this season.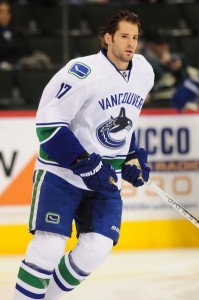 Kesler has also played with Jannik Hansen and Davis Booth, and neither has done much so far this year.  Hansen has two goals and no assists and Booth just one of each.  Without a consistent finisher or playmaker accompanying him, Kesler will have a hard time breaking his slump.  It was expected Booth might be a slow starter after missing most of last year, but his production is needed to support Kesler's efforts.
In addition to the aforementioned forwards, the rest of the Canucks' bottom six has been unproductive, save for the solid game played in Calgary.  The fourth line has literally been missing in action, averaging around 4:30 per game in ice time.
This is in contrast with the Sharks, who have six players with four or more points.  The scoring depth has resulted an average of more than five goals per game for the Sharks, and a ridiculous 40 shots on goal per game.
Niemi has Been the Canucks' Nemesis
Ever since his time with the Chicago Blackhawks, Antti Niemi has seemed to have Vancouver's number.  During the Sharks' recent streak of success against the Canucks, Niemi has had a sterling 1.67 goals against average and a save percentage north of 93 percent.  Niemi seems to come up the big save when it is needed and is solid when faced with one of the Canucks insufficient number of shots.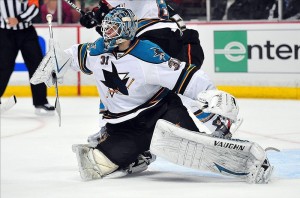 The Finnish goalie has been helped by strong defense by the Sharks defensemen, even with Brad Stuart suspended for the most recent contest.  Dan Boyle, Scott Hannan , Jason Demers, Justin Braun and Marc-Edouard Vlasic have played steady, without the slew of turnovers that have plagued Canuck defensemen in games with the Sharks.
The Canucks netminding has not been horrible, but it has not been enough to steal a game.  Roberto Luongo  allowed four goals in the first game this season and three on Thursday, but they have mostly been odd man rushes and close in shots on which he has had very little chance.  Luongo was especially strong in the first period of the first game this season, but his team let him down later in the game.
Luongo and Cory Schneider split time in the 2013 playoff series, with neither turning in a stand-on-your-head performance.  San Jose scored 13 goals in regulation and two more in overtime, enough to dominate the anemic Canucks' offense.
Confidence is Waning
No matter what the sport, when one team dominates another for a sustained period of time, it has to get into the losing team's heads.  It is inevitable that Vancouver players will start to wonder if they really have what it takes to compete with a team of San Jose's caliber.  The Canucks three wins this season have come against teams that did not make the playoffs last year, so they have yet to secure a win that really inspires confidence.
The possibility that Vancouver has been afflicted with a defeatist attitude is seen in how flat the team played Thursday night.  Coach John Tortorella was forced to call a time out early in the first period just to try to rally his lethargic team.  They were consistently losing the one on one battles and making mistakes that led to dangerous scoring chances for the Sharks.  This perspective was echoed by coaches and players after the game:
Henrik Sedin: "You have to win the one-on-one battles and we didn't do it. They play a tight system and are tough to play against … (1/2)

— Ben Kuzma (@benkuzma) October 11, 2013
Torts on 3-1 goal: "That was a gimmie. We're just too slow and turn it over. We don't react defensively. Our reactions were slow tonight."

— Ben Kuzma (@benkuzma) October 11, 2013
Asked #Canucks Kesler about 9 straight losses to SJS. Long pause. 'I can't say what I really think. It's frustrating. I'm sick of it.'

— Jeff Paterson (@patersonjeff) October 11, 2013
Fortunately, the Canucks don't see the Sharks again for a month, with the next contest taking place November 7 in San Jose.  Hopefully for Canucks' fans, the team can make some progress between now and then to shore up its scoring depth through the return of Alex Burrows and maybe Zack Kassian and build some confidence that they can compete with the league's elite.
Saturday night the Canucks play the Montreal Canadians at home, followed by a lengthy road trip that includes games against Pittsburgh and St. Louis.  By the time these two teams meet again, we should a good idea of how competitive Vancouver will be this season in the newly realigned Pacific Division.
Glenn covers the Canucks for The Hockey Writers. Follow me on twitter @glennkuper for opinions about hockey, the Canucks, and Seattle sports.