Since David Booth was acquired by Vancouver in 2011, he has been known more for his hunting exploits than his hockey play, a fact that is very troubling for Canucks fans.  Booth is a prototypical power forward, at 6 feet tall and 212 pounds.  He was brought to Vancouver (in a trade for Mikael Samuelsson and Marco Sturm) with high expectations, and due to injuries and inconsistent play has yet to fulfill these expectations.  The Canucks have a great need for second line scoring if they are to be successful this season, and Booth is the most likely candidate.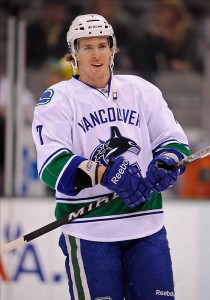 The Florida Years
Booth was drafted 53rd overall by Florida in 2004.  He had a successful career at Michigan State University, tallying 105 points in 134 games.  He played a half a season in Florida in 2006-07 before joining the team full time in 2007-08.  Booth had a strong first full season with the Panthers, scoring 22 goals in 73 games.  His next season was his best, and it is the season Vancouver looks to as the potential for production by Booth.  He scored 31 goals and 60 points that season, a strong performance for a young player.
Unfortunately for Booth, the injury bug that has plagued him during his career struck at the beginning of the 2009 campaign.  He sustained a concussion on a cheap shot by the Flyers Mike Richards.  The head injury caused him to miss 45 games.  Booth suffered another concussion late in the season on a hit from Jaroslav Spacek, and Booth was sidelined for another nine games.  He finished the season having played only 28 games and scoring 16 points.
Booth had a healthy 2010-11 season, playing in all 82 games.  His production did not return its previous heights, however, as he only managed 23 goals and 40 points.  This was tops in goals for the offensively challenged Panthers, as Florida continued its dismal run of performances.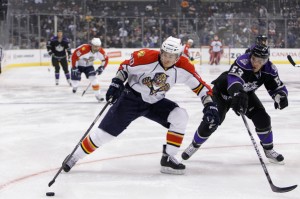 New Hope in Vancouver
Just six games into the 2011-12 season, Booth was shipped to Vancouver, with the Canucks hoping that a change of scenery might propel the left-winger back to 30-goal status.  He was given the opportunity to play with Ryan Kelser on the second line, but his performance did not improve from the previous season.  He played 56 games for Vancouver, managing 16 goals and 29 points.  Booth again missed significant time due to injury, this time after sustaining knee damage on a hit from Colorado's Kevin Porter.
Booth also developed a bit of a negative reputation with urbanites in Vancouver with his tweets cataloging his hunting success.  Booth's willingness to promote the hunting lifestyle resulted in this shoutout from Ted Nugent:
David Booth the great NHL Warrior is a tru conservationist supporting the proven success of Canadian bear mgt. Godbless the wildlife hero

— Ted Nugent (@TedNugent) May 20, 2012
Vancouver had high hopes for Booth heading into the lockout marred 2012-13 campaign, but injuries again ruined Booth's season.  He was slowed by an injury in training camp, and then after returning for only 12 games he suffered a high ankle sprain that finished him for the season.  He managed only 1 goal in the 12 games he was healthy.
Key to Vancouver's Season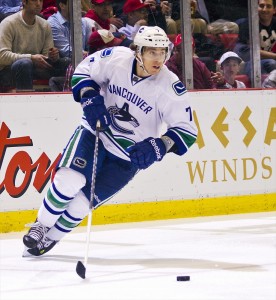 The Canucks had a tough call in the off season about whether to "amnesty" Booth's contract and allow him to leave the team to create some salary cap space for a team bumping up against the spending ceiling.  General Manager Mike Gillis decided to hold on to Booth, likely feeling that quick, goal scoring power forwards are a rare commodity.
Booth's scoring is badly needed, as the Canucks top line players have seen a decrease in production over the past few years.  The number of goals scored by Vancouver has steadily declined since 2009-10, from 272 to 262 to 249 to a pro rated 217 in the lockout shortened 2013 season.  Vancouver failed to add any scoring punch in the offseason, and with youngsters like Bo Horvat, Hunter Shinkaruk and Brendan Gaunce likely not ready to succeed consistently at the NHL-level, returnees like Booth (and maybe Zack Kassian and a healthy Ryan Kesler) will need to pick up the slack.
Booth was slow to get started in the preseason as he continued to recover from the ankle injury, and then he suffered from a groin strain, causing him to miss a preseason game against Edmonton.  He finally debuted in the teams final preseason game against the Rangers, and coach John Tortorella echoed the feelings of Canucks fans, saying, "I am dying to see David Booth in game action…He is a really good player who makes us a better team."  Booth survived the game and Canucks fans (and management) hope he will be ready for the season opener October 3rd against San Jose.
Is it realistic to expect another 30 goal season from Booth?  Not likely, as he has never approached that mark since his breakout season.  Even when healthy, Booth might more realistically be closer to a 20-25 goal player.  But production around this amount would be enough to fill a huge gap for the team.  If Booth can perform at this level, it gives Vancouver the two strong scoring lines, taking a little pressure off the Sedins.  It also gives Tortorella the option to move Burrows back up with the Sedins, where he is at his best.
The uncertainty surrounding Roberto Luongo remains, but he is still a strong NHL goalie.  The Canucks' defense appears solid, though unspectacular.  Vancouver needs an offensive upgrade to move back into the league's elite, and David Booth provides the best chance for the Canucks' second line to provide the firepower needed to make the team more dangerous.  Without the cap space available to make any additions, Booth represents the best hope for Vancouver to contend for the Pacific Division title.  If Booth is successful returning Vancouver to the late rounds of the playoffs, fans might even be willing to embrace the American's hunting lifestyle.
Glenn covers the Canucks for The Hockey Writers. Follow me on twitter @glennkuper for opinions about hockey, the Canucks, and Seattle sports.