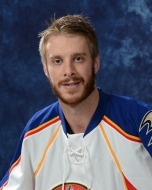 The Norfolk Admirals, the American League affiliate of the Anaheim Ducks, skated on home ice against the AHL affiliate of the Carolina Hurricanes, the Charlotte Checkers, at Norfolk Scope arena looking to avenge the 4-2 loss against the Checkers Friday in North Carolina. Saturday's game marks the end of the preseason for the Admirals who will begin the 2013-2104 regular season in Hartford, CT against the Wolfpack, the top development team of the New York Rangers on October 5th .
Norfolk's head coach Trent Yawney gave the starting nod to rookie goaltender John Gibson while Charlotte's head bench boss Jeff Daniels gave the go-ahead to Mike Murphy.
John Mitchell jump started the scoring as he  positioned himself in front of Charlotte's Mike Murphy and tipped in a Stefan Warg point shot at the 8:34 mark of the first period.  At 14:07 of the first, Norfolk struck pay dirt once again as Kevin Gagne beat Murphy on the power play. Assisting on the Gagne tally was Wagner and Sarault.  When the buzzer sounded to end the first period of play, the visiting team overtook the home team in shots 11 to 10.
The Admirals pulled ahead by 3 early in the middle stanza as Max Friberg slid a tape to tape pass to Chris Wagner who was left open in the slot and cashed in on the Checkers mistake.  Charlotte's Victor Rask pulled the team within 2 at the 8:27 mark of the second beating Norfolk's John Gibson.  Josespeh Cramarossa once again stretched the Admirals lead to 3 goals with about a minute remaining in the middle frame as his shot from the hash marks beat Murphy.  Norfolk won the shot battle in the second period 25 to 16.
Sean Dolan cut into the lead reducing Charlotte's gap to 2 goals as Nicolas Blanchard threaded the needle to Dolan who got the better of Gibson with 16 minutes remaining in regulation.  Charlotte's Justin Shugg took advantage of a 5 on 3 power play opportunity and beat Gibson pulling his team within a goal at the 12:44 of the third period.
Cramarossa talked about his team's preseason finale stating, "We came out with a loss yesterday morning, but I think we played well enough despite our first game together.  I think this was a good comeback game as a team and it's our last push before the regular season."
The Admirals ended their preseason on a high note defeating the Checkers 4-3. John Gibson was credited with the win while Mike Murphy was handed the loss. Norfolk ended the night with 34 shots while Charlotte trailed with 26.
Follow Ted on Twitter @Bauerhockeydude