2015-16 has brought hockey fans one of the more exciting Stanley Cup Final matchups in recent memory. With household names like Sidney Crosby, Evgeni Malkin, Joe Thornton, and Joe Pavelski, this Final has offered plenty for even the most casual observer to sink their teeth into. Given the way that both teams had to claw their way through the first three rounds, besting teams like the St. Louis Blues and Washington Capitals, there was an overwhelming feeling that this series would be a hotly contested seven-game affair.
That hasn't been nearly the case. The Pittsburgh Penguins have looked like the better team from the first drop of the puck, and these three statistics suggest that we may headed for an anti-climactic sweep:
3. Sharks Getting Nothing Out Of Their Third Line
http://gty.im/535929770
San Jose's lauded offensive depth has gone completely missing in the first two installments of this series. The top two lines have been just fine, but the bottom two have been abysmal. The third line of Melker Karlsson, Chris Tierney, and Joel Ward has been particularly atrocious. Play is badly tilted against San Jose with those three on the ice, as they've notched a putrid 35.25% possession rating. Coach Peter DeBoer shuffled his lines at the end of Game 2, and he'll have to keep stirring the pot the rest of the way through.
2. Penalties, Or Lack Thereof

The Sharks have been absolutely lethal on the power play this post season. With one of the three greatest setup men of all time in Joe Thornton manning the half-wall, along with Brent Burns and Joe Pavelski at the point and in front of the net, the Sharks have made teams pay for taking penalties.
The Penguins have managed to neutralize that advantage so far, having taken only four penalties through two games. Part of that has been due to some outstanding mental discipline from guys like Sidney Crosby, but the reality is simply that the Sharks haven't had nearly the kind of offensive zone time needed to draw penalties. Expect this trend to continue, unless San Jose can improve their even-strength possession game.
1. Scoring Chances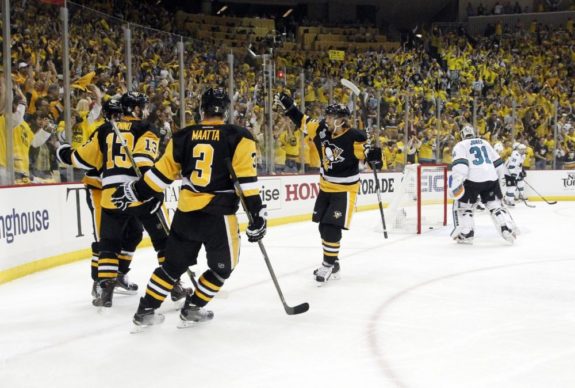 Pittsburgh has trounced San Jose in this category. Through two games, the Pens' have racked up 65 chances at even strength to the Sharks' 40. Mike Sullivan's men have generated scoring chances at a higher rate than San Jose throughout the entire playoffs, so an advantage there was to be expected, just not to this degree.
The Sharks don't seem to have any answers to their opponents' speed, especially in the neutral zone. Aside from the first pairing of Paul Martin and Brent Burns, the Sharks' blueline is getting badly caved in at even strength, playing at well below 50% possession. Perhaps things could get interesting with some line shuffling and a tighter defensive gap, but all signs are strongly suggesting that this series won't need to go back to Pittsburgh. There's certainly still a possibility for San Jose to claw their way back, as goaltender Martin Jones has been playing out of his mind. Don't hold your breath waiting for that to happen, though.