"We need to be desperate too."

The New Jersey Devils were handed their 20th loss of the 2022-23 campaign on March 27 as they fell to the New York Islanders by a final of 5-1. The score was not necessarily indicative of the game, as it was 2-1 with under five minutes remaining in the third frame. Islanders' forward Kyle Palmieri netted his second goal of the game with 4:35 remaining and his team would add two empty net goals ahead of the final buzzer. Here are three takeaways from the Devils' latest loss as they continue to prepare for the playoffs.
---
---
New Jersey Couldn't Contain Islanders' Second Line
The Islanders' second line of Pierre Engvall, Brock Nelson, and Palmieri contributed to their team's first three goals of the night and earned a combined five points. The trio was on the ice for a little over 12 minutes and out-chanced their opponents 19-6 in that span.
"Kyle (Palmieri) was outstanding to me," Islanders head coach Lane Lambert said. "Strong right from the beginning of the game. That power forward kind of game. Pierre (Engvall) is fitting in nicely there, he's got some great speed, breakaway speed kind of thing, and that fits in nicely with Brock (Nelson)."
A Tough Night for Graves and Marino
The Devils' defensive pair of Ryan Graves and John Marino struggled against the Islanders.
On the first Islanders' goal, Graves lost his footing which allowed Palmieri to skate past him to the net. Vitek Vanecek made the initial save, but because the Devils only had Marino back, Engvall was left wide open to bury the rebound. On the second goal, the Devils' defensive pair gave Palmieri too much time to skate around the net before eventually getting the puck past Vanecek.
Cory Wright said it best in his latest article, "Palmieri collected a puck in the Devils zone and did a full lap of the net, protecting the puck on his backhand with enough time to count a few Mississippi's. After outwaiting a few Devils, Palmieri roofed a backhander high past Vitek Vanecek at 14:21 for the eventual winner."
Over the past few games, this defensive pair has had some noticeable struggles. With Kevin Bahl playing so well, and Ruff not wanting to sit veteran Brendan Smith, it might not be a bad time to rest either Graves or Marino for a game or two over the next couple of weeks.
Devils Learning They Need to Play With Desperation
On Saturday, March 25, the Devils punched their ticket to the Stanley Cup Playoffs. For young players like Jack Hughes and Dawson Mercer, it's an unfamiliar feeling knowing there is more hockey to be played once they close out the regular season on April 13. That excitement of earning a spot in the postseason may have worked against them at UBS Arena.
Related: New York Islanders Acquire Kyle Palmieri & Travis Zajac From Devils
---
Latest News & Highlights
---
"I think that we clinched a spot, and I don't know if our group dealt with that," head coach Lindy Ruff said, "It's a learning experience. You're excited about where you got to, but you've got to put it away in a hurry and I didn't think we put it away in a hurry."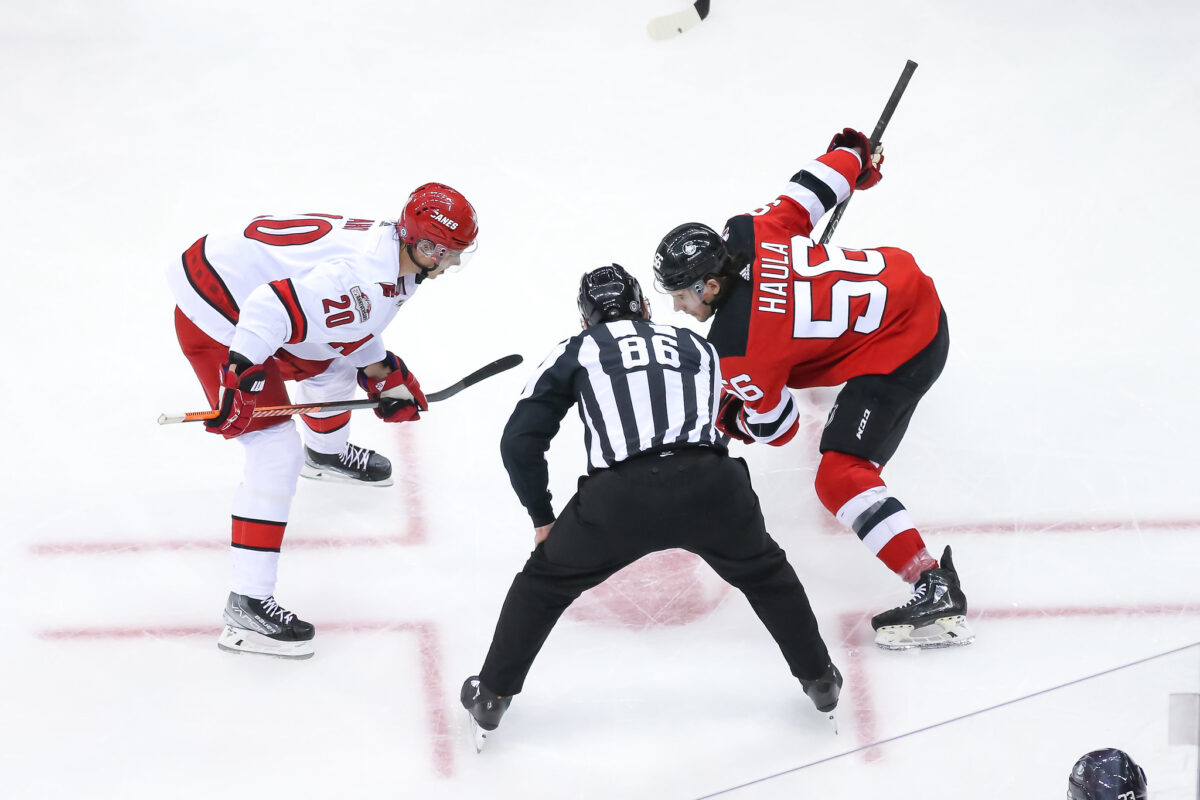 Veteran forward Erik Haula understands it is beneficial for his club to play good teams and desperate teams who still need to earn their spot in the postseason. It gives the Devils a chance to prepare for what is ahead as it will only become more challenging as the playoffs draw nearer. The 32-year-old knows now is not the time for his team to get comfortable and take their foot off the gas.
"We want to be desperate too. Yeah, we've got an 'X' next to our name but it's 'rah, rah' we've made the playoffs. But I've been in the playoffs every year, and I want to win," he said. "I want to do everything I can to help our team get to a spot where we're ready to go when those games start."
Quick Hits and Observations
The Devils will continue to use rest as a weapon as they are scheduled to be off today. Their next matchup will be an exciting one as they host the New York Rangers at Prudential Center on Thursday, March 30. They currently have a four-point advantage over their Hudson River rivals and the stage is set for another big test for Ruff's team.