Last weekend, the University of North Dakota took on their arch-rival the University of Denver in an important two-game conference series. The Fighting Hawks ended up going 0-1-1 and opened the week looking for answers. After last weekend's series, the Hawks have sunk deeper in the National Collegiate Hockey Conference standings. This weekend, they travel to St. Cloud State looking to get two wins and six points against the Huskies.
While the Fighting Hawks haven't played all that bad, they've haven't done enough to push themselves over the top. Over the past three weeks, they're winless in six games 0-4-2 (.166).
During the past six games, the Hawks have been outscored 10-19. Obviously, it's very hard to win hockey games with goal differentials like that. While the statistics don't look all that good, a turnaround could be as simple as finishing their offensive opportunities and executing the game plan. Currently, the team is having trouble cashing in. They're also giving up too many opportunities in the defensive zone.
Last weekend, after securing two-of-six points from the Denver Pioneers, head coach Brad Berry explained what ails his team:
'We hit a couple of pipes there at the end,' coach Berry said. 'There are no excuses on our part. We have to be better. We have to be sharper.'

'Again, we talk about finishing plays. Those plays start in our end of the rink executing passes and making plays where you get into the other team's end of the ice. We have to focus on the execution part before we even get into their end.'
Cam Johnson isn't the Problem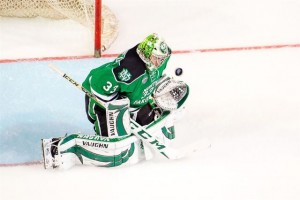 When things go bad, fans want to point fingers. When a team goes through a rough patch, the most popular player on a hockey team is the team's backup goalie. There's a reason Cam Johnson is playing over Matt Hrynkiw and Matej Tomek. The coaching staff feels that Johnson gives them the best chance to win games. The coaching staff trusts goalie coach Karl Goehring's judgment and if he says a player isn't ready to play. That player isn't going to take the net.
During the past three games, the problem hasn't been goaltending, Johnson is 0-2-1, 1.99 GAA and .912 save percentage. If a hockey team isn't scoring goals, the goaltender has to play almost flawless hockey to give their team a chance to win. In most cases, scoring two goals or less isn't going to win many games. It doesn't give a hockey team much room for error. You can't leave your goalie exposed to odd man rushes and turnovers deep in the defensive zone.
"You can look back through the game," coach Berry said. "It's those lapses in games where you give up one goal or two goals. Whether it's having a lead or chasing a game there lapses in games where you're leaving Cam (Johnson) stranded back there and having to make good saves. You can't do that. We're playing good teams and we're playing a good team next weekend."
Stats, Stats and More Stats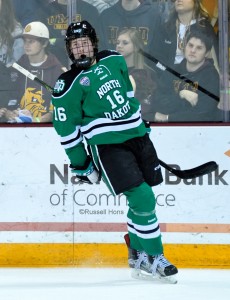 Looking at the numbers, UND is struggling. How bad are they struggling? Let's take a look at the national statistics: the Hawks' power play 7/51 (13.7) is ranked 43rd nationally. Their penalty kill is also suffering, 43/55 (78.2) and is ranked 51st nationally. In 11 games, the Hawks have given up 3 shorthanded goals, that ranks them 55th nationally. Last season, UND gave up two shorthanded goals all season long. Moreover, the opposition is cashing in on 21.8 percent of their power play opportunities. There's a lot of room for improvement.
Key Players Held Scoreless
There's appears to be a direct correlation between the Fighting Hawks' key players scoring and their record. Lately, the top players aren't recording many points. In the past six games, Hawks forward Brock Boeser scored a grand total of one goal. He's been held scoreless in the last three games but is even in the plus/minus rankings.
Boeser's linemate, freshman-forward Tyson Jost is also struggling, in the past six games he's scored one goal and four points. He has one point in the past three games.
There has been one bright spot on the top line. In the past six games, sophomore forward Shane Gersich has scored three goals and six points. Gersich is even in the plus/minus rankings.
In the first 11 games, the top line has scored 16 goals and 38 points. That accounts for 70.3 percent of the Fighting Hawks' points. They need to get secondary scoring from the other three forward lines.