Rejoice puckheads and puckettes, because Tuesday August 19th marked 50 short days until the start of the 2014-2014 NHL regular season! While my posts here for THW usually have a focus on the Toronto Maple Leafs, this particular posting is a more general look at some of the most titillating moments, teams, players, and storylines to watch for this upcoming season!
1.  Can the LA Kings repeat?
The NHL hasn't had a team win consecutive Cups since the Detroit Red Wings repeated as champs in 1997 & 1998. Will the LA Kings be the first team in 17 years to repeat? They've got a legitimate shot
2.  Will the NHL have multiple 100+ point scorers?
It's been a few years since we've seen multiple 100+ point scorers in a single NHL season, but I truly believe this year Crosby, Getzlaf, and Ovechkin could all surpass the 100 point plateau this year.
3.  Will Ovechkin reach 50 goals again?
"Alex the Great" has scored 50 or more goals five times in his nine NHL seasons, but he hasn't had back-to-back 50+ goal seasons 08-09 & 09-10. After scoring 51 goals in 78 games last season, can Ovi make it back-to-back 5o goal campaigns?
4.  Who will be the first coach fired?
Randy Carlyle, Ken Hitchcock, Jack Capuano, Todd McLellan, and Paul MacLean could all be on the hot-seat at some point this season.
5.  The Vancouver Canucks
The Canucks are intriguing for all sorts of reasons. A first time NHL coach in Willie Dejardins, a new number one goalie in Ryan Miller, and the steady decline of the Sedin twins are all compelling reasons to keep an eye on the Canucks this year.
6.  Will Marc-Andre Fleury play his way out of Pittsburgh?
Marc-Andre Fleury, an impending UFA at the end of the season, has had his fare share of ups and downs with the Penguins, but another disappointing post-season performance could see management lose faith in the Flower.
7.  The Carolina Hurricanes – Eric Staal & Cam Ward
In the summer of 2006 the Carolina Hurricanes were coming off their first Stanley Cup in team history, and the future look bright. Eric Staal was coming off a 100 point season and Cam Ward was named NHL Playoff MVP. Now fast-forward to 2014, where the reality is five consecutive seasons of non-playoff hockey in Raleigh. Can the Canes rebound with a playoff birth, or will a total rebuild start to take shape?
8.  Will more than 1 Canadian team make the playoffs?
The 2013-2014 season was not a kind one to Canadian based teams. Only the Montreal Canadiens were able to qualify for post-season play. Look for that to change this year, as Toronto and Winnipeg should contend for a playoff birth.
9.  The Toronto Maple Leafs will not win the Stanley Cup
1967. 1967. 1967. And at the end of this season Toronto Maple Leafs fans will still have to endure the Cup drought dating back to 1967.
10.  More Kane and Toews dance-offs
11.  Actually, just more Patrick Kane
https://www.youtube.com/watch?v=gjIPeMJIojA
12.  The Colorado Avalanche
After finishing 29th of 30 in the lockout shortened season of 2012-2013, the Av's finished 2013-2014 season 3rd overall and were crowned champions of the Central division, but it was a first round game 7 loss that left a sour taste in the mouths of Avalanche fans. The additions of veterans like Jerome Iginla and Daniel Briere should help a young Av's team take that next step in becoming legit Cup contenders.
13.  Dave Bolland will scored 20 goals
In seven NHL seasons Dave Bolland has yet to crack 20 goals in a single year. He's twice hit the 19-goal mark, and I'd expect Bolland to score 20 or more this season in Florida.
14.  Number of concussions on record
The NHL has kept a pretty tight lip about the number of concussions from past season. Commissioner Gary Bettman says the number of concussions around the league was down this year, but the NHL has yet to release any statistical data backing that claim. During the 09-10 season, there were 84 concussions and suspected concussions sustained by NHL players.
15.  The Calgary Flames
The team is in the midst of a rebuild, and I'll be curious to see how Jonas Hiller handles the crease in Calgary. But to see I'm most looking forward to about the Calgary Flames this season, skip ahead to #24.
16.  Fighting in the NHL, increase or decrease?
The 2013-2014 NHL regular season saw a total of 508 fights take place, for an average of 0.41 fights per game. That's the lowest average of fights per game since the 2005-2006 season. Expect that average to drop once again.
17.  The success (or failure) of the NHL Stadium Series games
It seems like these outdoor games have a certain shelf life to them, and I can't help but wonder if the novelty has worn off. At least the NHL has scaled back these novelty games, going from six last season to just four this year.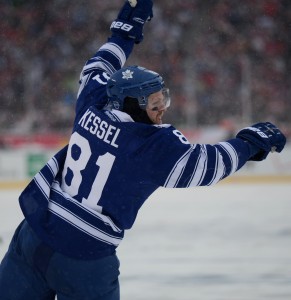 18.  Will Phil Kessel reach 40 goals?
He's never done it prior. His career high is 37 goals in a season, a feat he's accomplished twice with the Maple Leafs. And look for Kessel to break that 40 goal mark this year as the Leafs top scorer.
19.  What impact (if any) will William Nylander have?
He's been referred to as "the most dynamic offensive talent" available in the NHL draft, but what kind of impact will William Nylander have this year? While he's likely to get a small taste of the NHL, I'd expect Nylander to play the majority of the season with the Toronto Marlies in the AHL.
20.  January 8th – LA Kings vs. NY Rangers
This is the first time the Stanley Cup finalists will face each other since LA hoisted the Cup. Enough said.
21. Will any NHL goalie reach 10 shutouts in the season?
No goalie has had 10 shutouts or more in a season since Jonathan Quick did so in 2011-2012. There are a few goalies that could reach 10 or more shutouts including Quick, Tuukka Rask, and Carey Price.
22. The LA Kings twitter feed
In 2013-2014 the LA Kings won the Stanley Cup, but the past few seasons they've also been winning the Twitter battle:
http://larrybrownsports.com/wp-content/uploads/2012/07/Kings-twitter-ufc.png
http://www.laweekly.com/imager/the-man-behind-the-la-kings-hilarious-t/b/original/4780445/df67/Screen_Shot_2014-06-11_at_3.17.20_PM.png
https://lh4.googleusercontent.com/-oIQB9-jkp9c/UUIWgy-2RkI/AAAAAAAAOmQ/kNkWVFAejEY/s509/Kings%2520Hurl%2520Tweet.png
https://lh3.googleusercontent.com/-wuCgFRZ2CSA/UUIWg8K1nnI/AAAAAAAAOmY/XVB8E7Hyaps/s508/Kings%2520Insiderrr%2520Tweet.png
23.  What wacky promotions will the Florida Panthers run?
Selling hockey in South Florida is no easy task, but creativity definitely runs through the blood of the Florida Panthers promotions department. After last season's Lottery Ticket promotion, I'm curious to see what they have up their sleeves this year.
24.  Brian Burke's hair
https://fbcdn-sphotos-f-a.akamaihd.net/hphotos-ak-prn1/s720x720/995003_10151761895351496_1189866261_n.jpg
25.  How will John Tavares respond after a major knee injury?
Knee injuries are always difficult to come back from, and while it sounds like John Tavares will be ready for the start of the training camp, one has to wonder if the former Oshawa General can return to the form he displayed last year.
26.  The ongoing, ever evolving bits of gamesmanship
So a few years ago it was the Sean Avery–Marty Brodeur thing. Last season, the water bottle spray was all the rage. I'm curious to see what the new form of gamesmanship will be this year.
27.  HNIC & Rogers Media
It's a new look for the Canadian institution that has brought households from coast-to-coast-to-coast hockey for generations. With Rogers Media now in control of the entity know as HNIC, it'll be very interesting to see how Hockey Night in Canada functions this season and beyond.
28.  Paul MacLean's doppelganger
Because this is an actual thing that happened
29.  January 11th – Ducks vs Jets – Teemu Selanne jersey retirement
The Finnish Flash will have his number hung from the rafters, a first for the Ducks franchise. This is one pre-game ceremony that will be worth watching.
30.  Don Cherry's suits
http://www.huffingtonpost.ca/2014/02/05/don-cherry-suits_n_4731920.html#slide=start
31.  Trending up: Hockey in California
All three California based teams made the playoffs last season, and the popularity of hockey in California seems to be on the rise. Sure, I'd love to see another Canadian team added to the NHL, but a strong hockey presence in Southern California will help grow youth participation in the game beyond traditional hockey hotbeds.
32.  The Brad Richards bobble-head who travels more than I do
I've decided I'm going to start living vicariously through the Brad Richards bobble-head
33.  NHL players on Twitter
If you're not already, do yourself and follow Paul Bissonnette and Roberto Luongo on twitter. They can get a little saucy at times, but for the most part their timelines will make you LOL
https://twitter.com/BizNasty2point0
https://twitter.com/strombone1
34.  NHL players interview bombing
35.  NHL stats: Public domain or protected intellectual property?
Have you visited NHL.com recently? Did you notice the disclaimer that they've posted atop the site? Sure it seems innocent enough, but that little motion to update the terms of service could cause havoc for advanced stat sites. Most "fancy stats" sites rely on NHL.com for the base stats in which they work from to develop more telling stats like Corsi. But if the NHL has it's way, game stats could be labeled as the NHL's protected intellectual property instead of public domain.
36.  The inevitable 3rd jersey fails
Every so often teams feel the need to reinvent the fashion behind their brand. A few teams are rumored to have new alternate jerseys this season, including the Philadelphia Flyers, St. Louis Blues, and New York Islanders.
37.  The newest team swag
Including these awesome ugly sweaters
38. Everything that Tuukka Rask does
Including saving shots fired from a cannon … literally.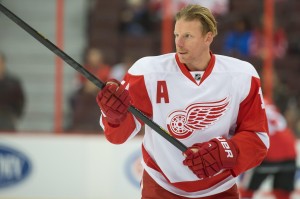 39. How many games will Daniel Alfredsson play?
He's coming to the end of a pretty stellar career, but he's only played a full season once in his NHL tenure. I'd have to think the Red Wing would be happy if they can get between 50-65 games out of Alfie.
40. NHL vines – specifically vines from NHL players
Check out Ben Scrivens and Paul Bissonnette amongst others
41. Michael Del Zotto's opportunity in Philly
After a great rookie campaign at the start to a promising career, Michael Del Zotto has struggled the past three seasons. Now with his third team in the past two seasons, Del Zotto has an opportunity to resurrect his career in Philly.
42. Goalie Masks
There are always a few awesome goalie masks around the NHL, and a few to keep an eye out for this year include Cam Talbot's tribute to Ghostbusters, and Fredrik Andersson's Lego Movie design.
43.  The Hamborghini Food Truck
Damn you LA, is there anything you don't get right?
44.  P.K. Subban
I just hope that we have one full season without Subban being the center of controversy or a target for racist bigots. Give Subban credit for the way in which he handled this situation last year, but for the sake of every single black hockey player, I hope racism is kept out of the game. 67 years have passed since Jackie Robinson broke the color barrier in professional sports, and it's mindboggling to me that racism is still an issue in sports, let alone society as a whole.
45.  The Dallas Stars
I really think that the Dallas Stars could be poised for a deep playoff run this season. I like the additions of Jason Spezza and Ales Hemsky to a young group that already has talented forwards like Valeri Nichushkin and Tyler Seguin. The Stars should be able to win 40+ games, and finish anywhere from 3rd to 5th in the Central Division.
46.  Darryl Sutter pressers
So many fantastic "Uncle D" moments to chose from, but this is one of my favorite post game pressers …
https://www.youtube.com/watch?v=IZA2fG6ygww
47.  HBO 24/7 – 2015 Winter Classic
After receiving criticism for the series last year, I'm curious to see how HBO and the NHL will respond in producing the latest edition of 24/7. The cast of characters on both Chicago and Washington should be more compelling than last year, but I'm really excited to watch and see if either of Barry Trotz or Joel Quinnville censor themselves.
48. Henrik Lundqvist
Because he's the King … OF LIFE!
49. NHL expansion
Rumors continue to circle around NHL expansion. The question is when, and where? Potential landing spots for a new franchise could include Seattle, Quebec City, and Las Vegas.
50. The fact that we no longer have to watch NHL players struggle on the golf course
.