Chicago Black Hawks goaltender Denis DeJordy, who enjoyed a fine NHL rookie season in 1964-65, finds himself headed to the St. Louis Braves of the CPHL today. DeJordy was farmed out to the Braves with eight other players as the Black Hawks trimmed their training camp roster with the season opener just a week away.
Stapleton, Stratton Also Sent Out
Also going to St. Louis are defensemen Gary Kilpatrick, Pat Stapleton, John Miszuk and Tracey Pratt, and forwards Art Stratton, Dave Richardson, Dick Meissner and Oscar Gaudet.
DeJordy made the Hawks on a full-time basis last season after brief cups of coffee with the big team in 1962-63 and 1963-64. He pushed long-time incumbent Glenn Hall and appeared in 30 NHL games, posting a stong 2.52 goals-against average. He won 16 games, lost 11 while tying three.
Dave Dryden Hall's Backup
Rookie Dave Dryden was chosen for second goalkeeping spot over DeJordy, who lost favour with the coaching staff over his constant suggestions that he should play more than Hall. His play at training camp was labeled as indifferent and the feeling among the Chicago brain trust is that a stint in the minors might improve the 26-year-old's perspective.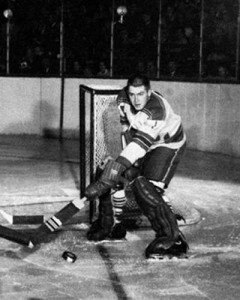 Dryden, 24, hails from Hamilton, Ontario. He came up through the Toronto system, playing junior for St. Michael's Majors and Toronto Marlboros. He appeared in part of a game for the New York Rangers at age 20 in February of 1962 as an emergency replacement for Ranger goalie Gump Worsley, who was injured and unable to continue.
Since graduating from junior, Dryden has played Senior A hockey in Galt. He was signed as a free agent by Chicago this past March. He played four games for the Buffalo Bisons of the AHL, Chicago's top farm club, when regular netminder Ed Chadwick was sidelined with a concussion. He won all four of those games, with a 1.50 goals-against average. That earned him a longer look at training camp this fall, and he did not disappoint.
Hawks Double Bruins
On the ice, the Black Hawks won an exhibition game last night. They defeated the Montreal Canadiens by a 4-2 score in Chicago. Stan Mikita, Chico Maki, Bobby Hull and rookie Ken Hodge scored the Hawks' goals. John Ferguson and Claude Larose replied for Montreal.
Howe Nets 4 Points But Wings Lose
Gordie Howe scored three goals and added an assist but it wasn't enough as the Detroit Red Wings fell by a 6-4 score to the New York Rangers last night. Alex Delvecchio had the other Detroit goal.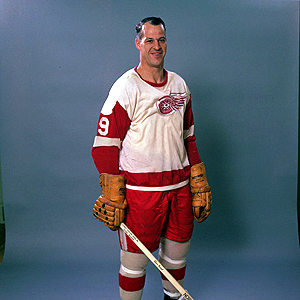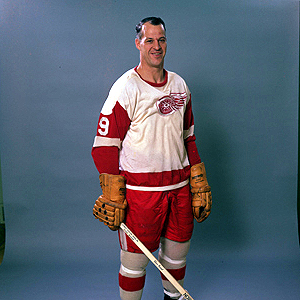 Lou Angotti led the Rangers with a pair of markers. Singletons came off the sticks of Garry Peters, Phil Goyette, Billy Hicke and Jim Neilson.
The game was marred by a vicious stick-swinging duel between Rangers Ted Taylor and Detroit's Doug Barkley at the end of the third period. Both were given match penalties and could face fines and suspensions.
Over 5,100 fans packed the Kitchener Auditorium for the contest.
Bruins Manhandle Leafs
The lowly Boston Bruins, expected by many to occupy the NHL basement again this season, showed last night that they aren't buying the predictions and they aren't intimidated by teams such as the Toronto Maple Leafs. The Bruins bumped and skated their way to a convincing 4-2 win over the Leafs at London, Ontario.
Toronto assistant general manager King Clancy said of the game,
"…the roughest game I've seen a Boston team play in five years."
The game was a robust affair that featured heavy hitting from both sides. There was an ugly high-sticking incident in which Toronto defenseman Kent Douglas received a seven-stitch cut on the head, thanks to some impromptu surgery performed by Boston's Eddie Westfall.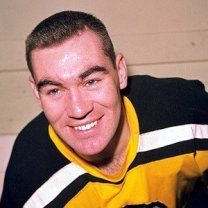 That incident was sparked by Westfall's charge at Leaf goalie Terry Sawchuk. Douglas retaliated on his goalkeeper's behalf, nailing Westfall with a stiff check along the boards. Douglas wasn't penalized. As Douglas skated away, Westfall swung his stick and connected with Douglas' skull, inflicting the damage described above.
Former Leaf Leo Boivin scored the winning goal for Boston. Other Bruin marksmen were Dean Prentice, Johnny Bucyk and Ted Green, who popped one into an empty net.
Orland Kurtenbach and Red Kelly tallied for the Leafs.
OHA Junior A Action
The Niagara Falls Flyers won their second straight OHA Junior A game last night. They defeated the Montreal Junior Canadiens 4-2. Mike Sherman scored two goals for Niagara, with Rosaire Paiement and Bud Debrody adding singles. Larry Pleau and Lucien Grenier had the Baby Habs goals.
Seals Bomb Blades in WHL Opener
The San Francisco Seals served notice last night that they will be a force to be reckoned with this season as they demolished the Los Angeles Blades 9-5 as the Western Hockey League opened its 18th season. Portland edged Seattle 2-1 and Victoria doubled Vancouver 4-2 in the other games.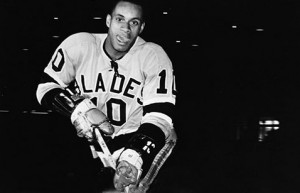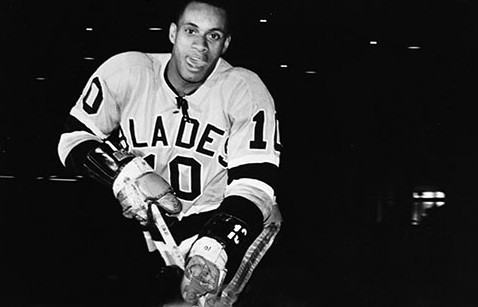 After trailing the Blades 2-1 at the end of the first period, the Seals rapped home five goals in the second to coast home. Al Nicholson was the big gun for San Francisco with three goals. The Blades' Willie O'Ree also scored three times.
The Portland-Seattle contest was a wild one, with the Buckaroos being nicked for 17 penalties by referee Barry Balance. Art Jones scored the game-winner for Portland with just under six minutes left in the game.
At Vancouver, the Maple Leafs got two-goal performances from Milan Marcetta and Fred Hucul to down the Canucks. Howie Hughes and Bruce Carmichael replied for Vancouver.
Providence Edges Rochester
Wayne Larkin scored at 3:56 of overtime to give the Providence Reds a 3-2 win on opening night of the 1965-66 American Hockey League season. Bob Leduc and Willie Marshall also scored for Providence. Gerry Ehman and Larry Hillman were the Rochester goal-getters.
Notes:
Toronto sent Gary (Suitcase) Smith and Mike Walton to Rochester of the AHL.
Oshawa Generals Danny O'Shea may be joining Canada's National Team.
Detroit Red Wings coach Sid Abel says that if he needs help on defense this season, he could move team captain Alex Delvecchio back to the blue line.
The NHL will honour long-time Montreal executive Frank Selke with a testimonial dinner on Monday.
Rangers have signed D Jim Neilson and F John Brenneman.