The announced expansion of the National Hockey League from six to twelve teams for the 1967-68 season will have far-reaching effects for many in the hockey world. Not the least of these effects will be how the dozens of talented players not on NHL rosters now will be employed after next season.
No Superstars for New Clubs
There has been no official announcement yet on just how the new teams will be stocked with players. But it's a sure bet that teams won't be giving up any superstars to the new clubs. With teams such as Toronto and Montreal having farm systems well-stocked with both veteran and up-and-coming players, there should be a lot of talent from which the new teams have to choose.
There are several scenarios being discussed on how the expansion teams will be populated. Almost all include the established teams freezing a number of players that ranges from six to 16. Most observers feel that the present six teams will get to protect one goaltender. That should give the new kids on the block at least solid NHL-calibre netminding.
So who is going to run these new teams? There are any number of quality hockey executives out there who would more than give the Punch Imlachs and Sammy Pollocks of the world a run for their money.
Reardon an Ideal Candidate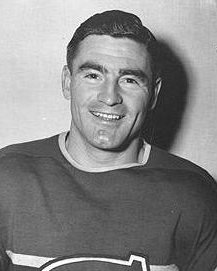 Red Burnett of the Toronto Star lists former Canadiens executive Kenny Reardon as a candidate who could be much sought-after. The story out of Montreal is that Reardon was a close second to Pollock when he was appointed to the Montreal general manager post two years ago.
The only stumbling block for any team that wants to lure Reardon to a new NHL city is that he seems set on gaining business experience outside of hockey.
Joe Crozier is another who will rate consideration by all the new clubs. Crozier is running the Rochester Americans of the American Hockey League and the club is highly successful this year. Many feel he is the heir-apparent to Punch Imlach in Toronto, but the opportunity to run his own organization starting from the ground up would be very attractive to a guy like "The Crow."
Would Imlach Move?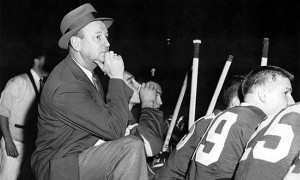 And speaking of Imlach, it was commonly believed that he would follow Foster Hewitt to Vancouver if they were successful in obtaining a franchise. With that plan now having gone by the wayside, there are a number of destinations for the irascible Toronto head honcho. It's known he is familiar with Jack Kent Cooke and Los Angeles could be landing spot for Punch if he decided to leave the Leafs.
Rudy Pilous, now the coach and general manager of the Hamilton Red Wings of the Ontario Hockey Association Junior A league is a Stanley Cup-winning coach who has loads of management experience at the high minor league level. This year he left the Leafs Western Hockey League farm team at Victoria to take the Hamilton job so he could be closer to his family. But the lure of an NHL post might be too much for Pilous to resist.
Others who might get a long look for GM posts could be AHL president Jack Riley, Bud Poile, who already works for the San Francisco Seals and could be a natural to move up, Wren Blair, who is running a successful junior A operation at Oshawa and Jackie Gordon, Emile Francis' right-hand man in New York.
Leafs' Stanley, Kelly Ideal Coach Material
There should be no problem for the new teams in finding coaches, should the new managers not want the dual portfolio. Several veteran players nearing the ends of their careers  might be ready to step behind a bench by 1967-68. These include Allan Stanley and Red Kelly of Toronto. Both have been mentioned as great potential NHL coaches. Other men coaching in the minor pro leagues who rate a look are Hal Laycoe of Portland, Bert Olmstead in Vancouver and Fred Glover, a player-coach for Cleveland of the AHL. And don't forget recently-deposed Ranger coach Red Sullivan.
Imlach told Red Burnett how he thinks the new clubs should proceed now that they have been given the green light to start building their organizations:
"The new clubs should have their managerial and scouting staffs on payroll, briefed and active before the National Hockey League's June draft meeting.
"I know the expansion draft won't take place until June of 1967 but the league will likely set up the structure for that draft next June. The new clubs should have full staffs there to study everything in detail and go over the rosters of every active NHL level.
"They should spend the summer making plans for blanket-scouting of every professional league during the 1966-67 season. If this is done properly, they'll have a complete rundown on every player who might become available when the six present NHL teams toss their lists on the table and say: 'These are the players who are available – on with the draft.'
"The ones who work the hardest at the job likely will walk out of there with the best foundation for competing teams in the new division. Hard work is the secret of success in hockey."
Fringe NHL'ers Today, Stars Tomorrow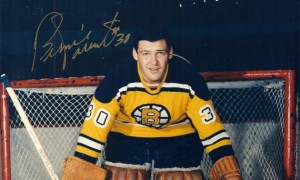 Who are the players who will move up to NHL jobs? A look at AHL and WHL rosters provides an impressive list of veteran skaters and goaltenders who could help a new team.
Among the goalies, all the present backup netminders would be attractive to a new club. But if the present teams can freeze only one, that does present a problem for some teams.
Do the Leafs keep Johnny Bower or Terry Sawchuk? Or will young Gary Smith, now at Rochester, be ready for NHL employment? Does Boston let a veteran like Ed Johnston go so they can keep young Bernie Parent, who's only 20? And what about Gerry Cheevers, now playing well in the Central Professional Hockey League?
There are a host of minor pros with significant NHL experience. Veterans such as Ed Chadwick, Don Simmons, Don Head, Marcel Paille and Bruce Gamble might settle a young team finding its way.
Defense might be a tough go for anyone suiting up for these new teams. The talent level certainly won't compare to the present clubs and there will be some long nights in the new cities. But there are some great players who could step right into an NHL team's blue line corps now. Among these are Al Arbour, Larry Hillman and Duane Rupp of Rochester, Noel Price of Quebec, Bill White in Springfield, Larry Cahan out in Vancouver and Pittsburgh's Pete Goegan.
Scoring goals will be a challenge for the new teams. High-scoring NHL vets in the minors include Dick Gamble, Jim Pappin, Bronco Horvath, Ed Litzenberger and Gerry Ehman at Rochester. Other AHL snipers who would interest expansion clubs include Billy Harris, Don McKenney, Leon Rochefort, Bill Sutherland and Terry Gray.
There are some good players in the WHL who will be attractive to the new teams. Players such as Leo Labine, Billy McNeill, Andy Hebenton, Larry Keenan, Milan Marcetta  and Wayne Rivers would be great acquisitions.
The new teams will no doubt be scouring the rosters of every professional and junior team on the continent. While it will be fun to see familiar names suit up in new uniforms, the best stories will be those previously unknown skaters who will be unearthed by the smartest managers.
Gordie's Boy Drops the Gloves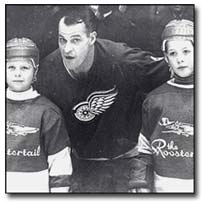 Sometimes we have to wonder if the hockey world of the 1960's is putting too much pressure on  kids who are playing the game who have not yet reached their teens. The world's foremost pee wee hockey tournament is being played in Quebec City and it appears that the pressure is getting to some of the boys already.
Yesterday at the end of the Detroit Roostertails – Toronto Red Wings game Mark Howe, son of Gordie, ended up in a spirited bout with Albert (Digger) Davies of Toronto. The boys went at each other just like the big-leaguers and solid punches were  landed by both before they were separated by team mates and officials.
After the game, Mark had to be seen by a doctor who said he was suffering from a migraine headache brought on by too much pressure. There was no mention of blows from the fight causing the youngster's discomfort.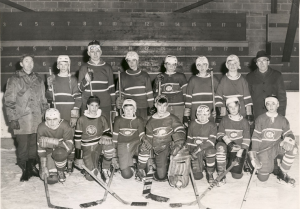 Professor John Farina of the University of Toronto School of Social Work criticized the amount of pressure heaped on young hockey players:
They put children into emotional pressure cookers.
Bill Glover of the Toronto Hockey League says (not unexpectedly) that the application of pressure tactics applies only to the Detroit team:
"In my opinion the majority of men concerned with minor hockey are aware of their responsibilities to the players. In the THL we don't allow the kids to play more than two games in one day, yet some teams in Quebec have played more than this through overtime."
Glover commented on reports that the Detroit team has played more than 70 games already this season:
"I can't understand Gordie letting his sons do all this. We all understand his sons are a terrific draw in many arenas but they are constantly open to challenge because of their father. This, plus the Roostertails schedule ensure that these two boys are under a severe strain."
Doctor Robert Imrie, a pediatrician at the Hospital for Sick Children says it's not only the coaches of the teams that drive the kids, but that parents pushing their children might be the root of the problem.
The great majority of boys in minor hockey are pushed into it by go-go fathers. They play to please the old man.
With the impending expansion of the NHL and 120 new big-league jobs up for grabs, this issue will only be magnified. Parents will be even more anxious for their boys to achieve the dreams of playing big-league hockey. And minor coaches and managers will push the kids to win, hoping to cement their own hockey dreams of coaching at higher levels.
The Canadian Amateur Hockey Association will have its work cut out to ensure the safety and well-being of young men playing a game that's supposed to be fun.