"Hello Canada and hockey fans in the United States…"
That melodious greeting from Canada's original and most famous hockey broadcaster has signalled the beginning of Foster Hewitt's radio accounts of Toronto Maple Leafs games for many years. Hewitt, who described a hockey game over the airwaves for the first time in 1923 and was inducted into the Hockey Hall of Fame last year, may have even greater accomplishments in his future.
McMahon Group Folds Expansion Bid
With the news this week that one Vancouver group is ending their quest for a National Hockey League expansion franchise, the way was left clear for Fred Hume and his associates to pursue a team for the west coast city. As the dust begins to settle after these developments, Foster Hewitt's name has surfaced in connection with Hume's group.
There have been whispers that Hewitt had been approached by several parties to participate in a Vancouver NHL bid.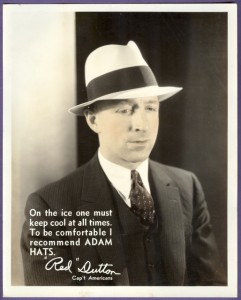 The first group to organize was headed by prominent Vancouver businessmen Max Bell and Frank McMahon. Mervyn (Red) Dutton became a member of that little cluster, ostensibly to provide credibility. Dutton was a fine NHL player who was elected to the Hockey Hall of Fame in 1958. He also served as the president of the NHL for three and a half years between February 1943 and September 1946. He is still believed to hold the rights to the Brooklyn Americans franchise which was suspended by the NHL in September of 1942.
For reasons which aren't entirely clear now, things began to unravel for McMahon's group. This is curious, because Dutton and McMahon have extensive relationships with the current group of NHL governors.
Hume, McLean Form Partnership
Hume, owner of the Vancouver Canucks of the Western Hockey League always had a desire to turn his team into a big-league franchise. An advantage of granting a franchise to Hume for the NHL is that there would be no indemnification fee that would have to be paid to Hume for the league invading his territory.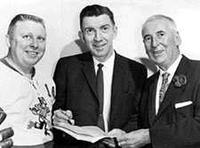 Bell and McMahon attempted to buy the Canucks from Hume for $350,000 but that offer was summarily dismissed.
Hume instead sold part of his stake in the Canucks to Cyrus McLean, head of the B.C. Telephone Company. This not only upped Hume's credibility, but added to the financial wherewithal of the group. Several other prominent west coast businessmen came on board at the same time, and a rather imposing syndicate was formed.
Hewitt had been approached by a third Vancouver group, headed by John Taylor, son of hockey legend Fred (Cyclone) Taylor. Taylor's approach was not well organized and Foster wasn't terribly impressed. But his interest in a Vancouver team was aroused and he contacted Hume and McLean. They were thrilled at the prospect of having Hall of Famer Hewitt as part of their team.
Hewitt Spurs Hope for TV Deal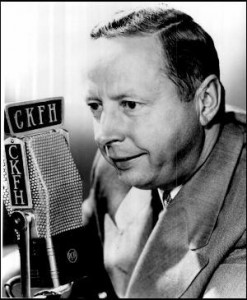 Not only would Foster Hewitt provide the NHL connection lacking within the group, but his mere presence would likely be a valuable asset when negotiating a television contract. While not widely publicized, television rights are going to be a large part of the business model for every expansion team.
There are still obstacles to a Vancouver team in the NHL. The city has a deplorable rink which must be replaced. It's cold, draughty, rickety and far too small. If Federal and Provincial governments are to be believed, $4,000,000, which once belonged to taxpayers, has been ticketed for a new rink. The City of Vancouver will kick in another couple of millions as well. It's debatable whether that's enough to build the type of coliseum suitable for NHL purposes, but it's a good start.
It's not the start that will get the franchise, but the finish. And it looks like Foster Hewitt could be the piece that pushes it over the top.
Notes: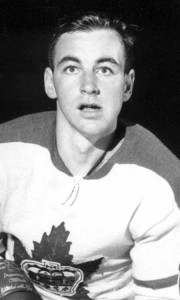 Toronto Marlboros outscored Montreal Junior Canadiens 8-6 last night in OHA Junior A play in Toronto. Mike Corrigan had six points for Marlies with two goals and four assists. Mike Myers also had two for Toronto. Lucien Grenier, Jacques Lemaire and Michel Lapalme had two each for Montreal.
Niagara Falls defeated Kitchener 5-3 in the other OHA game. Don Marcotte led the way for Niagara with two goals.
Rochester Americans downed the Buffalo Bisons 5-2 in the only AHL contest. The score would have been much worse had Roy Edwards not been spectacular in goal for Buffalo. Mike Walton, Bronco Horvath, Red Armstrong, Peter Stemkowski and Gerry Ehman scored for the Amerks.
Jack Adams, former general manager of the Detroit Red Wings, says that if he were starting a new team today, the two players he would build around are Norm Ullman of the Red Wings and Maple Leafs' Bob Pulford.