The Chicago Black Hawks blew a 3-0 first period lead and had to settle for a 5-5 tie in one of two National Hockey League games last night.  In the other contest, Norm Ullman scored the game's only goal as Detroit blanked the New York Rangers 1-0.
Hodge shaky early, solid later
In the Forum in Montreal, 12, 921 fans saw their hometown heroes fall behind by three in a first period that had Chicago outshooting the Canadiens 10-7.  Montreal goalkeeper Charlie Hodge appeared very shaky in giving up the three Black Hawks markers, but settled down nicely after that and gave his team a chance to come back and win.  Chicago netminder Denis DeJordy wasn't particularly sharp either, and the loose goaltending seemed to add to the overall frenzy that governed the game.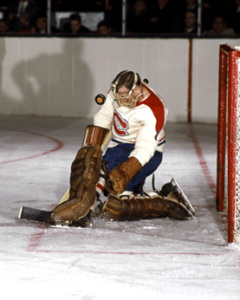 The Hawks' early lead was built on a pair of goals by Kenny Wharram, who seemed intent on ensuring anyone who was watching that he is completely healthy, and one by Eric Nesterenko just over three minutes into play.  The helmet that Ken donned for the contest certainly had no negative impact on his play.
The second period featured a complete reversal of the Habs' first frame fortunes, as they beat DeJordy on five of eleven shots to take a 5-4 lead.  After Ralph Backstrom and John Ferguson had narrowed the gap to 3-2, Bobby Hull put Chicago back up by a pair with his second of the year.  Gilles Tremblay pulled the Canadiens to within one before goals by the Habs only eight seconds apart put them into the lead.  Jacques Laperriere scored at the 18:13 mark of the sandwich session, followed by Backstrom's second marker at 18:21.  Shots on goal in that wild second period were 11-9 Montreal.
The frenetic pace of the first two frames seemed to be less pronounced in the final 20 minutes, as the Canadiens settled into a defensive mode of play.  That broke down only briefly when Chico Maki was gifted with a breakaway, on which he beat Hodge for the game's final goal.
Chicago coach Billy Reay was understandably upset with his team's performance on the back end.  "They were so busy trying for goals, they forgot to play their positions."
Paille, Crozier star in netminding duel
The Detroit – New York contest was a stark contrast to the offensive display that took place in Chicago. Goaltenders Marcel Paille of the Rangers and Roger Crozier of the Red Wings were the stars, with Paille especially putting in an heroic effort.  Paille, who employs a straight stand-up style, made 36 saves, many of the difficult variety.  And to add to that drama, he played most of the game with a 12-stitch gash over his right temple, sustained with just over seven minutes left in the first period.  Paille was cut by team mate Arnie Brown's skate as he dove for a loose puck.
Crozier faced only 19 New York shots, but most seemed to be clear-cut, high percentage chances that required fine efforts by the rookie backstop.  He continues to reward the faith shown in him last summer when Sid Abel allowed veteran Terry Sawchuk to depart by way of the draft to Toronto.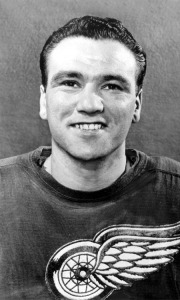 The only goal of the game occurred with about eleven and a half minutes left in the third period.  Norm Ullman got his stick on a point shot by Detroit defenceman Doug Barkley.  Ullman deflected the shot past Paille, who had no chance on the play.  The goal also appeared to jolt the Rangers into action, as they stormed the Detroit goal over the final ten minutes of play, only to be stymied time and again by the diminutive Detroit netminder.
Trade winds swirling in Toronto?
Toronto and Boston were idle but that didn't stop the Maple Leafs from grabbing a piece of the NHL news spotlight.  The teams meet tonight in Boston, and the highlight might be an appearance by left winger Dickie Moore.  Moore was drafted from Montreal last summer after sitting out the 1963-64 season with knee problems.  Leaf GM-coach Punch Imlach was coy about whether Moore would play tonight, but his whereabouts last night caused a bit of an uproar as well.
Imlach was spotted at Madison Square Garden taking in the Rangers – Red Wings tilt.  It's well known that the talent-thin Rangers covet some of Toronto's excess assets, and Imlach's presence fuelled speculation that a deal is imminent. Teams must cut rosters on December first from eighteen skaters to just sixteen, so the Leafs will have to jettison two NHL-worthy players at that time.  It's thought that the Rangers really don't have  pieces that Imlach could use, unless they were willing to ship young right winger Rod Gilbert to the Leafs.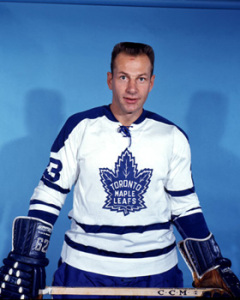 A much more likely trade scenario could develop between the Boston Bruins and Toronto.  Imlach has always thought highly of Bruins left winger Dean Prentice and it would surprise no one if he were able to pry the veteran loose from the Bruins.  The Leafs would likely surrender a pair of wingers to Boston, once of whom could  be crowd favourite Eddie Shack.  Those close to the team say that a deal structured around Shack going to the Bruins very nearly came to pass last summer.