With the news that the New York Rangers are likely to be allowed to sign Czech star forward Vaclav Nedomansky after the 1868 Olympics, the Toronto Maple Leafs have renewed their quest to acquire 23-year-old goalkeeper Vladimir Dzurilla.
Placed on Negotiation List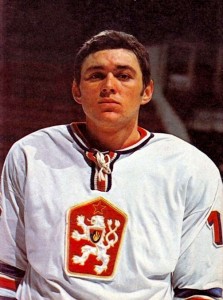 The Leafs have place Dzurilla on their negotiation list, giving them exclusive professional rights to the player. Dzurilla was invited to the Toronto training camp last fall but did not attend. It's not known whether he simply declined or was not allowed to leave Czechoslovakia. Leafs are hoping it's the latter and that further negotiations will be fruitful.
Just as the Rangers hope Nedomansky will be allowed to train next fall with their club, Toronto is angling to have Dzurilla work out with them to acclimatize himself with North American hockey and life in general. Both players would be expected to return to Europe immediately after their camps.
Dzurilla plays for Slovan Bratislava in the Czech league's first division. He has competed for three World Championships, and was his country's first-stringer for the first time last year. He played well and made the tournament all-star team.
Dzurilla is described as a larger netminder, who is agile and very quick. He is thought to be an ideal candidate for the North American game and is rated a solid National Hockey League prospect.
Nats Coach Jackie McLeod Once a Top NHL Prospect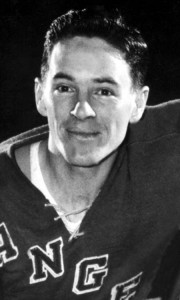 Jackie McLeod, the occasional player and full-time coach of Canada's national hockey team, has a wealth of experience, both internationally and in the professional ranks. What many fans of today's game don't realize is that only 15 years ago, McLeod was thought of as a sure-fire NHL star on the rise. All that came to an end thanks to a collision between McLeod and Toronto's Bill Barilko.
It was in early 1951 and McLeod was a 20-year-old right-winger with the New York Rangers. Already with one NHL season under his belt, he was among the team's top scorers and looked to have a bright future. Then, late in a game against the Leafs, disaster struck for McLeod and he was never again quite the same player. McLeod describes what happened: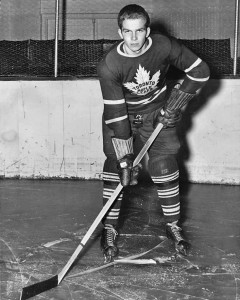 "It was in the final minute and the Leafs were a man short. They iced the puck and I went back for it. I remember looking up at the clock and seeing there were only 20 seconds left. As I rounded our net, I passed ahead to Buddy O'Connor, then stopped because I knew I didn't have time to get up the ice. Evidently Barilko was trailing me because he  hit me just at that moment. That's the last I remember, passing to O'Connor. I woke up the next day."
McLeod suffered a concussion, broken jaw and broken shoulder. His career didn't end there, he had several more short stints with the Rangers and a very productive run in the Western Hockey League. But he never attained the heights that had been freely predicted for him.
Quebec Aces Apply for OHA Junior A Franchise
Gerald Martineau, the president and general manager of the Quebec Aces of the American Hockey League, says that he plans to seek a franchise with the Ontario Hockey Association Junior A League.
Martineau, who also is involved with Quebec's bid for a National Hockey League expansion franchise, says that the players on the junior A team he sponsors in the Quebec Junior A League do not develop well in that loop. He is of the opinion that the Ontario league is the premier development league for junior players and wants to develop players for his team, with an eye towards a future NHL franchise.
Flyers Inch Closer to First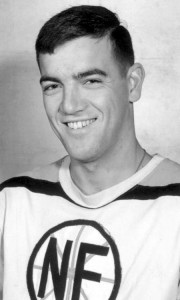 The Niagara Falls Flyers moved to within one point of the first-place tied Oshawa Generals and Peterborough Petes with a wild 3-2 win over the Generals last night before a standing room only crowd in Niagara Falls.
In the other Ontario Hockey Association game, the Kitchener Rangers scored a come-from-behind 3-2 win over the St. Catharines Black Hawks.
At Niagara Falls, the capacity crowd which braved a major blizzard were treated to one of the best games of the year. Along with the obvious skill of both clubs, the game was punctuated with a number of fights which further whipped fans into a frenzy. Niagara Falls police were even called in to control the unruly patrons near the Oshawa bench near the end of the second period.
That particular donnybrook, which thanks to the police presence limited the actual combatants to players on the ice, saw four players, two from each team, ejected with misconducts and game misconducts. Guy Allen and John Arbour of the Flyers, along with Danny O'Shea and Bill White of Oshawa were banished from the game.
Jean Pronovost scored two goals to pace the attack for the winners, with Derek Sanderson adding a single. Bobby Orr and Barry Wilkins, both defensemen, counted for the Gens.
Late Goals Power Rangers
Kitchener scored two goals in the final five minutes to steal their win over St. Catharines.
The Black Hawks had built a 2-1 lead on goals by Steve Latinovich and Richie Bayes. Don Luce had the first Kitchener goal earlier.
Bruce Reier tied the score for the Rangers with less than five minutes remaining. Then Randy Legge secured the lead for Kitchener with a goal just past the 17:00 minute mark..
Rangers Sell Angotti
The New York Rangers say they have sold forward Lou Angotti to the Chicago Black Hawks in a slightly complicated deal. Emile Francis says New York received cash and "other considerations."
It turns out that the "other considerations" involve former Black Hawk winger Larry Mickey. The Rangers want to send Mickey to Minneapolis of the Central Professional Hockey League, but can't do so under league rules.
Mickey was drafted by the Rangers from Chicago last summer. According to draft rules, if a team wants to send a drafted player to the minors, it must first offer him back to the team from whom he was drafted for half the draft price. Francis didn't want to lose Mickey, so he arranged to sell Angotti to the Hawks in return for Chicago's confirmation that they would not claim Mickey when the Rangers demoted him.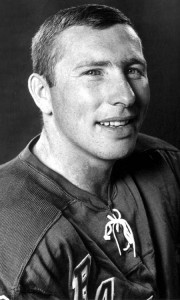 Francis said that as well as having to offer Angotti to Chicago, waivers had to be obtained from the other four NHL teams, and they were. It is expected that Chicago will send Angotti to St. Louis of the CPHL.
Angotti came to the Rangers from Toronto in June of 1964 in a four-player trade involving minor leaguers. He made news earlier this season when he spoke out about his lack of playing time with the Rangers, threatening to retire after this season. Coach Red Sullivan was fired shortly thereafter.