Defenceman Marcel Pronovost scored his first goal of the season, and it was the game-winner as the Detroit Red Wings blanked the Boston Bruins 3-0 in the only National Hockey League game played last night. The game was played before 10,141 fans at the Olympia Stadium in Detroit.
Crozier sharp
The Red Wings scored a goal in each period to back up the shut out goaltending of Roger Crozier.  The little Detroit netminder, who seemed to be faltering before being given a week off and a holiday in Florida, was sharp in making 21 saves.
Pronovost opened the scoring for the Wings, an unusual role for the normally stay-at-home defender. His goal came just after Boston goalkeeper Ed Johnston had made four successive saves as the Wings stormed the Boston goal at the end of a power play.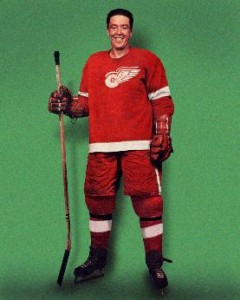 Pronovost took a pass from Ed Joyal and fired a shot from the left point.  Johnston appeared to have the shot well-tracked, but it took a crazy bounce just in front of the net and skipped past on the left side.
Henderson counts in second
The middle frame was the Detroit's most dominant.  They poured 15 shots at a beleaguered Johnston, but only managed to beat him once.  Young Paul Henderson was the marksmen, netting his fourth, with help from Pit Martin and Larry Jeffrey.  Johnston had no chance as Jeffrey faked a shot and made a perfect pass to Henderson.
Alex Delvecchio closed out the scoring in the third, tipping in a 45-foot Parker MacDonald shot, again leaving no chance for Johnston.
Abel watches from press box
Red Wings manager-coach Sid Abel sat in the press box for this game, leaving bench duties to assistant Johnny Mitchell.
"I watched a few games from the box last year and figured it was time to take another look from up there."
The Red Wing defence corps was also shuffled by Abel before the game.  Pronovost was teamed with another veteran, Bill Gadsby, on the first pair, with Al Langlois and Doug Barkley making up the second unit.
Don McKenney demoted
Don McKenney, acquired by the Toronto Maple Leafs in last February's blockbuster trade with the New York Rangers, yesterday was sent to the Maple Leaf farm team at Rochester in the American Hockey League.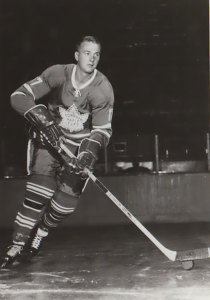 McKenney, who had nine goals in 15 games with the Leafs at the end of last season, has scored only three times in 41 contests this year.  He has seen his ice time shrink in recent days, and with the club getting most of its injured players back on the ice, it's a simple case of the team being overstaffed.
John Anderson,  secretary to general manager Punch Imlach, made the announcement.
"He's going to Rochester for 14 days to skate his way into condition.  He accepted the move well.  He wasn't happy, of course, but he realized the best thing for him was to get as much ice time as possible under game conditions."
Bathgate returns, Horton back to D
Andy Bathgate, who had the cast removed from his broken thumb, could be ready for action by this weekend.  That would be welcome news for Imlach, who for the past 10 games, has had to employ defenceman Tim Horton on the right wing.  Horton has scored seven goals in those 10 games.  That's the best production by any NHL right wing during that time span.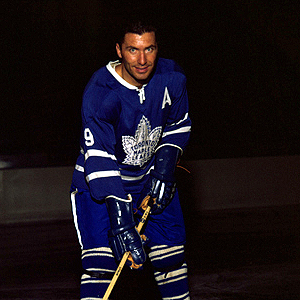 Horton originally was unhappy about being shifted to the forward unit, but his success has tempered that disappointment.
"I'd still probably like to return to defence, but I enjoy playing the wing, too.  It's enriching my knowledge."
Horton was asked whether a permanent switch to the forward line, such as the move made by Red Kelly when he arrived in Toronto, would add years to his playing career.
"I think it would have to depend on the individual.  There are forwards who can play 10 to 15 years and there are defencemen who can play 10 to 15 years.  But I think it's easier for a defenceman to adjust as a forward than it would be for a forward to move back on defence."
Hockey Illustrated polls coaches
Hockey Illustrated, a U.S.-based hockey magazine, recently asked the six NHL coaches to rank the NHL players in a variety of categories.  Some of the results were a little surprising.
The coaches voted Toronto's Dave Keon as the fastest skater, edging out Chicago's Bobby Hull.  Three Montreal Canadiens also received votes – Henri Richard, Gilles Tremblay and Ralph Backstrom.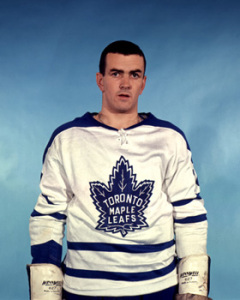 Possessor of the hardest shot was not going to be any surprise – Hull was the obvious winner there.  Jean Beliveau was a very close second, with Gord Howe in third spot.
Bob Pulford of the Leafs was ranked the NHL's best penalty killer.  Don Marshall of Rangers was the only other player to receive votes in the category.
Bobby Baun of Toronto was ranked as the league's hardest hitter, a bit of an upset over the man usually mentioned for that skill, Boston's Leo Boivin.  Boivin's team-mate Ted Green was third in that poll.
OHA's best line strikes again
The best forward line in the OHA Junior A Series this season has been the Peterborough Petes' trio of Leo Thiffault, Andre Lacroix and Danny Grant.  Last night they showed off their offensive prowess again as the Petes downed the last-place St. Catharines Black Hawks 6-3.  Toronto Marlboros outscored the Hamilton Red Wings 7-6 in the other league game.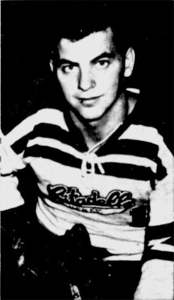 Grant scored three times for Peterborough, while Thiffault added a pair in the Petes' win over St. Catharines.  Centre Lacroix was the main architect as he added five assists.  Jim Paterson had the other Peterborough goal.  Ken Hodge, Brian Laidlaw and Brian McDonald replied for the Black Hawks.
Mike Byers and the OHA's top goal-scorer Paul Laurent led the Marlies' attack with two goals each.  Mike Corrigan, Brit Selby and Neil Clarke added singletons.  Jimmy Peters had two for Hamilton, with singles coming from Real Lemieux, Gary Doak, Jim Mair and Freddie Speck.
Rangers recall Johns
The New York Rangers have recalled defenceman Don Johns from the Baltimore Clippers of the American Hockey League.  Forward Jim Mikol was sent to St. Paul of the Central Professional Hockey League to open a spot on the roster for Johns.
In 22 games with Baltimore, Johns has two goals and 10 assists.
Tough year for Butch Paul
It has been a tough year for one of hockey's hottest prospects, young Stuart "Butch" Paul of the Detroit Red Wings organization.  Last season, while playing Junior A hockey out west for the Edmonton Oil Kings, he broke a wrist. During the summer, he re-injured that wrist playing baseball.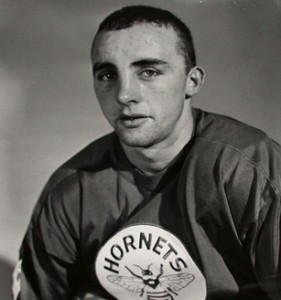 Paul attended the Red Wings' training camp and impressed, wearing a cast to protect the wrist.  He was sent to Pittsburgh of the AHL to continue his development and broke his left leg in the season opener at Springfield.  He has recovered from that injury, but this past Wednesday, in another Pittsburgh – Springfield game, he broke his right leg.  This one probably has ended Butch's season.