The Anaheim Ducks currently sit atop the league and have won five straight games, yet, only one player from Anaheim will compete in this weekend's NHL All-Star Game in Columbus, Ryan Getzlaf. Getzlaf, the Ducks captain, will be an assistant captain for Team Toews for Sunday's game.
And while the Center's All-Star game nomination is worthy, some of his Anaheim teammates, especially goalie Frederick Andersen and forward Corey Perry, should be joining him, but instead will be sitting at home watching.
Even the normally-quiet Ducks coach Bruce Boudreau agrees.
"I'd like a lot of our guys to have been selected," Boudreau told the OC Register. "I think we've got the kind of record that merits more than one person going to the All-Star game but it isn't."
Andersen Quietly Atop League
Andersen doesn't have the same name recognition of other All-Star goalies like Chicago's Corey Crawford or Montreal's Carey Price, but the Anaheim netminder has put up better numbers than the All-Star nominees.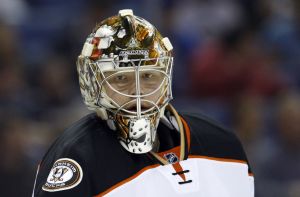 Despite posting a goals-against average of 2.30 and save percentage of .917, which has been enough to rack up 24 victories – good for second in the league – Andersen was passed over for any All-Star selection a second time as the New York Islanders' Jaroslav Halak and Pittsburgh's Marc-Andre Fleury were tabbed to replace Rinne and Detroit's Jimmy Howard, who had to pull out because of injuries. The other goalies named were Chicago's Corey Crawford (voted in as a starter), Columbus's Sergei Bobrovsky, Florida's Roberto Luongo and Montreal's Carey Price.
But Anderson's stats this season are All-Star worthy, especially on the second-go-around. As the Ducks' No. 1 goalie this season, Andersen has already surpassed numbers from his rookie season. He's also 10th among all goalies in total saves made and shots faced.
Andersen, at least, didn't acknowledge any frustration, at least publicly.
"I didn't really think about it," Andersen said. "It was up to them. I've only done what I could on the ice. My focus is to win games. And that's not going to the All-Star game. Obviously, it's a dream for everyone to go. There's a lot of good goalies this year and a lot of good performances so far."
Andersen went on to say that he's not thinking about it much, and of course, there's the added benefit that he won't be in danger of getting hurt like former Ducks goalie Jonas Hiller did in 2011 when he was hit in the head twice with shots in the All-Star game and soon developed vertigo-like symptoms that ultimately wrecked the second half of his season.
Perry Hurt By Mumps, Knee Bruise
There's no doubt that Corey Perry is one of the best players in the league, when he's healthy. But so far this season, he's missed several weeks due to the mumps and suffering a knee bruise.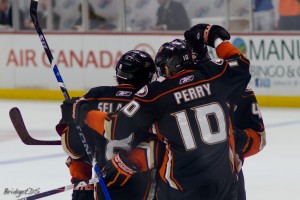 But despite missing 15 games, Perry has still found a way to be atop the league leaders in goals. His 19 goals not only lead the Ducks, but he is also tied for 11th overall in the league in goals. He also leads the league in number of hat tricks, with three, including one last week against Toronto where he showed he's returning back to his old form. Also, Perry's eight hat tricks since 2010-11 are the most in the league in that time.
Like Andersen, the good thing about Perry not making the All-Star game is that he will avoid the threat of injury in a pretty meaningless game, and will be well-rested when the Ducks return to action Tuesday at Vancouver. It's just a disappointment when the All-Star game doesn't feature the best players in the league.