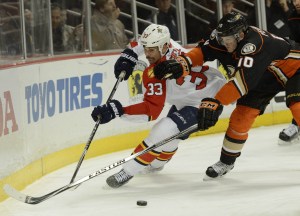 Corey Perry of the Anaheim Ducks has three hat tricks already this season. In most venues that would be considered stupid – not bad stupid, stupid good. Who has three hat tricks before January 15th? Corey Perry does, that's who. Most recently he caused an influx of lids to come sailing out of the stands onto the ice in a game against the Toronto Maple Leafs.
The latest victim of Corey Perry's goal-scoring prowess was Leafs goalie, Jonathan Bernier. The first goal came at 5:32 in the second period. Perry shot from the top of the circle and got a friendly tap from the skate of Toronto's Cody Franson and the puck whizzed through Bernier's legs to the net.
Jonathan Bernier and Cody Franson both had to feel pretty sick about that goal. What goalie wants to have a puck go "between the wickets?" What player wants to deflect a shot into his own goal off of his skate? Nevertheless, Corey Perry was feeling pretty good about the goal, as it put his Ducks up 2-0.
And he's open!
At 14:33 in the second period, Perry was wide open down the ice. Like an NFL quarterback, teammate Ryan Getzlaf passed the puck with precision to the streaking Perry, who picked it up and carried it to the front of the net. He then bounced it off Bernier's glove for the goal. Getzlaf's pass went about 95 feet and was from a backhand. The announcers remarked that a player had to be "very strong" to make that pass. Equally as important, Corey Perry was in the very place he needed to be to take that pass and score. 3-0 Ducks.
Cody Franson of Toronto was a part of this play, also. He appeared to catch a piece of the Gretzlaf pass off his stick, and also made it known that he thought Perry was offside on the play. He commented after the game about the run of seemingly bad luck the Toronto Maple Leafs seemed to encounter in Anaheim:
"One goes off my foot, one is a questionable offsides, one is an empty netter, and the other is a 5-on-3,"
The 5-on-3 he referenced was in the first period when Kyle Palmieri scored on the power play for the Ducks. All in all, it certainly was not a night to remember for the Leafs, as Corey Perry secured his third hat trick of the season with this goal into an empty Toronto net:
Keeping hat sellers in business
Corey Perry's most recent hat trick was the eight of his career. That is quite a remarkable accomplishment. He started the 2014-15 NHL Season with a hat trick against the Pittsburgh Penguins. His three goals were not enough to get a win for the Ducks that night, but they are a pleasure to watch nonetheless:
https://www.youtube.com/watch?v=44_8bL8PNWw
Thirteen days later, the Buffalo Sabres were on the receiving end of Corey Perry's hat trick. This time he victimized Sabres goalie Michal Neuvirth. Two sweet goals and one into an empty net gave Perry his second hat trick of the young season. While they didn't toss hats for Perry in Pittsburgh, they certainly did in Anaheim.
https://www.youtube.com/watch?v=jlrvjHXqMf4
Corey Perry's Clumps
Corey Perry is not leading the NHL in scoring. That distinction goes to Jakub Voracek of the Philadelphia Flyers. Perry is not even in the top 30. He has 27 points on the season, with 18 goals and 9 assists. But, he does have the most hat tricks of the season so far with three. He currently leads the NHL in this category.
If you think about it, Corey Perry has been scoring in clumps. Half of his 18 goals have been scored in 3 of the 29 games in which he has played. (Perry has missed games this season with the a knee injury and the mumps). He clearly has the propensity to score in clumps, as I noted previously that he has eight hat tricks in his career:
Of course that is a far cry from the 50 career hat tricks that the "Great One" recorded
#Ducks Corey Perry recorded his 8th career hat trick last night. His 8 hat tricks since 2010-11 are the most in the NHL in that time.

— Sportsnet Stats (@SNstats) January 15, 2015
Corey Perry is on his way to making his mark as a special player who puts Ducks' fans at risk of losing their hats anytime he is on the ice. I'd love to see him play soon. I think I'll leave my hat at home.
Mark Shiver is a staff writer for The Hockey Writers  credentialed with the Carolina Hurricanes. You can follow him on Twitter @markshiver