Alert the media: The Minnesota Wild have finally won a game.
A Step in the Right Direction
While this win is a step in the right direction, let's all just keep in mind that this is only one game. This is also only the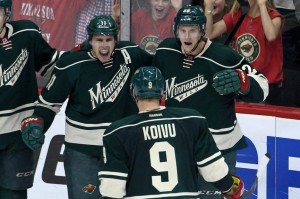 second game the Wild have won this month, the first coming on January 2nd against the Toronto Maple Leafs.
I'm not trying to be a pessimist – I'm elated Minnesota finally got a W; I'm just trying to keep this win in perspective. I know most of Minnesota is going to go crazy, thinking we've found a new goalie and the boys scored seven goals, so the team must be fixed, but that's not the case. We played the Buffalo Sabres, the second-worst team in the League. Yes, a win is two points regardless of who plays, but these aren't the teams the Wild are going to need to beat if they are going to be serious contenders in the NHL.
Nonetheless, this game did stop a six-game losing skid for Minnesota and maybe a little confidence booster is all these guys needed. Seven different players scored tonight, (Parise, Vanek, Brodziak, Dumba, Spurgeon, Cooke, Haula) and for many of them, this was their first goal in quite a few games. I'm keeping my fingers crossed that seven goals is enough to wake this team up and make them realize they're a talented bunch of players when they choose to be.
The new addition of Devan Dubnyk from the Arizona Coyotes could also have contributed to the Minnesota Wild's more confident style of play. If this team feels comfortable with the guy guarding the net, chances are they will play better in front of him. This seems to have held true
tonight, as Dubnyk earned a shutout in his first appearance with the Minnesota Wild. A little change on the ice could be all this team needs to turn things around.
Last year the Wild lost 6th in a row on NYE (42nd gm). They beat Buffalo in gm 43 to start 4gm win streak. They face BUF Thurs — in game 43

— Anthony LaPanta (@AnthonyLaPanta) January 12, 2015
Season-Saver?
Although this win is a big confidence booster for Minnesota, I highly doubt it's a season-saver. This team can't squeeze back into the playoffs by only having big games once every two weeks. Consistency is key in this sport and the Minnesota Wild are still lacking that. A win and two points are huge for this team, but I'm afraid it might be too little, too late.
In order to turn the season around, the Wild needs to play like they did tonight, every night – like they want a win, they want to play, and they're not just out on the ice, aimlessly skating around. Minnesota has another chance on Saturday to prove they're making a change when they play the Arizona Coyotes. Let's hope this win over Buffalo wasn't a fluke and the Wild have finally turned the corner.