Clarence Campbell is a lawyer. A very good lawyer.  He is a very bright guy, a former Rhodes Scholar, and a Queen's Counsel who was appointed to prosecute several leading Nazis after World War Two for crimes against humanity.  He is also the president of the National Hockey League and given his extensive education and experience, one would expect that he has a way with words. That was never more evident than yesterday, as that way with words may be leading to a war of words.
Punch is grumbling
Another one of the NHL's premier wordsmiths. the one and only George (Punch) Imlach, has been making life miserable for Campbell by way of complaining at length about the work of NHL game officials and their new ways of interpreting the rules of hockey as set out by the best league in the world.  Imlach is particularly rankled by the way interference is now called on faceoffs, and feels his Toronto Maple Leafs have been hard done by in the area of rule enforcement.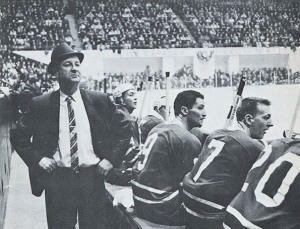 Referees, you see, have been instructed that bodily contact is no longer allowed between those players contesting possession of the puck after a referee drops it to start play.  Imlach says he is concerned that removing  body contact from any facet of the game will bring about a pantywaist style of play better suited to a night at the ballet.  Imlach feels fans attend hockey games because of its rough and tumble nature and care must be taken to ensure that part of the sport is not watered down.  Punch grumbled loudly after the first two games of the season, suggesting that his club was being picked on unfairly.
Mr. Campbell's reply to Imlach's complaints was classic, possibly the best quote he will ever utter, and of course only served to infuriate the Toronto general manager-coach.  Said Campbell, "It depends on whose ox is being gored." Short, simple and concise.  If Campbell was attempting to elicit a response from Imlach, he likely couldn't have chosen better words.
The real reason for Imlach's disenchantment
Campbell is no fool, he.  The NHL prexy is quite aware that what really sticks in Punch's craw  is a perceived attempt by the league to limit a strategy that the Leafs have employed over recent seasons with great success.  When a critical faceoff is taking place in the Toronto zone, Imlach will often assign one of his two defencemen to take the draw against the other team's centre.  With all of the Leafs having been schooled on the art of the draw by possibly the best faceoff man ever, former Leaf Ted Kennedy, Punch figures he has at least a 50-50 shot or better of winning control.  And by using a defenceman against a centre, the usually more burly rearguard is able to (or was able, by the looks of things now) physically limit the mobility of the less muscular forwards.  It's that physicality that the league seems to be trying to remove from the faceoff circle.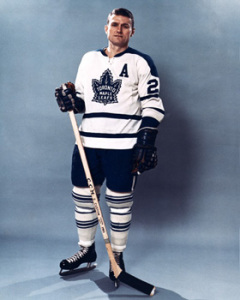 Yesterday Punch was informed of Campbell's comments and he was not impressed.  "It's not my ox!!  I've got the greatest power play in the league and as long as they deal the penalties even, I'll kill those other guys."  Punch was careful not to mention his unusual faceoff strategy, instead making the claim that if the calls are evened out, his team would be unstoppable.
Punch: Fans won't come
More Punch: "I understand the fans even got up and left the theatres the other night (closed circuit television broadcasts in selected theatres).  They can't sell hockey to people who want to see good stiff checks if they say you can't touch an opponent in your own end."
"It's tough enough to teach a player to check without those blankety-blank referees frightening them out of it.  What's Campbell trying to do, make us play international rules?"
"When we approved the change, it was only in reference to the actual faceoff contact.  Now you can't touch or check anyone.  That wasn't what I agreed to and it isn't what the others agreed to either.  I've got five witnesses to prove it.  I don't know how many witnesses Campbell has, other than the referees.  And you know whom they will back."
Potential fines notwithstanding, this obviously isn't over quite yet.
Bruins juggle lines
Injuries are forcing Boston Bruins coach Milt Schmidt to juggle his lines.  Given the Bruins rocky start this season, changes may not be such a terrible idea, anyway.  Johnny Bucyk will miss a week with a charley horse, while Murray Balfour is out with a knee injury.
Dean Prentice has moved into Bucyk's first-line left wing spot,with Murray Oliver at centre and Tommy Williams  on the right side.  The second unit will have Bobby Leiter in the middle, between Orland Kurtenbach on the right and Ab McDonald on the port side. Ron Schock, Reggie Fleming and Gary Dornhoefer make up the third line.
OHA Generals win fifth straight
Oshawa Generals won their fifth OHA Junior A game in a row by downing the Toronto Marlboros 5-2 in Bowmanville.  Red-hot Ron Buchanan fired three goals for the Gens, giving him six goals in the past two games.  Bill Bannerman and Wayne Cashman had the other scores for the winners.  Marlie marksmen were Mike Byers and Brit Selby.
Meanwhile, in St. Catharines, the Black Hawks doubled the Kitchener Rangers 4-2.  Rookie Garry MacMillan netted a pair for the Hawks, with Bob McAlpine and Kenny Hodge adding singles.  Randy Legge and Sandy Fitzpatrick replied for the Rangers.
Gamble gets game-winner for Rochester
In AHL play, the Rochester Americans slipped by the Baltimore Clippers by a 3-2 score.  Veteran forward Dick Gamble broke a 2-2 tie with just over five minutes to play to give the Amerks the victory.  Eddie Litzenberger and Red Armstrong also notched goals for the winners.  Baltimore goal-getters were Val Fonteyne and Harry Pidhirny.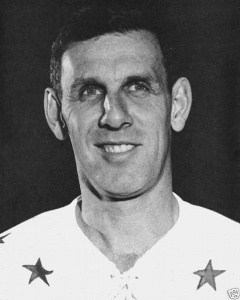 In Western Hockey League action the Victoria Maple Leafs won their second straight game by downing the Los Angeles Blades 3-1. Milan Marcetta, John Sleaver and Ed Mazur had the Maple Leaf goals.  Leo Labine scored for the Blades.
In exhibition play in Winnipeg, Canada's national team topped the Memphis Red Wings of the CPHL 3-1.  Goalie Ken Broderick of the Canadian Olympic team starred for the Nationals, stopping 30 of 31 Memphis shots.  Gary Aldcorn, Jimmy McKenzie and Allan Johnson each had a goal for the Nats.  Johnny MacMillan notched the lone Memphis marker.  Bob Champoux and George Gardner split the netminding duties for the Wings.